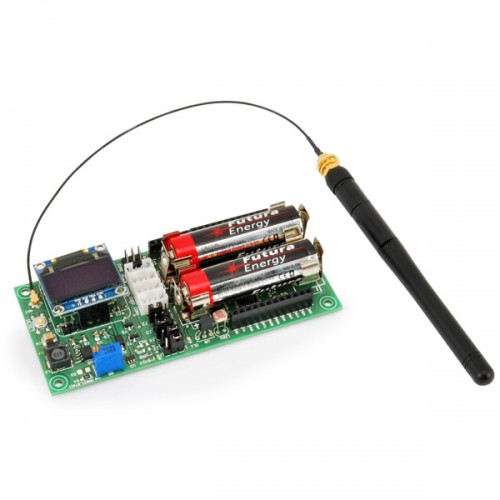 ANTENNINO – Arduino-RF multifunction board
Antennino (the name Antennino is the combination of Antenna and Arduino) is a low-cost and low-power board based on the Atmel chip, then 100% compatible with the traditional Arduino IDE. The board integrates sensors and bus communication to get external information, as well as a wireless link to communicate with the outside. <span title="A seconda di come viene equipaggiata, può funzionare sia da modulo remoto che da collettore di informazioni (gateway).
">Depending on how it is equipped, it can work both from a remote module and from an information collector (gateway).
The heart of Antennino is an ATmega328P microcontroller (the P indicates that it is a chip that adopts the PicoPower technology, essential for the energy management desired in the project). Communication with the outside world takes place via a transceiver module RFM69 (www.hoperf.com) transceiver that operates in the 433 MHz frequency band and supports AES encryption at the hardware level.
On board the Antennino a Flash memory (AT25F512B – 512 Kbit) has been prepared that can be used to store data related to the reading of the sensors (Data Logger) or to implement the Wireless programming (OTA) of the antennino module, a sensor temperature (DS18B20) and a photoresistor.
Features:
ATmega328P processor
433 MHz RFM69 Transceiver Module
Flash memory AT25F512B – 512-Kbit
Supply:
– using two standard 1.5V alkaline AA batteries or 1.2V rechargeable batteries (the battery clips are already present on the PCB)
– by an external voltage of 3.6 ÷ 12 V
– directly with a voltage of 3.3V, bypassing all the regulators present on board the board
In the latter event, remember not to exceed the voltage of 3.3V, otherwise you will damage the microcontroller and the various chips connected to it.
Dimensions (mm): 109x50x19
Antennino is available now over at the Open Electronics store, with a price tag of 30€ (about $35 USD).
Join 97,426 other subscribers

Archives