Silanna Semiconductor has claimed the first buck converter power IC to feature intelligent adaptive power sharing. The SZPL3002A buck converter with a built-in USB PD/FC port controller will significantly reduce component count to implement 65-W fast charger and adapter applications with up to four ports, said the company.
The SZPL3002A combines a high-efficiency synchronous buck converter and an advanced port controller in a QFN package measuring  5 × 5 mm. It is built on the company's wide-voltage, high-frequency point-of-load DC/DC converter technology with higher than 98% efficiency.
The integrated port controller supports USB PD V3.0 Type C interfaces and QC2.0/3.0/4.0/5.0 support for Type A/C connections. The controller's job is to ensure that the port power adapts to the device's requirements, delivering power sharing and port power re-balancing functionality across two, three or four ports.
High-Efficiency (>98%) Synchronous Buck Converter
Selectable Switching Frequency: 667kHz to 2MHz
3.3V to 21V Output at 3.25A (covers PD + PPS)
7V to 27V Input
41mohms upper FET, 38mohms lower FET
Selectable power saving mode
Selectable soft start time
Full protection features such as OCP, OVP, OTP
I2C bus for communication
All surface mount components solution
Available in small QFN 5 mm X 5 mm thermally enhanced package
Integrated with Most Advanced Port Controller
Provide a complete USB Port Power supply
Full Support for USB PD V3.0 – Type C
QC2.0/3.0/4.0/5.0 Support for Type A/C Ports
USB-IF certified
Calculated, Adaptive Power Sharing
Power Sharing Across 2, 3 or 4 Ports
Includes Port Power Re-Balancing
Power Throttling at Elevated Temperature
Integrated VCONN Power Supply
5 Power Profiles (Resistor-Selectable)
The power IC is the first to use an integrated USB-PD controller, microcontroller, and VCONN cable communications protocol in a DC/DC buck converter, according to the company.
Thanks to the five selectable pre-loaded power contract configurations, designs can use a single ZPL3002A across multiple product designs.
"Power re-balancing allocates under-used power on previously connected ports, while protective power throttling automatically reduces current when temperature thresholds are reached," said Silanna.
Hubie Noto, director of product marketing, Silanna Semiconductor explained:
"The SZPL3002A offers one fully programmable contract set plus four pre-programmed sets that are chosen with an external resistor value," said "Traditional charger PD ports offer a selection of fixed contracts to a device based on available power. These are programmed into the port controller and are based on various voltage and current levels a device might use when connecting. Each port has different power contracts for different power."
The buck converter offers a selectable switching frequency from 667 kHz to 2 MHz and a 7-V to 27-V input range. The device provides a 3.3-V to 21-V output at 3.25 A (which covers PD + PPS). The RDS(on) of the upper FET is 41 mΩ and 38 mΩ for the lower FET. Other features include a selectable power save mode, selectable soft start time, and protection features such as overcurrent protection (OCP), overvoltage protection (OVP), and overtemperature protection (OTP). It comes with an I2C communication interface.
Application Diagram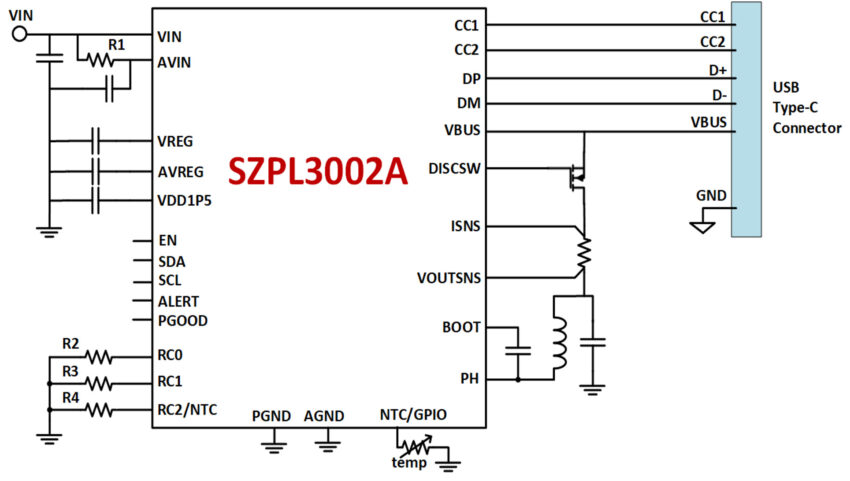 Key accounts are sampling the SZPL3002A buck converter. It will be released to the general industry in the second half of 2022.
Learn more about Silanna Semiconductor