Enhanced Wireless High Power Transmission
A group of developers in Elektor Labs have modified a high power wireless power transfer project, which originally developed by Würth Elektronik eiSos GmbH & Co. KG, an electronic and electromechanical components manufacturer in Europe, in an attempt to come up with an easy-to-achieve solution for wireless power transfer of more than 100 Watts without using any kind of controller or programmed elements.
The same circuit is used in both transmitter and receiver circuits. It is based on a resonant converter which generates a constant frequency according to the LC parallel resonant circuit. The resonant converter, also known as Zero Voltage Switching (ZVS) oscillator, has no power-loss elements and provide high efficiency response with up to 200 Watts of energy.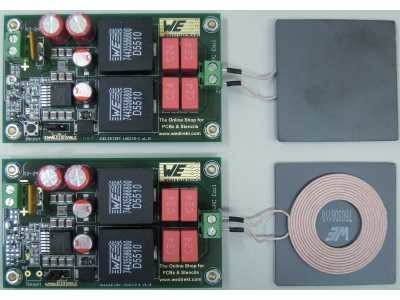 In the modified version, the gate driving circuit were replaced with a faster one which uses a separate power supply. Also a protection circuit consists of a PTC resettable fuse was added using a high-side current monitor IC, this will protect the whole circuit from damage by shutting down the converter.
This version delivers up to 50 Watts with 88% efficiency for 12-24 V supply voltage.
More details about this project are available here, including the bill of materials BOM, schematics, and how circuits work.
More information about original circuits are available here.
Join 97,426 other subscribers

Archives