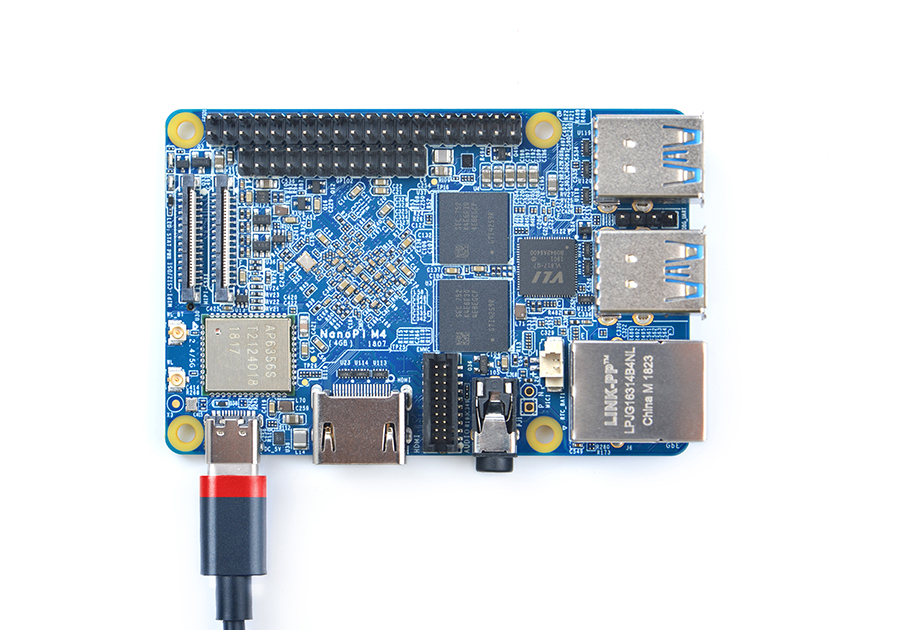 NanoPi M4 – RK3399 Based RPi Clone SBC Costs $65
FriendlyElec has launched the NanoPi M4. It is one of the smallest, most affordable Rockchip RK3399 based SBC yet. The NanoPi M4 has essentially the same layout as the latest Raspberry Pi 3 Model B+ and has all of its stand out features. Aside from the different processor, this is a very close resemblance of the RPi 3 B+ except for the lack of PoE support on the GbE port.
On the other hand, it has a faster, native GbE port instead of the RPi 3 B+'s USB-based connection. Like the B+, it has dual-channel 802.11ac on the WiFi/Bluetooth module.
Despite the performance improvements on the RPi 3 B+, the Rockchip RK3399 beats it in speed tests. It also defeats the vast majority of Arm SoCs. The RK3399 has dual Cortex-A72 cores clocked to up to 2.0GHz and 4x Cortex-A53 cores at 1.5GHz. There's also a high-end Mali-T864 GPU and a VPU that supports 4K VP9 and 4K 10-bit H265/H264 60fps decoding.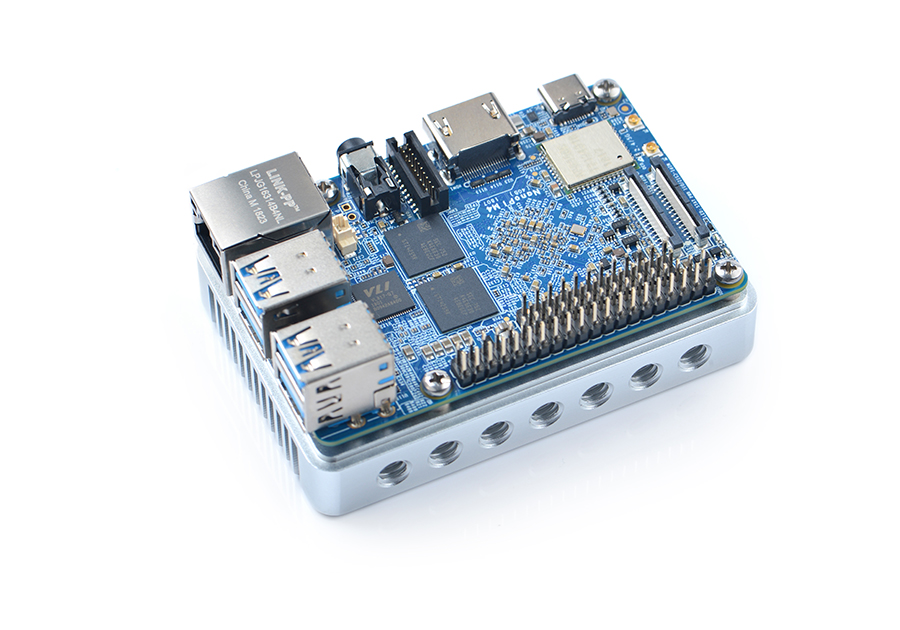 The NanoPi M4 is intended for applications including machine learning, AI, deep learning, robots, industrial control, industrial cameras, advertisement machines, game machines, and blockchain. OS support for this board includes Android 7.1.2 and three Ubuntu-based Linux distributions: Lubuntu 16.04, FriendlyCore 18.04 (Ubuntu Core), and FriendlyDesktop 18.04.
Specifications for the NanoPi M4:
Processor:

Rockchip RK3399 (2x Cortex-A72 at up to 2.0GHz,
4x Cortex-A53 @ up to 1.5GHz); Mali-T864 GPU

Memory:                                                            

2GB or 4GB LPDDR3 RAM (dual-channel)
eMMC socket
MicroSD slot for up to 128GB

Wireless:

802.11b/g/n/ac (2.4GHz/5GHz) with Bluetooth 4.1;
2x IPX antenna connectors

Networking: Gigabit Ethernet port
Media:

HDMI 2.0a port (with audio and HDCP 1.4/2.2) for up to 4K at 60Hz
MIPI-DSI (4-lane) with MIPI-CSI co-lay
1x or 2x 4-lane MIPI-CSI (up to 13MP) with dual ISP support; (2nd CSI available via DSI)
3.5mm analog audio I/O jack

Other I/O:

4x USB 3.0 host ports
USB 3.0 Type-C port (USB 2.0 OTG or power input)
Serial debug 4-pin header

Expansion:

40-pin RPi compatible header — 3x 3V/1.8V I2C, 3V UART,
3V SPI, SPDIF_TX, up to 8x 3V GPIOs, 1.8V 8-ch. I2S

Power: DC 5V/3A input or USB Type-C
Operating temperature: -20 to 70℃
Dimensions: 85 x 56mm; 8-layer PCB
OS Support: Android 7.1.2; Lubuntu 16.04 (32-bit); FriendlyCore 18.04 (64-bit), FriendlyDesktop 18.04 (64-bit)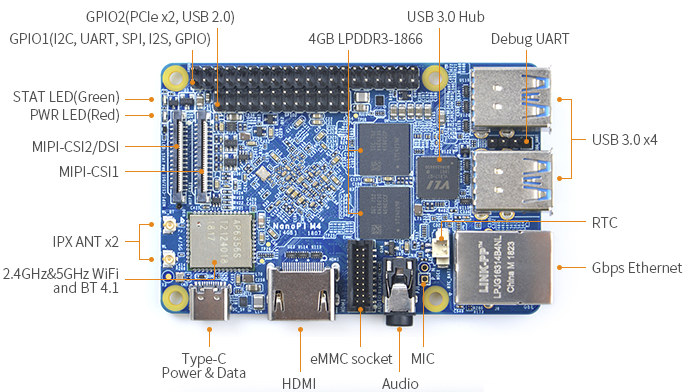 The NanoPi M4 with 2GB RAM is available now for $65 (for first 300 units), otherwise, the price is $75. The 4GB version costs $105. More information may be found at FriendlyElec's NanoPi M4 shopping page, wiki, and GitHub page.
(update 27/06/2019) FriendlyELEC has now decided, certainly in response to Raspberry Pi 4 offering, to lower the price to $50 for the 2GB RAM version which compares to $45 with Raspberry Pi 4 2GB, as well as $75 for the 4GB RAM version (was $95).
Join 97,426 other subscribers

Archives