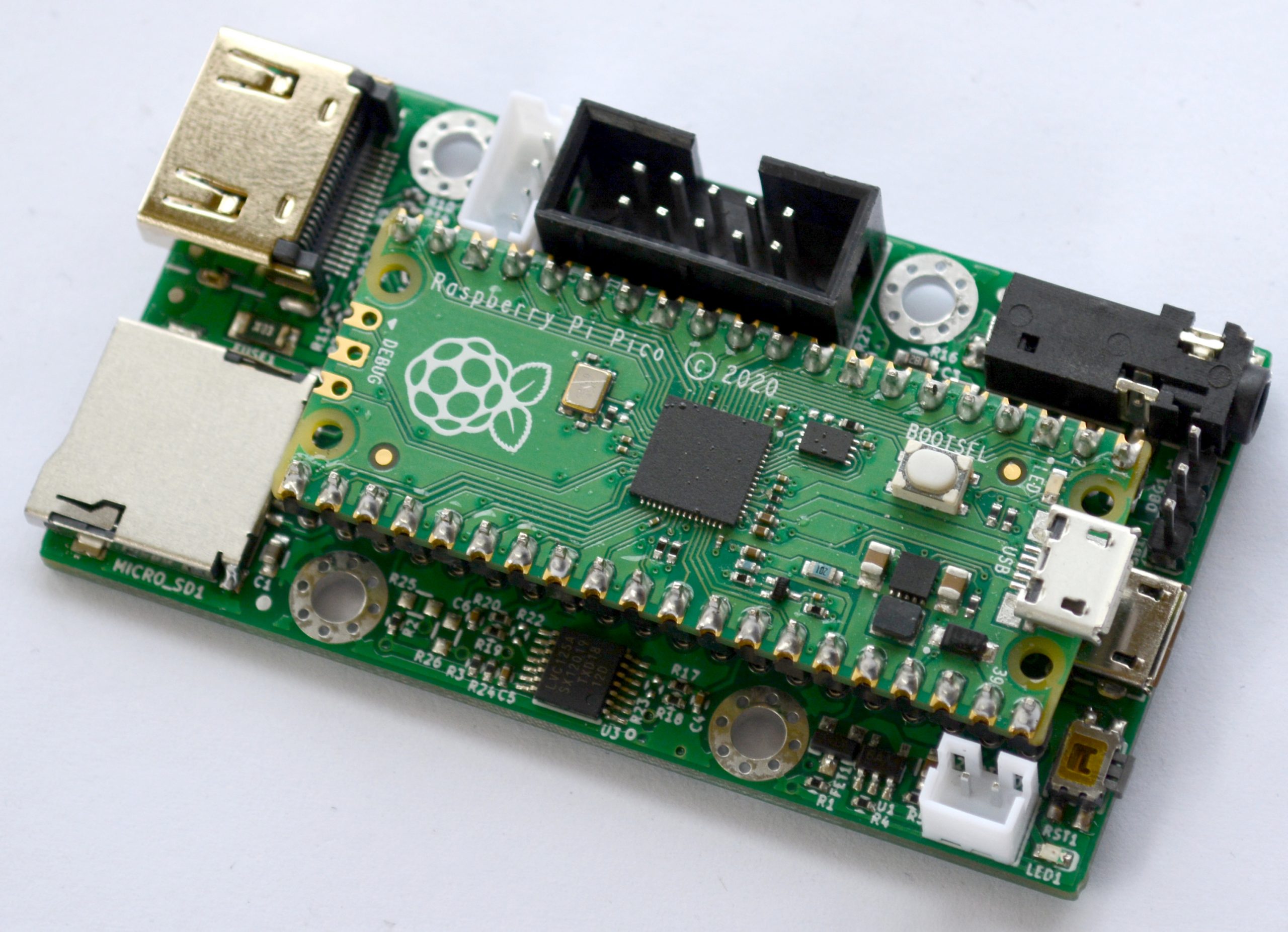 Olimex RP2040-PICO-PC Computer Made with RP2040-Py module compatible with Raspberry Pi Pico
Olimex has manufactured the first prototypes of their new RP2040-PICO-PC designed to create a small Raspberry Pi RP2040 computer with HDMI/DVI video output.
"It's a small baseboard for RP2040-PICO, the $4 Cortex-M0+ processor-based module developed by Raspberry Pi foundation."
the company writes.
With HDMI video output, 2MB SPI flash or a memory card for storage, speakers connected to the audio jack, keyboard, and mouse, one can use the RP2040-PICO-PC board as a small computer, though it won't be able to run typical OS like Linux and it's kind.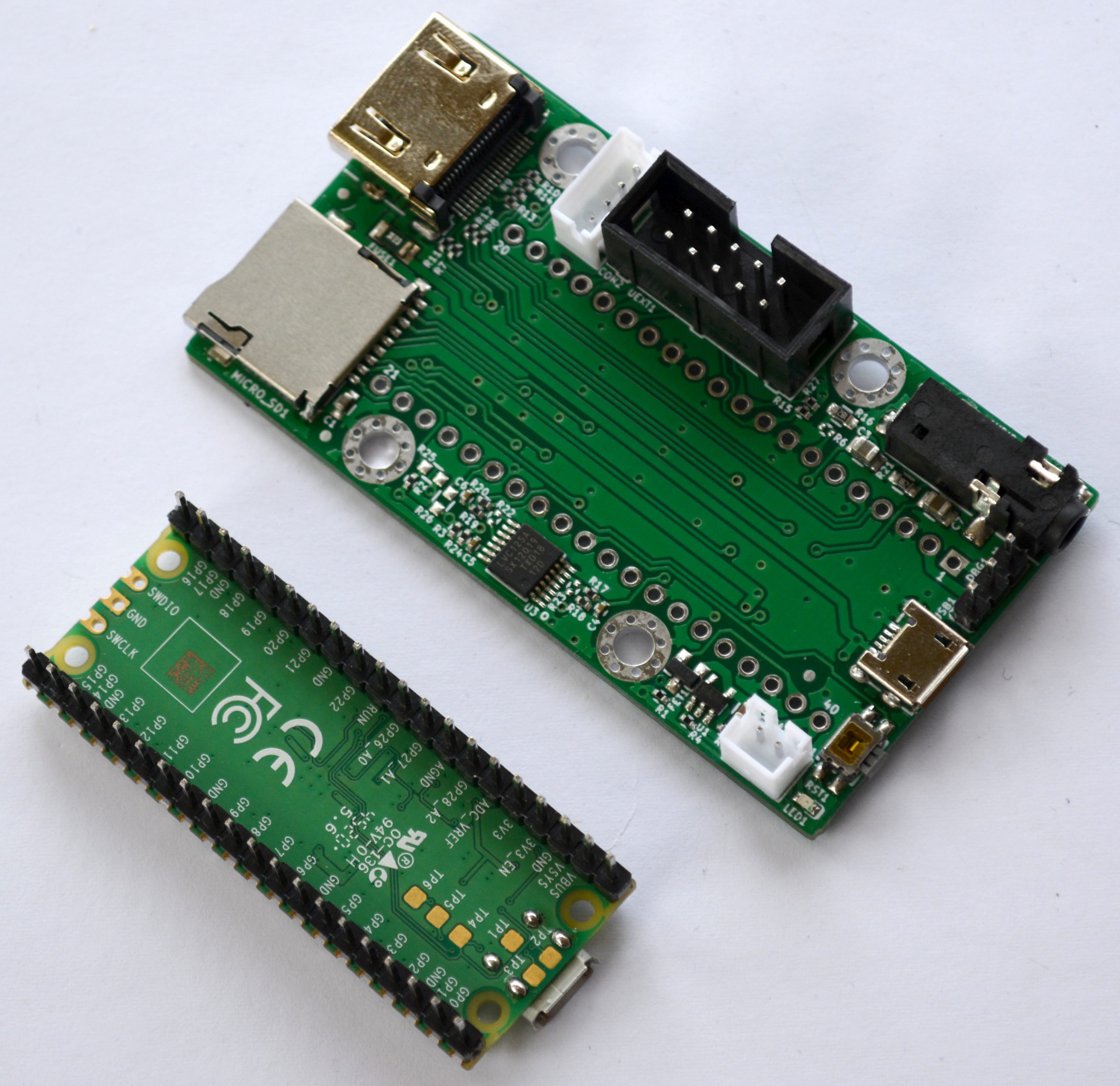 Key features and specifications of the RP2040-PICO-PC small computer board include:
Supports Raspberry Pi Pico board
Has a micro SD card for storage
An HDMI port with DVI signal to connect to monitor (no audio through this interface)
3.5mm audio jack
UEXT connector with UART, SPI, I2C, 3.3V, and GND
Grove compatible JST2.0 4-pin header with I2C plus power signals
Debug connector for Serial adapter
1x Reset button
Power Supply: 5V via the micro USB port located just below the RP2040 PICO module
LiPo battery for handheld operation and power backup
Dimension: Small size
The Bulgarian company also designed their own RP2040-PICO module since it was not easy getting enough Raspberry Pi Pico boards for production. They had a reel of Raspberry Pi RP2040 processors, so they could easily come up with an RP2040-Py module compatible with Raspberry Pi Pico.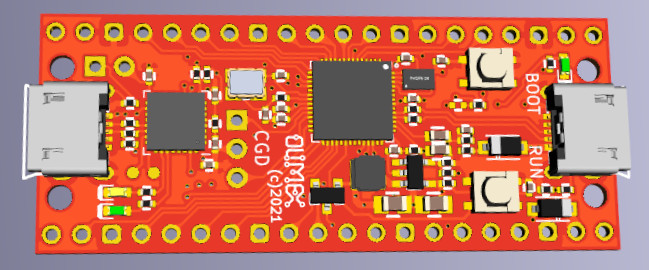 The RP2040-Py is the same as the original RP2040-PICO module but with some improvements:
An extra USB micro connector on the right hand for power
An extra uUEXT connector located at the bottom of the board
One extra reset
An optional JTAG USB debugger
DC-DC power supply with 3.3V up to 2A
Every other functional feature of the RP2040-Py and the RP2040-PICO module are exactly the same (Raspberry Pi SoC,  2MP SPI flash, I/O headers, and Micro USB connector).
Both the RP2040-PICO-PC and RP2040-Py would be up for sale in early May. The RP2040-PICO-PC including the original RP2040-PICO board with soldered headers will sell for 12 Euros, while the RP2040-Py module will be available in three different models namely:
Basic (5 Euros) – Just like the Raspberry Pi Pico board but with higher current DCDC power supply, reset button and uUEXT connector.
Basic+ (8 Euros) – This is the Basic model plus soldered headers and additional micro USB for power
Debug (19 Euros) – Same as the Basic+ model but with populated JTAG parts for debugging.
Further details can be found in the announcement on Olimex blog.