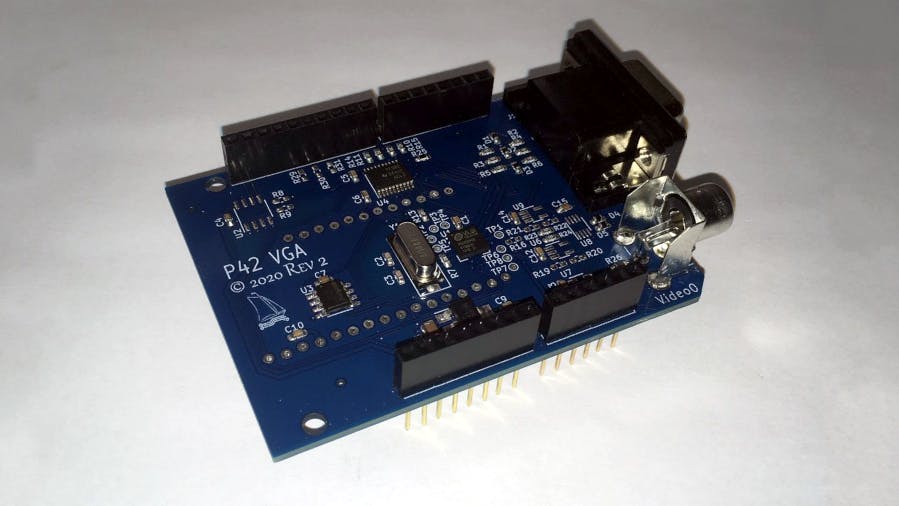 Pier 42 Arduino video display shield with 4x composite video outputs and integrated framebuffers
Wolfgang Friedrich has launched an Arduino video display shield that offers up to 4x impressive composite video display outputs and integrated frame-buffers — a video display add-on for Arduino Uno and Feather form-factor microcontroller boards.
"This Arduino 4x Video Display Shield provides up to 4 analog composite video display outputs with integrated frame buffer memory accessible through SPI." says the electronics engineer. "The four video outputs are accessible through 1 RCA connector and 1 VGA DB15-HD connector that uses the red, green and blue channels for the composite signal."
The 4x Video Display Shield is built around the VLSI VS23S040 chip, one that has up to 4x 1Mbit frame-buffer unused memories and is able to output composite video with resolutions from 320×200 in 65536 colors to 720×576 in 4 colors. The board also features a SOIC-8 footprint for an I2C EEPROM as well as a 16Mbit SPI flash memory pre-loaded with a 94-character bitmap (ASCII code 33-126), a bouncing ball demo, and a static image.
"There is an NTSC version with a 3.579545MHz crystal or a PAL version with 4.43618MHz crystal available. Currently 2 resolutions are implemented: NTSC 320×200 with 256 colors and PAL 300×240 with 256 colors." Friedrich adds.
Features and Specifications include:
4x analog composite video display outputs
Board IO voltage: 1.65V – 5.5V
Operating supply voltage: 4.5V to 20V
Max Resolution: 720×576 in 4 colours
Implemented Resolutions: NTSC 320×200 with 256 colours and PAL 300×240 with 256 colours
Crystal: NTSC 3.579545MHz or PAL 4.43618MHz
SPI communication interface @up to 38MHz
4x 1Mbit Video Frame Buffer
16Mbit SPI Flash that provides storage for display content.
Up to 2Mbit (optional, not populated) EEPROM
IO connectors Arduino Uno and Adafruit Feather compatible
Dimensions: 85 mm x 53 mm (3.3″ x 2.1″)
The board is designed as an Arduino shield compatible with microcontrollers which share the same form factor and pinout.
"The board uses the Arduino IOREF voltage to translate between 3.3V on the shield side and the respective IO voltage on the Arduino side. So this shield works together with UNO, MEGA, DUE, and also with any 3.3V system that uses the Arduino form factor and pinout, without modifications. In addition, an Adafruit Feather compatible pin header can be populated to tap into the 2nd universe of development boards."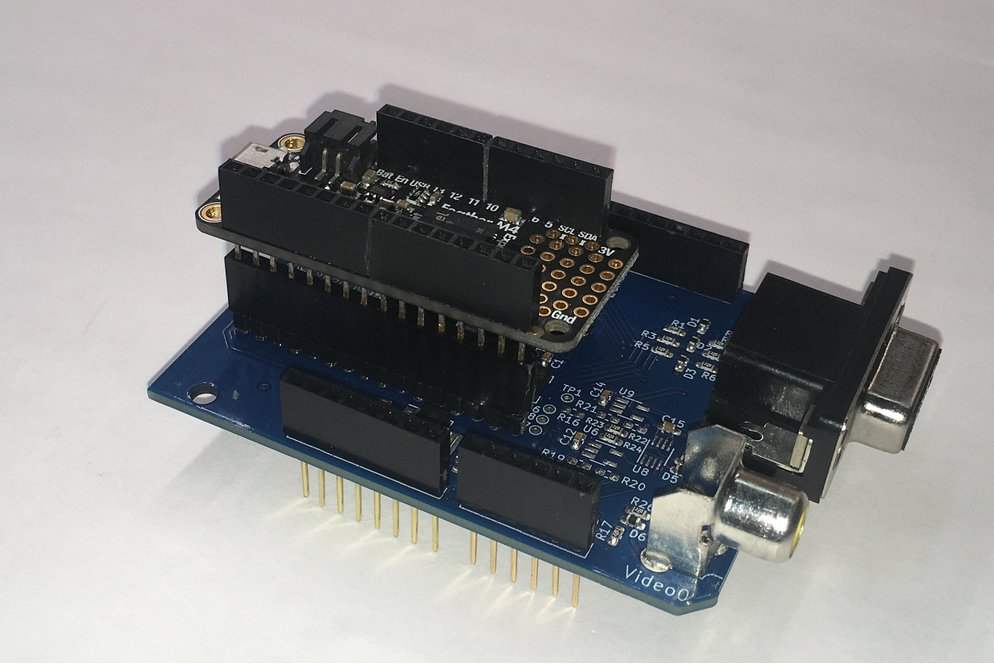 If you are interested in the 4x Video display shield, you can purchase one on Tindie for $35 (single-output version) or $39 (full four-output version), with an additional $3 for feather wing headers.
You'll get further details on the board including source codes, documentation, design files, and datasheet on GitHub or the project's hackaday.io page:
Subscribe to Blog via Email
Join 97,456 other subscribers
Archives