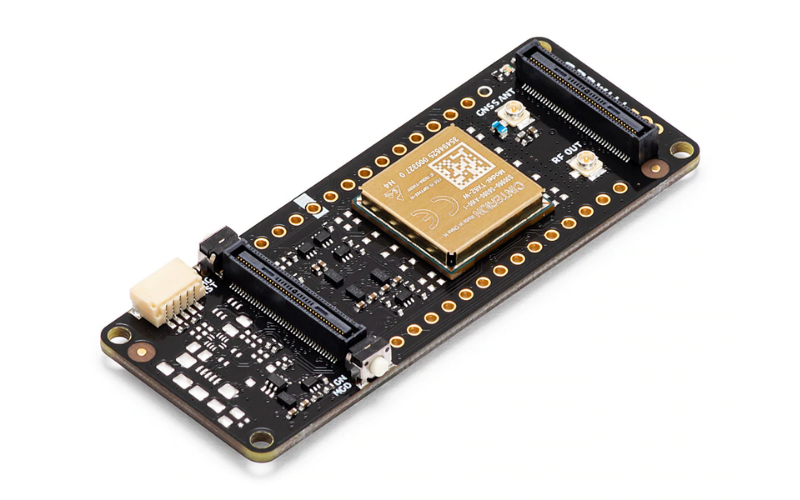 Portenta Cat. M1/NB IoT GNSS Shield leverages a Cinterion TX62 wireless module for IoT applications
The Portenta Cat. M1/NB IoT GNSS Shield is Arduino's latest embedded electronic hardware product developed in partnership with aerospace, defense, transportation, and security multinational Thales. The hardware offers rich connectivity attributes of the Portenta H7 applications. The GNSS shield helps liberate an exciting sphere of opportunities for edge computing.
The Portenta Cat. M1/NB IoT GNSS Shield delivers optimized bandwidth and performance while bringing global connectivity and positioning capabilities to Portenta and MKR boards by employing a Cinterion TX62 wireless module engineered for super-efficient, minimal power IoT applications.
Working in conjunction with Portenta H7's strong edge computing capabilities, the Portenta Cat. M1/NB IoT GNSS shield facilitates asset tracking and remote monitoring solutions in industrial settings, agriculture, public utilities, and smart cities. With the ability to use eSIM technology, the shield provides cellular connectivity to both Cat.M1 and NB-IoT networks. With GPS, GLONASS, Galileo, or BeiDou, you can effectively monitor your belongings all through the city or across the globe.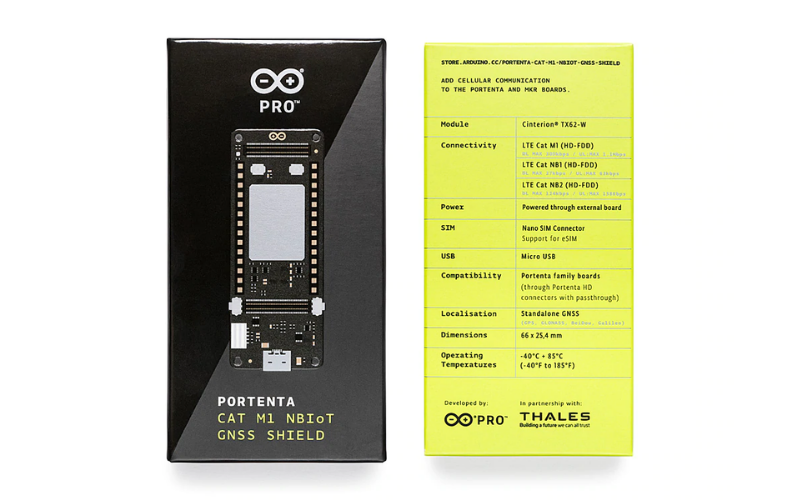 Specifications of Portenta Cat. M1/NB IoT GNSS Shield
Cinterion TX62 wireless module
NB-IoT – LTE CAT.M1, UMTS Bands
3GPP Rel.14 Compliant Protocol LTE Cat. M1/NB1/NB2
LTE Cat.M1 DL: max. 300 kbps, UL: max. 1.1 Mbps
LTE Cat.NB1 DL: max. 27 kbps, UL: max. 63 kbps
LTE Cat.NB2 DL: max. 124 kbps, UL: max. 158 kbps
The shield facilitates embedded IPv4 and IPv6 TCP/IP stack access. The Portenta Cat. M1/NB IoT GNSS Shield has dimensions of 66×25.4 mm, which operates at temperatures of -40℃ to 85℃. Furthermore, it offers internet services which encompass TCP server/client, UDP client, DNS, Ping, HTTP client, FTP client, MQTT client Secure Connection with TLS/DTLS Secure boot.
Another key advantage of the shield includes changing the connectivity capabilities without having to change the board. Additionally, it is possible to create a small multi-protocol router (Wi-Fi – BT + NB-IoT/CAT.M1). This low-power module greatly reduces communication bandwidth requirements in IoT applications and is compatible with MKR boards.
For more information on the shield and to enhance your Portenta boards with cellular communication and positioning, kindly visit the Arduino Store.
Join 97,426 other subscribers

Archives