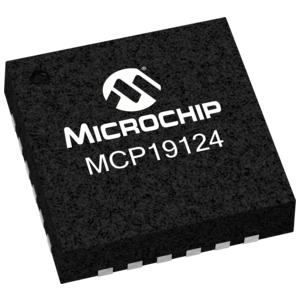 New PWM controller IC By Microchip Charges Batteries of Any Chemistry
Battery technologies of all chemistry are experiencing revolutionary changes nowadays. Nanotechnology is leading this revolution by yielding new battery technologies including but not limited to Tiny Supercapacitors and Li-ion batteries that never explode at any condition. But, it's bothersome to make different chargers for different types of batteries. So, Microchip solved this problem by introducing a new hybrid PWM controller, MCP19124/5, that charges batteries of any chemistry.
The power of this charging device lies in the combination of an 8-bit PIC microcontroller and an analog PWM controller in one package. This mixed signal low-side PWM controller features individual analog PWM control loops for both current regulation and voltage regulation. It can be configured with separate feedback networks and reference voltages. Any voltage, current, temperature, or duration can be used to trigger a transition to a different charging profile.
Various types of batteries require different charging profile. So, the only way to charge all kinds of batteries with a single device is to simulate all the charging profiles. A user can set his/her desired profile with the help of two independent current and voltage control loops, along with variable reference voltage. Now let's get to know more details about this versatile PWM controller IC.
The MCP19124/5 is a mid-voltage (4.5-42V) analog-based PWM controller with an integrated 8-bit PIC Microcontroller. There are two devices, the MCP19124 and MCP19125, where the last one has four I/O pins more than the first one. MPC19124 and MPC19125 are packaged in 24-lead QFN package and 28-lead QFN package respectively. It has following features:
Smooth, dynamic transitions from constant-current to constant-voltage operation
Dynamically adjustable output current and output voltage over a wide operating range
Wide operating voltage range: 4.5-42V
Analog peak-current mode Pulse-Width Modulation (PWM) control
Available fixed frequency (31 kHz to 2 MHz)
I2C communication interface
9 GPIO for MCP 19124 and 12 GPIO for MCP19125
Integrated high voltage linear regulator, with external output
Integrated temperatures sense diode
Integrated 10 bit A/D converter
Minimal external components needed
Custom algorithm support
Topologies supported include Boost, SEPIC, Flyback, and Cuk
In fact, the above list is just a brief overview. The controller is so complicated that user must read all 236 pages of the datasheet to gain sufficient knowledge.
Now, the question is, how can we use this IC to design an efficient battery charger?
To find the answer, one must read the datasheet thoroughly. At the same time, in-depth knowledge about the target battery is also required. However, Microchip provided a few schematics (as references) in the datasheet based on different applications. The circuit on battery charger is given below: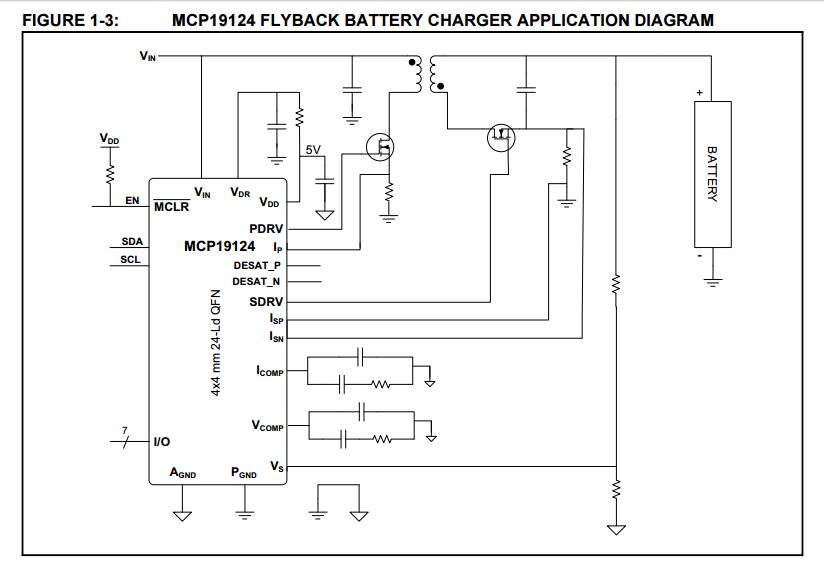 This ultimate powerful dual-loop PWM controller is going to be a game changer and part of the battery technology revolution. It possesses lots of possibilities. To learn more about this fantastic hybrid controller, study the datasheet carefully.
Join 97,426 other subscribers

Archives