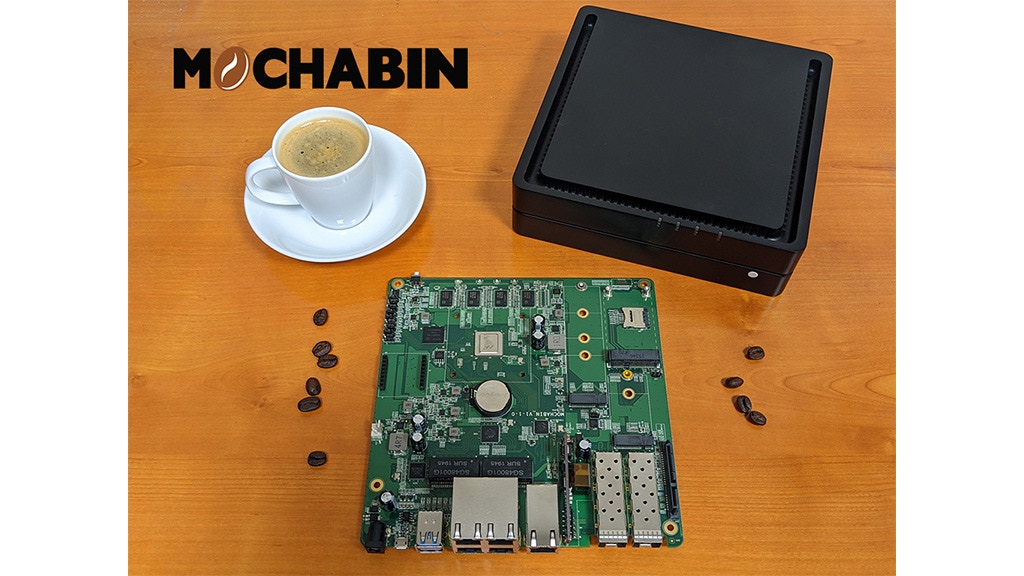 Quad-core networking "Mochabin-5G" launches on Kickstarter for $159 and up; Features support for 5G cellular, 10-gig-Ethernet and Wi-Fi 6
Embedded computing specialist Globalscale Technologies has announced a powerful Mochabin SBC which runs Linux on a 1.4GHz quad -A72 Marvell 7040 processor and offers more Ethernet ports compared to the earlier boards.
"The Mochabin builds upon the ESPRESSObin community and experience by adding a fanless quad core Arm A72 processor clocked at 1.4GHz," says Bryan Cheng. "We have increased from the previous maximum of 2GB DDR3 to now 4GB or optional 8GB DDR4. Most importantly the Mochabin has native 10G networking via an SFP+ cage as well as flexible slots for M.2, PCI, and MiniPCIe interfaces."
The crowdfunding campaign for the Mochabin single-board computer was launched on Kickstarter with a starting price of $159 for a package that includes 4GB DDR4, 16GB eMMC, 12V power supply, and an enclosure, and $199, for the one that adds a mini-PCIe card, NXP 88W8098 SoC with dual-mode concurrent WiFi 6 and Bluetooth 5.0. There's also an option for a $225 package that will come with an open-source Linux stack to help with router functionality.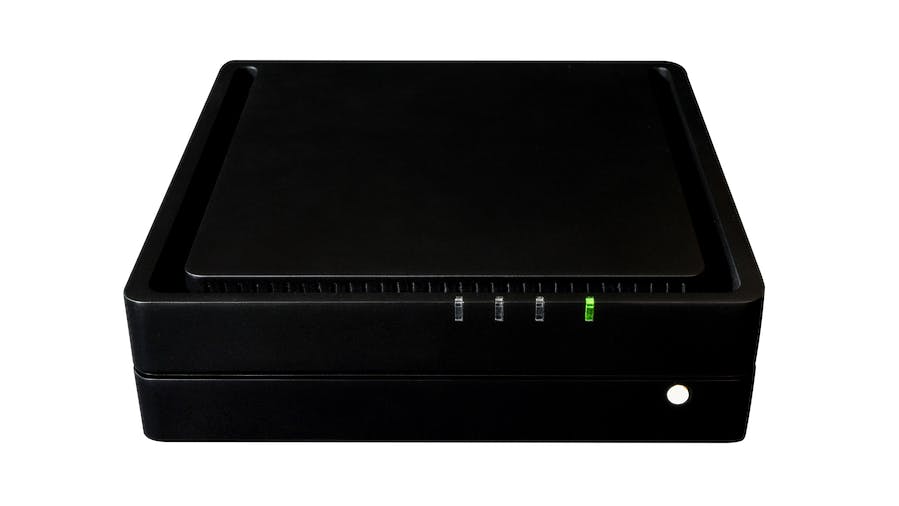 Features and Specifications of the Mochabin-5G include:
Marvell Armada 7040 quad-core Corex-A72 processor @ up to 1.4GHz
4GB or 8GB DDR4 (with optional soldering)
16GB eMMC flash
4MB SPI NOR flash for bootloader
SATA interface
M.2 2280 socket for SATA III SSD
1x 10GbE SFP+, 1x 1GbE SFP (via 88E1512 PHY)
4x Gigabit Ethernet RJ45 LAN ports via Topaz 88E6141 switch
1x Gigabit Ethernet RJ45 WAN port with PoE support
Optional 4G or 5G cellular connectivity via M.2 2250 socket plus SIM card slot
Optional NXP 88Q9098 based Mini PCIe wireless card for 802.11ax WiFi 6 and Bluetooth 5
2x USB 3.0
16-pin MikroBUS header for GPS, and other expansion and accessories
Microchip ATECC608B secure element
10-pin JTAG header
Micro USB port for serial console
Power button
RTC with CR2032 battery holder
12V fan header
Various LEDs, boot and CPU speed selection jumpers
Power Supply: 12V DC or PoE
Dimensions: TBD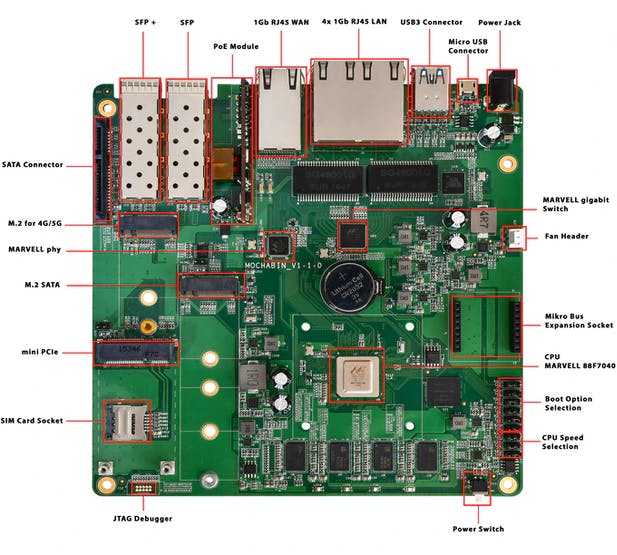 Just to add, there will also be a $450 NAS package that offers a 2TB hard drive with 1TB usable storage with options for up to 6TB storage, as well as a $549 package with Ubuntu, power supply, enclosure, and WiFi 6 with a 5G sub-6GHz module and 4x antennas.
The SBC will be available on Kickstarter by Nov 14. Shipping to anywhere within the US will cost $20 but $30 to other places. Shipment is scheduled to start by May/June next year.
Other details on the Mochabin SBC are available on the product page and the Kickstarter page.