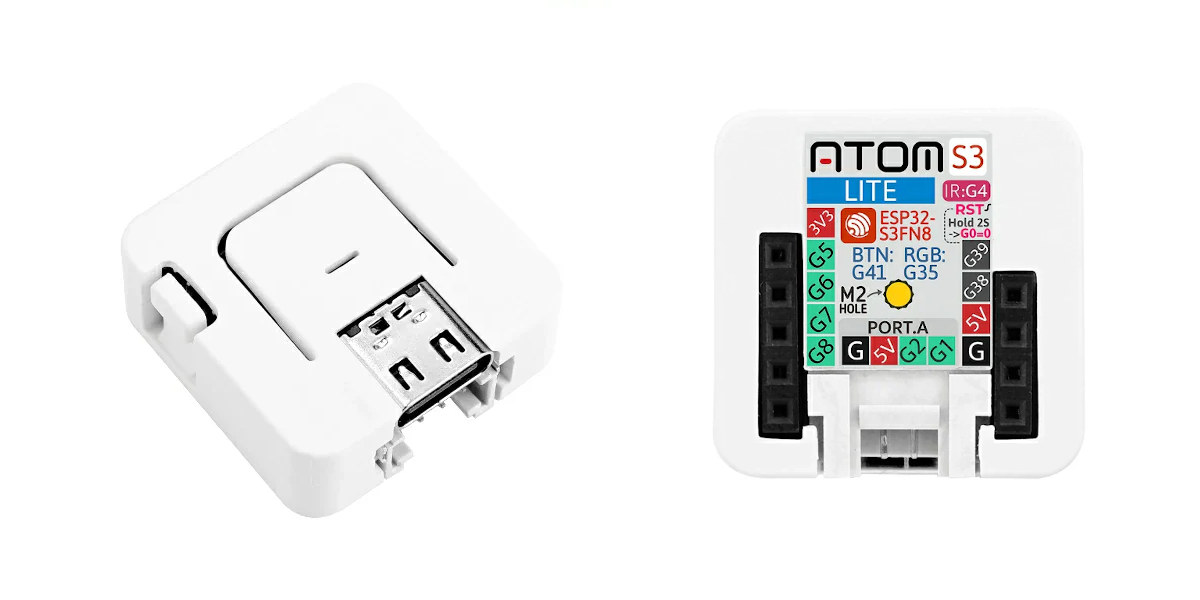 Tiny ESP32-S3 IoT controller M5Stack ATOMS3 Lite
ATOMS3 Lite is the newest addition to the M5Stack Atom series of wireless programmable controllers. It is based on the ESP32-S3 IoT platform. It is possible to use it as an Internet of Things node, a microcontroller, or even in wearables. It also has a wide range of other applications, but it does not include the 0.85-inch display or the IMU sensor that is included in the ATOM S3 development kit. Instead, it uses an RGB LED in its place.
The M5Stack ATOM S3 Lite has an ESP32-S3FN8 WiFi and Bluetooth System-on-Chip (SoC) with 8MB SPI flash, an infrared transmitter, a USB-C port for power and programming, a few I/O pins, user and resets buttons, and it all fits into a housing that is only 24 x 24 mm and 9.5 mm thick.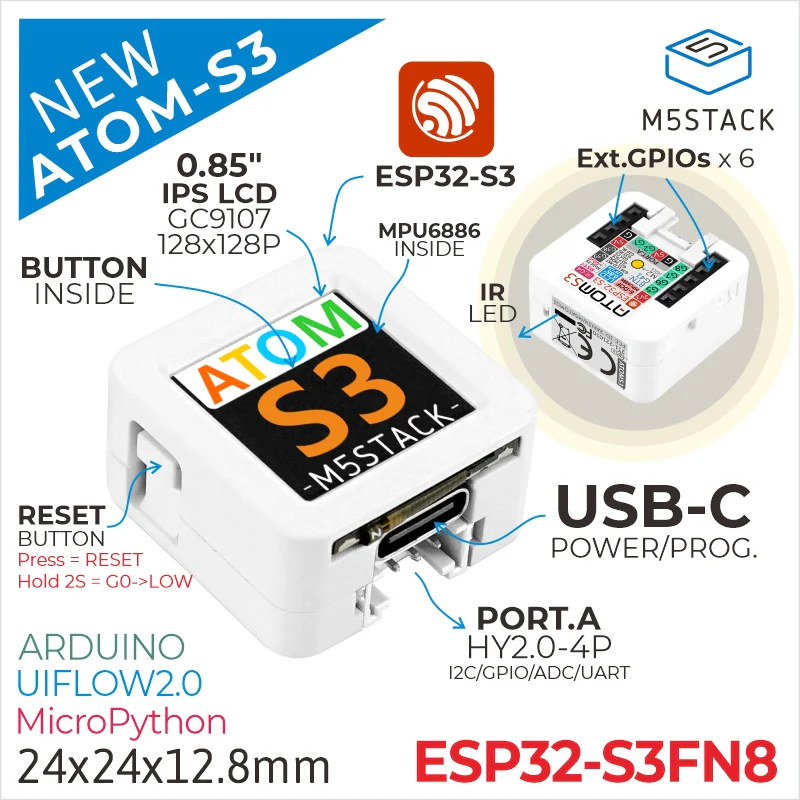 Specifications
It includes a dual-core 32-bit Xtensa LX7 microcontroller from Espressif Systems with AI vector instructions up to 240 MHz, a RISC-V ULP co-processor, 512 KB SRAM, 2.4GHz WiFi 4 (802.11b/g/n), Bluetooth 5.0 BLE + Mesh, and 8 MB flash memory.
It has a "3D" antenna built right in.
In addition, an extension for 9x pins is provided, complete with GPIOs G5, G6, G7, G8, G38, and G39, as well as 5V, 3.3V, and GND, and a connector for Grove with four pins.
In addition to that, there is an infrared LED (transmitter/blaster), a WS2812B-2020 RGB LED with user buttons, and a reset button.
It has a screw hole for an M.2 screw already installed.
A power supply of approximately 5V is available via the USB Type-C port, and an SY8089 5V to 3V DCDC converter is also included.
The temperature range is from 0 to 40 degrees Celsius, and the dimensions are 24 by 24 by 9.5 millimeters. It weighs approximately 5.3 grams.
The M5Stack ATOMS3 Lite controller, just like other Atom boards, can be programmed using Arduino or the company's UIFlow web-based visual programming integrated development environment (IDE). The illustration that is displayed below indicates that MicroPython is also supported; however, MicroPython is not mentioned in the documentation, so you may be on your own in this regard. What you do get there, however, are some details about the hardware as well as an Arduino sketch that was designed specifically for the ATOMS3 because it draws colors on display, which the Lite model does not have.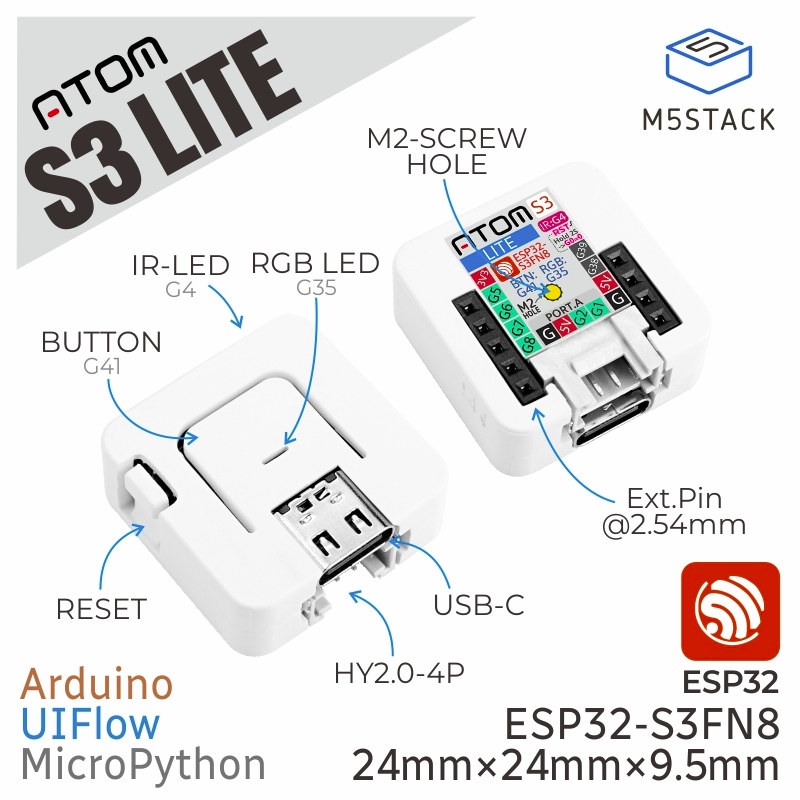 The primary scenario for this type of IoT controller is managing a Smart Home's network of interconnected WiFi and Bluetooth devices and IR-enabled electronics like televisions, air conditioners, set-top boxes, and more. However, the I/Os ports allow for a wide variety of other uses, including sensor monitoring, relay control, and more. It could even be used as a BLE to MQTT gateway. The ESP32-S3's vector instruction set makes it a great choice for machine learning.
M5Stack is currently offering ATOMS3 Lite for sale at the price of $7.50 plus shipping. If you would rather have a color display that is 0.85 inches in size along with an IMU sensor, the ATOMS3 can be purchased for $15.50
Join 97,426 other subscribers

Archives