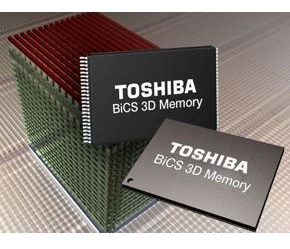 Toshiba launches 256-Gbit 48-layer 3-D NAND flash
by Susan Nordyk @ edn.com:
Ready for sampling in September, Toshiba's 48-layer BiCS (Bit Cost Scalable) flash memory stores 256 Gbits using a 3-D vertically stacked cell structure and 3-bit-per-cell triple-level cell technology. By employing this 48-layer vertical stacking process, BiCS flash surpasses the capacity of conventional 2-D NAND flash memory, where cells are arrayed in a planar direction on a silicon plane.

BiCS also enhances write/erase reliability endurance and boosts write speeds. The 256-Gbit (32-Gbyte) device can be used in a myriad of applications, including consumer solid-state drives, smart phones, tablets, memory cards, and enterprise SSDs for data centers.
Toshiba launches 256-Gbit 48-layer 3-D NAND flash – [Link]
Subscribe to Blog via Email
Join 97,477 other subscribers
Archives