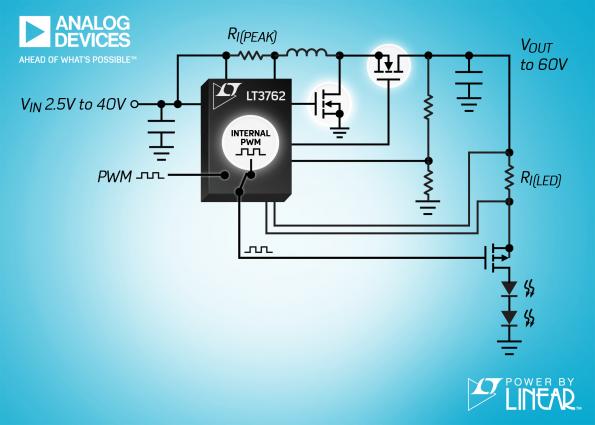 Versatile 60V synchronous boost LED controller
High efficiency, a programmable internal LED PWM signal generator and optionally low-EMI spread spectrum modulation are the specific characteristics of Analog Devices' Power by Linear LT3762 synchronous boost LED controller. The chip targets a broad range of application worlds, from automotive to medical.
The LT3762 includes a rail-to-rail current sense amplifier, enabling high side or low side current sensing that in addition to synchronous boost facilitates synchronous buck-mode and buck-boost mode topologies and nonsynchronous SEPIC designs. With an input range from 2.5 to 38.5V and and synchronous operation the LT3762 is ideal for automotive power systems, portable instruments, industrial applications, medical instruments and architectural lighting.
An auxiliary on-chip buck-boost converter provides the necessary gate drive voltage in low voltage systems, and when combined with a low 500µA maximum quiescent current and 1µA shutdown current (T A = 25°C), results in high efficiency over wide input voltage and output current ranges.
[source:
www.eenewseurope.com
]