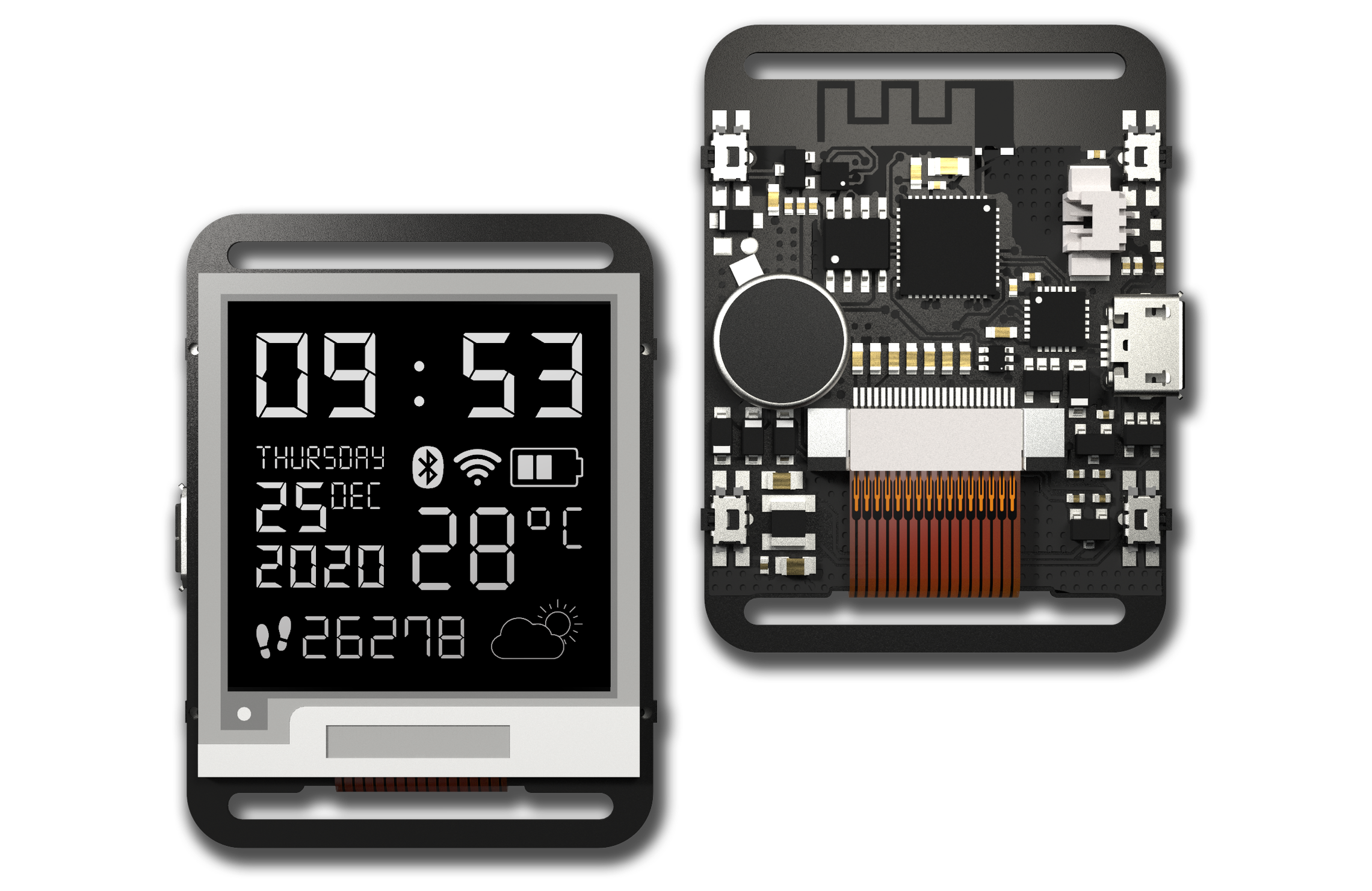 Watchy: Pebble-like SmartWatch with Bluetooth and WiFi 4 Connectivity
The Watchy e-paper smartwatch reminds us of the Pebble e-paper smartwatches, which came with a Bluetooth interface for connection with personalized Android and Apple mobile handsets. It used to support SDK for customization of the features according to the user requirements. However, the Pebble had closed its smartwatches after the Fitbit acquired the company in 2016.
Watchy seems to be a closer resemblance to Pebble-like smartwatches, but instead of a full-color OLED display, it comes with a monochromatic 1.54-inch e-paper display. The screen has a resolution of 200 x 200 pixels and is offcource low power. Hence, this makes the Watchy smartwatch readable from different viewing angles. Although, it has one drawback that it does not include a backlight or sidelight for seeing time in the dark.
Key Features of Watchy Smartwatch:
Microcontroller ESP32-PICO-D4
USB-Serial CP2104
E-Paper Display GDEH0154D67
Display Connector AFC07-S24ECC-00
3-Axis Accelerometer BMA423
Real-Time Clock DS3231
Battery LiPo Battery 3.7V 200mAh 402030
LDO Voltage Regulator ME6211C33M5G-N
Battery Connector BOOMELE 1.25T-2PWT
Micro USB Connector U-F-M5DD-Y-L
Tactile Buttons K2-1114SA-A4SW-06
Vibration Motor 1020
PCB Antenna SWRA117D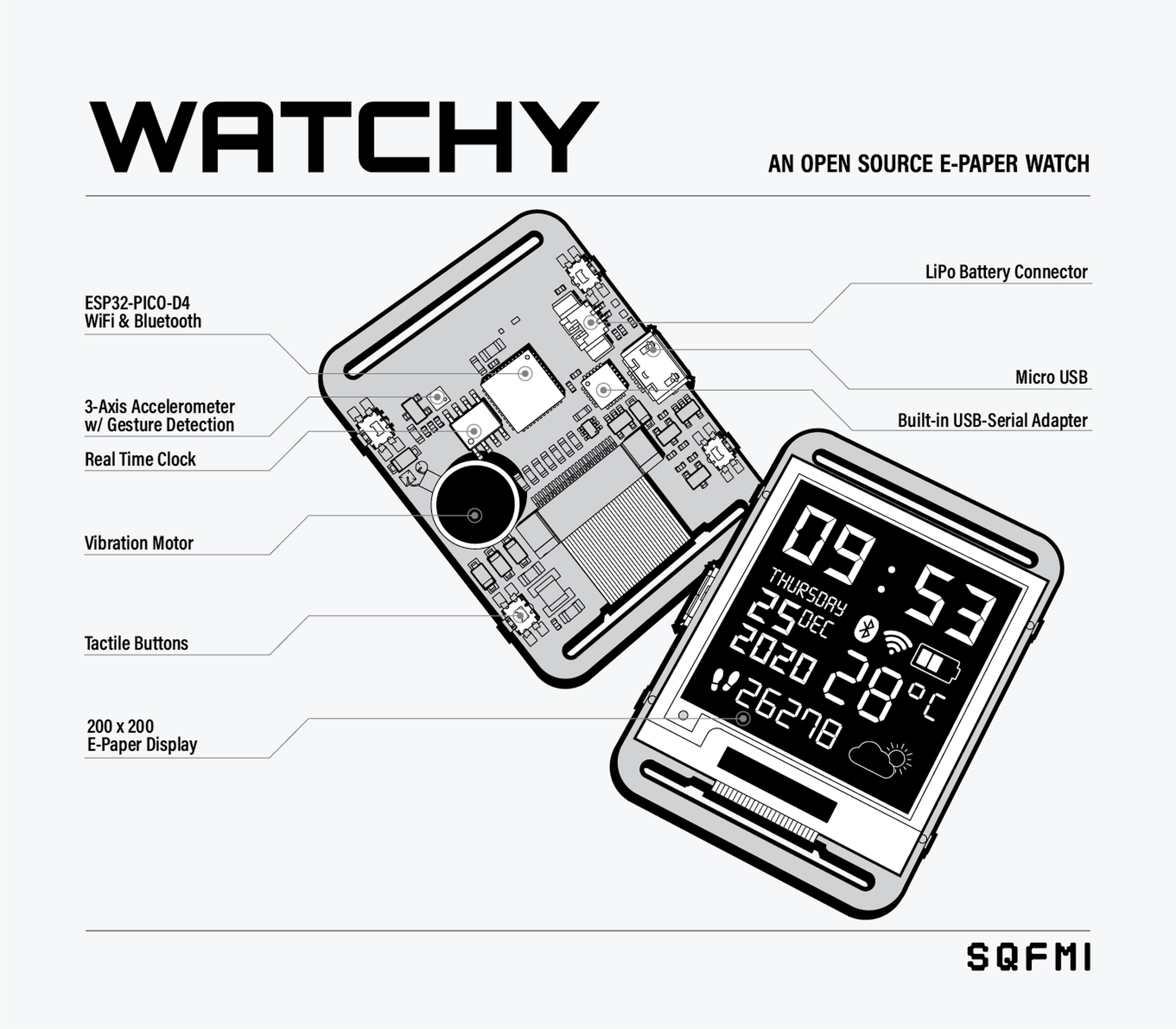 Watchy comes with Espressif Systems ESP32-PICO-D4 system-in-package with ESP32 dual-core processor with Bluetooth LE 4.2/5.x and WiFi 4 connectivity. It also features wide viewing angles and 4MB SPI flash for interfacing. BMA423 is the 3-axis accelerometer functioning as a sensor for gesture detection and activity tracking. Talking about the power specification, it has a 200 mAh battery fit for 5-7 days for timekeeping provided without WiFi. Whereas with a WiFi connection it can only last 2-3 days.
"The Watchy library depends on other open source libraries to drive all of its hardware, some of which have been wrapped in Watchy.h to provide a framework for building watch faces and apps."
Watchy supports GxEPD2 which is an Arduino Display Library for SPI E-Paper Displays. Also, It works with SPI communication needed to control Watchy's E-Paper display. This library depends on the Adafruit GFX library, which provides the graphical interfacing methods for customized images, shapes, and text. It also allows functions such as a display.drawRect() for drawing shapes, display.drawBitmap() for drawing images.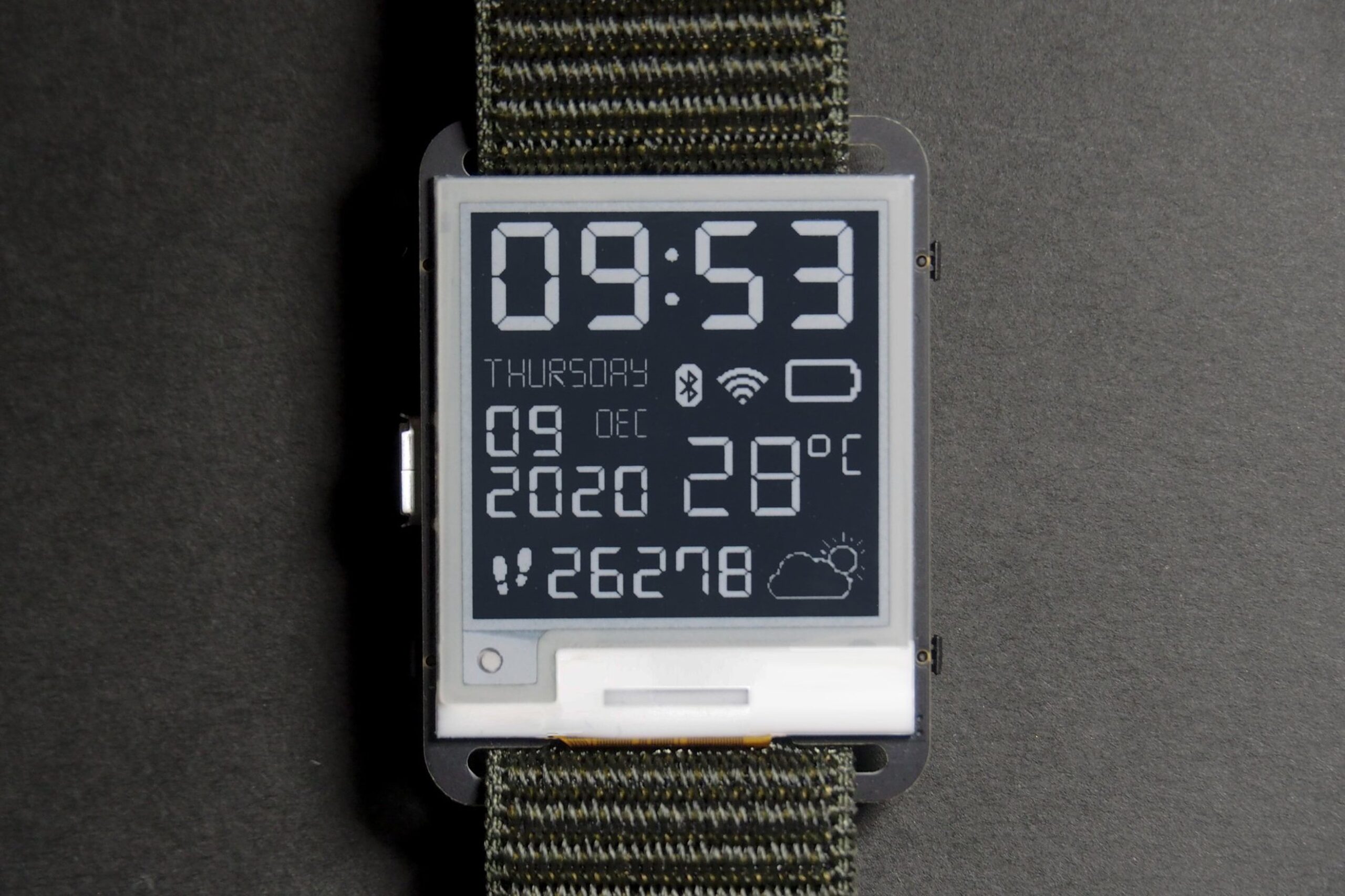 Watchy's software, hardware, and documentation are fully open source under MIT license and OSHWA certified. Watchy smartwatch is available on Tindie for $49.99 but at this point in time, it is out of stock. You can still register your email address to join the waiting list to purchase the smartwatch in the next lot. Images and technical specifications have been taken from Tindie's blog and Watchy's documentation.
Join 97,426 other subscribers

Archives