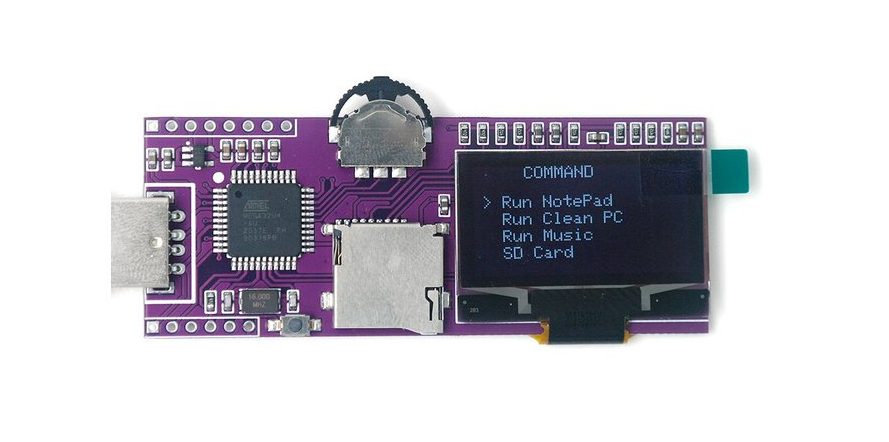 $25 DSTIKE USB KEEPER Now Available For Order
Independent hardware Developer, Travis Lin, has just designed and launched his newest device with the product name, DSTIKE USB KEEPER. The board is designed to function as an input device to a personal computer (PC) and an integrated USB HID Arduino board for project developments.
The DSTIKE USB KEEPER can operate as a keyboard for control and commands input when connected to a PC, as well as a USB for reading stored scripts from TF cards and displaying them via a menu system via an OLED screen. It is equally a replacement for the Arduino Leonardo development board, suitable for learning Arduino and developing solutions requiring the board to serve as a USB interface device.
The board is equipped with a 3-way toggle switch for switching and selecting board functions such as opening and writing on a notepad, opening cmd and inputting clean PC command, opening a website, and, reading and showing SD card including information like card type and storage size. Lin also claimed that the board opened a 40 music YouTube website in a demo program. So, with these capabilities, you would likely do more interesting work with the board by programming and tweaking alongside its featured 5x GPIOs headers.
The board is powered by a 16MHz ATmega32u4 MCU with inbuilt USB communication. It is capable of being recognized by a connected PC as either a keyboard or a mouse, which allows for its use with the 3-way toggle switch and the OLED screen for selecting the User's command.
Key Features and Specifications of the DSTIKE USB KEEPER:
Microchip 8-bit AVR® RISC;

ATmega32u4, 16MHz @ 2.7-5.5 volt operation,
1 KB EEPROM, 32 KB Flash,
2.5 KB SRAM,
12-channel 10-bit A/D-converter,
USB 2.0, JTAG (for on-chip-debug)

1.3 OLED screen
USB-A
5x GPIOs
SD holder
No SD card
Dimension: 3cm x 3cm x 7cm
As a guide and safety measure on the use of the DSTIKE USB KEEPER, Lin noted that the "Atmega32u4 is a simple 16Mhz MCU. It has limited memory to use. The demo program has already occupied 94% of memory. I do not suggest you write a more complex program. Once the memory is overflowed this board may not be recognized by the PC. Then you have to reflash the bootloader."
The board's documentary on source code and design files are available on Travis Lin's Github repository. If you are interested in the board, you can place an order for it on DSTIKE's Store or Tindie for just $25. Other useful details can also be found on those sites.
Join 97,426 other subscribers

Archives