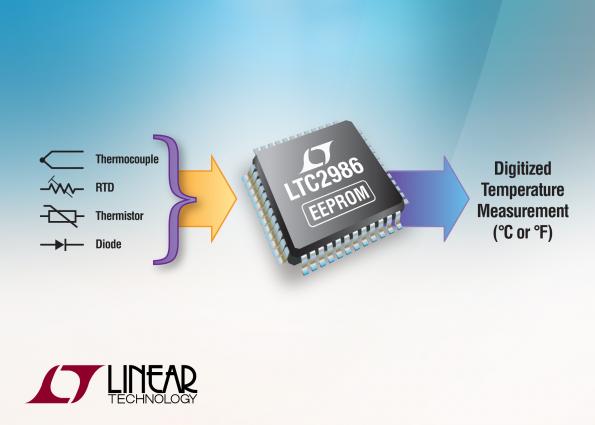 Analog front-end IC linearizes sensors
Susan Nordyk @ edn.com discuss about LTC2986 which is able to digitize and linearize a combination of temperature sensors in Celsius or Fahrenheit degrees.
A 10-channel temperature-measurement IC, the LTC2986 from Linear Technology directly digitizes any combination of thermocouples, RTDs, thermistors, and external diodes with 0.1°C accuracy and 0.001°C resolution. The analog front-end device combines three 24-bit delta-sigma ADCs with all the necessary excitation and control circuits for each sensor. On-chip EEPROM stores user configuration data and custom sensor coefficients, eliminating IC or sensor programming by a host processor.

The LTC2986 measures absolute microvolt-level signals from thermocouples and ratiometric resistance from RTDs and thermistors. It performs linearization and outputs the results in °C or °F. With 10 analog inputs, the LTC2986 accommodates up to 9 thermocouples, 4 RTDs, 4 thermistors, and/or 10 diodes, with support for Type B, E, J, K, N, S, R, and T thermocouples; 2-wire, 3-wire, and 4-wire RTDs; and 2.25-kΩ to 30-kΩ thermistors.
Analog front-end IC linearizes sensors – [Link]
Subscribe to Blog via Email
Join 97,951 other subscribers
Archives