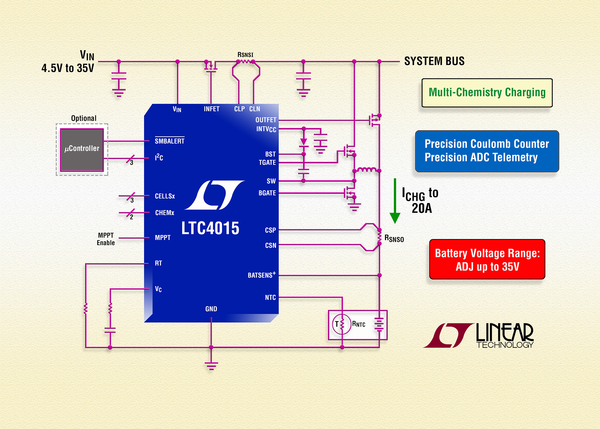 Buck battery charger handles multiple chemistries
by Susan Nordyk @ edn.com:
The LTC4015 synchronous step-down battery charger controller from Linear Technology offers charge current of up to 20 A, multiple-chemistry operation, and onboard digital telemetry. The controller transfers power from a variety of input sources, such as wall adapters and solar panels, to a Li-Ion polymer, LiFePO4, or lead-acid battery stack with system load up to 35 V.

Operating over an input voltage range of 4.5 V to 35 V, the LTC4015 provides ±5% charge-current regulation up to 20 A and ±0.5% charge-voltage regulation. While a host microcontroller is required to access the most advanced features of the LTC4015, the use of an I2C port is optional.
Buck battery charger handles multiple chemistries – [Link]
Join 97,426 other subscribers

Archives