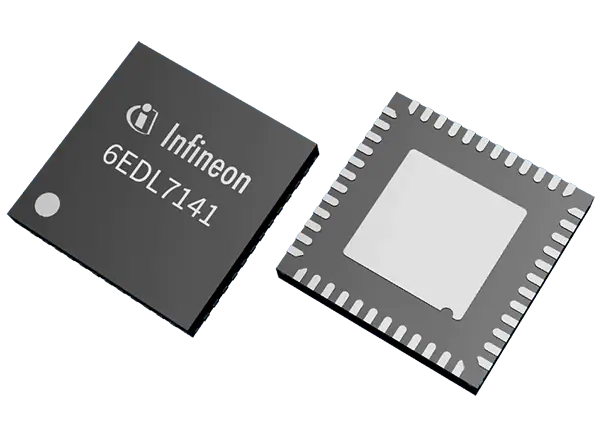 Infineon Technologies 6EDL7141 Gate Driver IC
Infineon Technologies 6EDL7141 Gate Driver IC is designed for 3-phase BLDC or PMSM motor drive applications. The 6EDL7141 features three half-bridge drivers, each capable of driving a high side and low side N-type MOSFET. Furthermore, the device is provided with programmable dead time delays for preventing current shoot-through between HS and LS switches in normal operation.
The Infineon 6EDL7141 Gate Driver IC has separate charge pumps for low and high-side gate drivers that support a 100% duty cycle and a low voltage supply operation. The gate drivers are programmable to 7V, 10V, 12V, or 15V supplies. The slew rate of the driving signal is programmed with fine granularity to reduce EMI emissions.
The 6EDL7141 implements numerous protection features for improving application robustness during adverse conditions like monitoring of power supply voltages and system parameters.
The integrated SPI offers both detailed fault reporting and flexible parameter settings such as gain of the current sense amplifiers, slew rate control of the gate drivers, various protection features, or gate driver voltage.
Features
3-phase smart gate driver

5.5V to 60V operating supply voltage (recommended operating condition)
1.5A sink/1.5A source peak gate driver currents
Programmable driving voltage (7V, 10V, 12V, 15V)
Independently programmable high side/low side slew rate control
Independently programmable dead time for turn on/off switching
Control using 3PWM or 6PWM inputs up to 200kHz
Built-in commutation tables for using 1PWM with or without Hall sensors

Integrated power supplies

High-efficiency synchronous buck converter with a programmable switching frequency
Supplies gate driver charge pumps, DVDD linear regulator, and both internal and external components
Linear regulator with 300mA current capability for MCU and other components supply (DVDD)
Dual charge pump for supplying gate driver even at low supply voltage

Three integrated current sense amplifiers

Adjustable gain and offset
Configurable low side RDSON sensing

Three integrated Hall sensor comparators
Integrated ADC for signal monitoring
Locked rotor detection
3.3V/5V compatible digital interface
Programmable SPI digital interface
Protection features

External brake with programmable braking response
Over-Current Protection (OCP) on current-sense amplifiers (programmable)
Over-Current Protection (OCP) for buck converter and DVDD linear regulator (programmable)
Under-Voltage Lockouts (UVLO) for internal and external supplies
Over-Voltage Fault (OVLO) reporting for buck converter and DVDD linear regulator
Over-Temperature warning and shutdown (OTW, OTS)
Programmable watchdog timer
Reporting through nFAULT and SPI registers

Thermally enhanced 48pin VQFN package
Block Diagram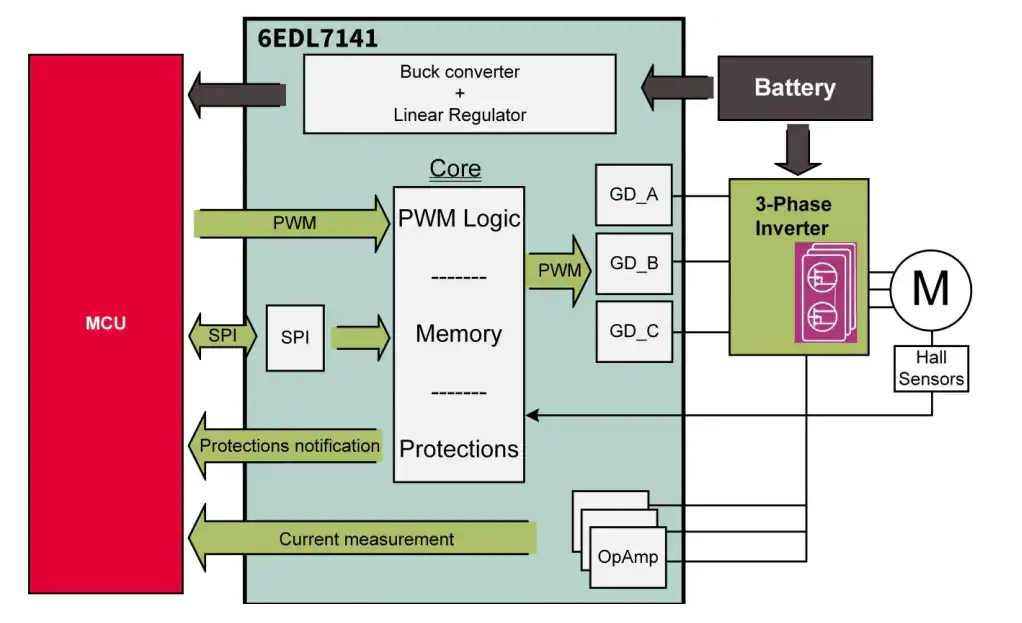 more information: https://www.infineon.com/cms/en/product/power/motor-control-ics/bldc-motor-driver-ics/battery-supplied-bldc-motor-controller-ics/6edl7141/
Join 97,426 other subscribers

Archives