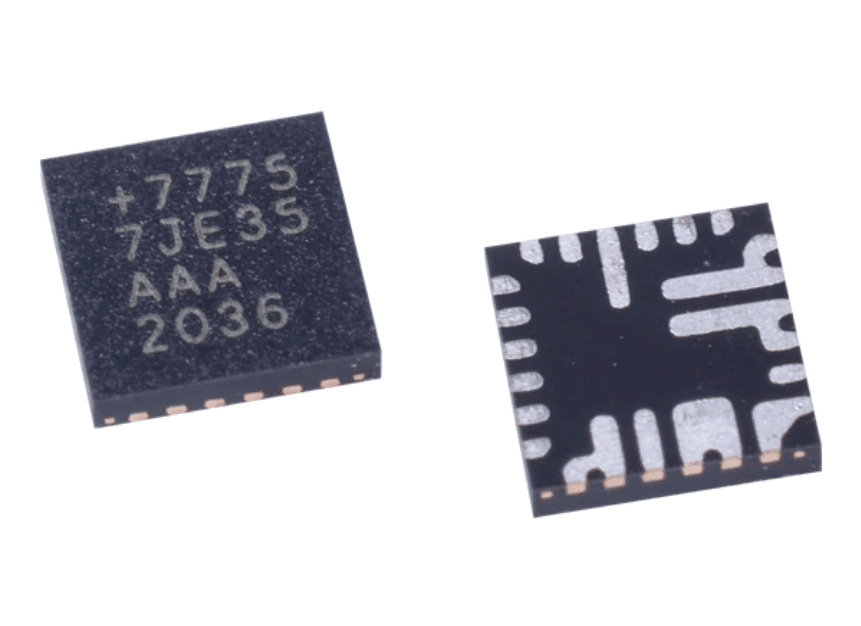 Maxim Integrated MAX77757 USB Type-C® Autonomous Charger
Maxim Integrated MAX77757 USB Type-C® Autonomous Charger is a standalone 3.15A device with JEITA for 1-Cell Li-ion/LiFePO4 batteries that supports reverse boost capability. The MAX77757 charger operates from a 4.5V to 13.7V input voltage range and has a maximum input current limit of 3A. This IC implements the Adaptive Input Current Limit (AICL) function. This AICL function regulates the input voltage by reducing input current to prevent the weak adapter's voltage from collapsing or folding back. The USB Type-C Configuration Channel (CC) detection pins on the MAX77757 IC enable automatic USB Type-C power source detection and input current limit configuration. The MAX77757 IC offers reverse-boost capability up to 5.1V and 1.5A that can be enabled with the ENBST pin.
The MAX77757 autonomous charger is equipped with a Smart Power Selector™ and a battery true-disconnect FET. These equipped devices control the charging and discharging of the battery or isolate the battery in case of a fault. The MAX77757 IC is offered in several variants to support Li-ion batteries with various termination voltages from 4.1V to 4.5V. This charger comes with a 3.6V termination voltage option for LiFePO4 batteries. The MAX77757 IC is available in 3mm x 3mm dimensions, 0.4mm pitch, and 24-lead FC2QFN package. Typical applications include Mobile Point-of-Sale (mPOS) terminals, portable medical devices, wireless headphones, GPS trackers, charging cradles for wearable devices, and power banks.
Features
Up to 16V protection
6A discharge current protection
No firmware or communication required
Integrated USB detection:

Integrated CC detection for USB Type-C
Integrated BC1.2 detection for legacy SDP, DCP, CDP, and DCD timeout
Integrated USB detection for common proprietary charger types
Automatic input current limit configuration

Safety:

Charge safety timer
JEITA compliance with NTC thermistor (MAX77757J)
HOT/COLD stop charging with NTC thermistor (MAX77757H)
Thermal shutdown

Pin control of all functions:

Resistor configurable fast-charge current
ENBST pin to enable and disable reverse boost
STAT pin to indicate charging status
INOKB pin to indicate input Power-OK (POK)
THM pin to disable charge

Input voltage regulation with AICL
Reverse boost capability up to 5.1V and 1.5A
Integrated power path
Integrated battery true-disconnect FET
24-lead FC2QFN package
Specifications
13.7V maximum input operating voltage
3.15A maximum charging current
Termination voltage:

4.1V to 4.5V for Li-ion and Li-poly batteries
3.6V/3.7V for LiFePO4 battery

3mm x 3mm dimensions
-40°C to 85°C operating temperature range
-65°C to 150°C storage temperature range
Application Circuit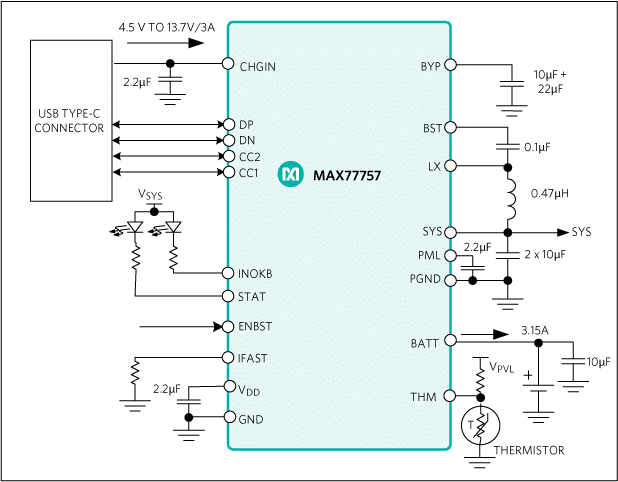 more information: https://www.maximintegrated.com/en/products/power/battery-management/MAX77757.html
Subscribe to Blog via Email
Join 97,591 other subscribers
Archives