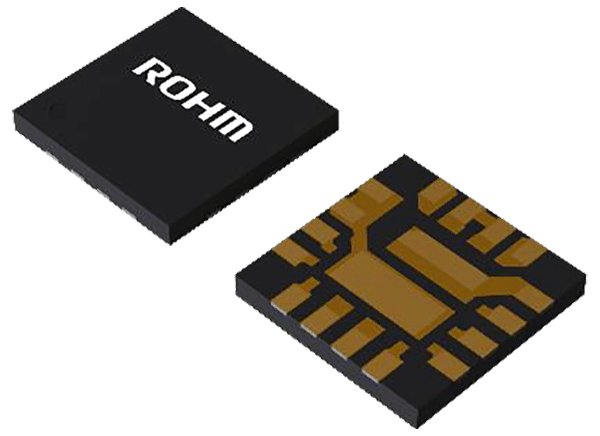 Nano Pulse Control™ 4.5 V to 36 V Input, 5 A Integrated MOSFET Single Synchronous Buck DC/DC Converter
The BD9F500QUZ from ROHM Semiconductor is a DC to DC Converter with Input Voltage 4.5 to 36 V, Output Voltage 1 0.6 to 14 V, Output Current 1 0 to 5000 mA, Storage Temperature -55 to 150 °C. Tags: Surface Mount, Buck/Step down. More details for BD9F500QUZ can be seen below.
ROHM Semiconductor BD9F500QUZ Nano Pulse Control™ Synchronous Buck DC-DC Converter features built-in low on-resistance power MOSFETs. The BD9F500QUZ DC-DC Converter offers a current of up to 5A and a fast transient response due to the Constant On-Time control system. Additionally, the Light Load Mode control improves efficiency in light-load conditions.
The ROHM BD9F500QUZ Synchronous Buck DC-DC Converter is ideal for reducing the standby power consumption of equipment. The system can control sequence via the Power Good function. The BD9F500QUZ achieves high power density and provides a small footprint on the PCB, all in a small package.
Features
Single synchronous buck DC-DC converter
Constant on-time control
Light load mode control
Adjustable soft start
Power good output
Nano Pulse Control
Output capacitor-discharge function
Overvoltage protection (OVP)
Over-current protection (OCP)
Short circuit protection (SCP)
Thermal shutdown protection (TSD)
Under-voltage lockout protection (UVLO)
Backside heat dissipation, 0.5mm pitch
3.0mm x 3.0mm x 0.40mm VMMP16LZ3030 Package
Specifications
4.5V to 36V Input voltage range
0.6V to 14V Output voltage range
5A (Max) Output current
600kHz, 1MHz, 2.2MHz (Typ) Switching frequency
40mΩ (Typ) High-side FET ON resistance
22mΩ (Typ) Low-side FET ON resistance
2μA (Typ) Shutdown current
20μA (Typ) Operating quiescent current
more information: https://www.rohm.com/products/power-management/switching-regulators/integrated-fet/buck-converters-synchronous/bd9f500quz-product