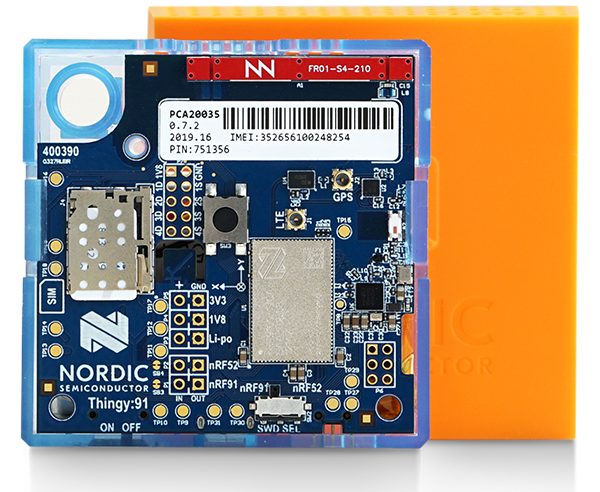 Nordic Thingy:91 Cellular IoT Prototyping Kit
Nordic Semiconductor's Nordic Thingy:91 multi-sensor prototyping kit is ideal for cellular IoT projects using the nRF9160 system-in-package (SiP). The kit is equipped with a diverse collection of sensors and interfaces that make it highly adaptable to rapid prototyping and getting a user's proof-of-concept off the ground quickly.
The Nordic Thingy:91 comes with a pre-loaded, feature-rich asset-tracking application that makes use of the on-kit sensors. LTE-M and GPS work from the device to the cloud and provides users with a working out-of-the-box asset-tracking and monitoring experience with the Nordic Thingy:91. The kit can be reprogrammed with the user's dedicated application.
The Nordic Thingy:91 is built around the nRF9160 SiP. The nRF9160 has a separate application/radio modem architecture to aid development simplicity and the overall performance. The SiP incorporates the Arm® Cortex®-M33 as a dedicated application processor which is used solely for powerful application processing. The dedicated radio system can support LTE-M, NB-IoT, and GPS technologies for precise positioning. The nRF9160 SiP integrates a full front-end RF system with a complete power management system.
Security is critically important in IoT. The nRF9160 takes advantage of Cortex-M architectures by using Arm TrustZone® for secure boot and secure execution within the device. This technology has been the mainstay of secure operation in Cortex-A devices and is used to build secure operation in smartphones and tablets.
Features
Battery-operated prototyping platform for the nRF9160 SiP
LTE band support: 700 MHz to 900 MHz and 1,710 MHz to 2,200 MHz
Certifications: CE and FCC
nRF52840 multiprotocol SoC onboard
LTE-M, NB-IoT, and GPS antennas
Nano/4FF SIM card-slot
User-programmable button and RGB LEDs
Environmental sensor for temperature, humidity, air quality, and air pressure
Color and light sensor
Low-power accelerometer and high-g accelerometer
Buzzer
4x NMOS transistors for external DC motors and LEDs
Rechargeable Li-Po battery with a capacity of 1,440 mA
The cellular IoT kit features Nordic Semiconductor's flagship nRF52840 multiprotocol SoC for short-range applications. The nRF52840 supports a broad range of protocols including Bluetooth 5 and NFC. The Nordic Thingy:91 enables users to explore the exciting possibilities offered for short-range wireless applications when it is used in conjunction with cellular IoT technology.
The Thing:91 can leverage the nRF Connect SDK, where developers can begin building their short-range wireless applications. The nRF Connect SDK offers an extensible framework for building ultra-small applications in highly constrained circumstances and the ability to develop powerful, richly featured software for advanced applications. It integrates the Zephyr RTOS and a wide range of samples, application protocols, protocol stacks, libraries, and hardware drivers. The nRF Connect SDK is publicly hosted on GitHub, offers source code management with Git, and has free SEGGER Embedded Studio IDE support. For the Thingy:91, the nRF Connect SDK contains the needed software including protocol stacks.
Join 97,426 other subscribers

Archives