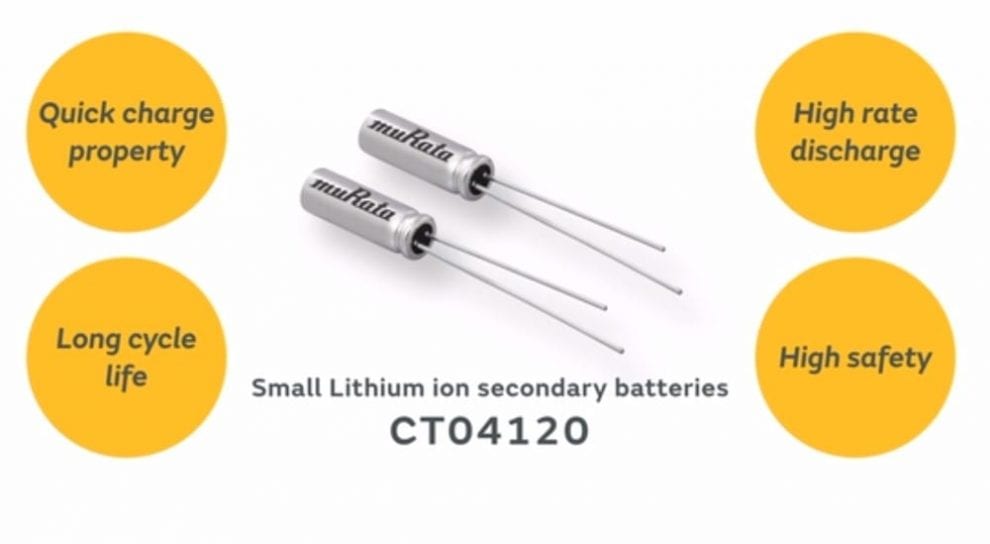 Pin-Type Li-Ion Battery Maintains 80% Capacity after 5000 Cycles
The CT04120 from Murata is a small form factor lithium-ion battery that can support 10C Charging rates without the need for a battery controller IC. Continuous discharge at a 10C rate is also supported by these rechargeable batteries.
In addition, since the internal resistance is low and the voltage drop is small, stable discharge is possible even under a large peak load or low temperature.
These devices have a diameter of 4mm and maintain 80% of their initial capacity even after 5000 cycles. Since these rechargeable batteries are based on lithium titanite, there is no possibility of thermal runaway.
Applications are expected to fall into three general categories including: small devices such as electric pens, styluses and wearables; back-up power in handy terminals, barcode readers, point of sales equipment and so on; and energy storage in energy harvesting powered devices such as solar battery powered equipment and wireless sensor nodes with various energy harvesting power sources.
Benefits and Applications
Small power equipment
Quick charge with High rate charge (10C) is available
Constant voltage charge is available
Able to use many times due to long cycle life
High safety and small weight saving
Backup power supply
System backup even when the main battery is replaced or the battery is disconnected
High power discharge is available
Constant voltage charge is available
Charge control IC is unnecessary
Energy harvesting system
Chargeable/dischargeable in wide rate ranges
Long operating time due to low leakage current
High power output is available
Resistant to over discharge
Operation temperature is wide
On The Web: Murata Manufacturing Co. Ltd.
Join 97,426 other subscribers

Archives