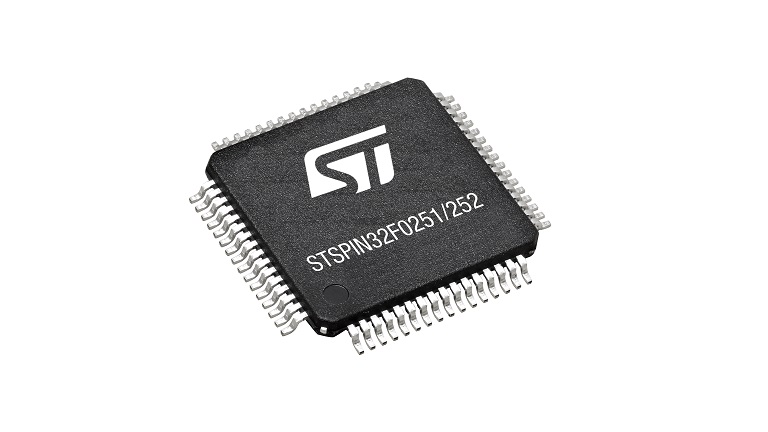 STMicroelectronics STSPIN32F025x & STSPIN32F060x STM32 MCU
STSPIN32F025x and STSPIN32F060x system-in-package are an extremely integrated solution for driving three-phase applications
STSPIN32F025x and STSPIN32F060x system-in-package are an extremely integrated solution for driving three-phase applications.
It embeds an STM32F031 featuring an ARM® 32-bit Cortex®-M0 CPU, has extended temperature range -40 °C – 125 °C,  and a 250 V or 600 V triple half-bridge gate driver, able to drive N-channel power MOSFETs or IGBTs.
A comparator featuring advanced smartSD function, high-voltage bootstrap diodes, multi-channel 12-bit ADC, anti-cross-conduction, deadtime, and UVLO protection are also included.
Key features
Embeds STM32F0 MCU and 250 V / 600 V 3-phase BLDC Driver
Fully compatible with STM32 ecosystem
Extended temperature range: -40 to +125 °C
Smart shutdown (smartSD) and protection functions
Additional features
Three-phase gate drivers

High voltage rail up to 250 V
Driver current capability:STSPIN32F0251: 200/350 mA source/sink currentSTSPIN32F0252:1/0.85 A source/sink current
Driver current capability:STSPIN32F0601: 200/350 mA source/sink currentSTSPIN32F0602:1/0.85 A source/sink current
dV/dt transient immunity ±50 V/ns
Gate driving voltage range from 9V to 20V

32-bit ARM® Cortex®-M0 core:

Up to 48 MHz clock frequency
4-Kbyte SRAM with HW parity
32-Kbyte Flash memory with option bytes used for write/readout protection

21 general-purpose I/O ports (GPIO)
6 general-purpose timers
12-bit ADC converter (up to 10 channels)
I2C, USART, and SPI interfaces
Matched propagation delay for all channels
Integrated bootstrap diodes
Comparator for fast overcurrent protection
UVLO, Interlocking and deadtime functions
Smart shutdown (smartSD) function
Standby mode for low power consumption
On-chip debug support via SWD
Applications
36 – 120 V, High power tools and garden tools
Home and Industrial refrigerators compressors
Air conditioning compressors & FANs
Industrial Pumps
Home Appliances
White goods
48 V & 72 V Server FANs
Industrial automation
more information: www.st.com
Subscribe to Blog via Email
Join 97,601 other subscribers
Archives