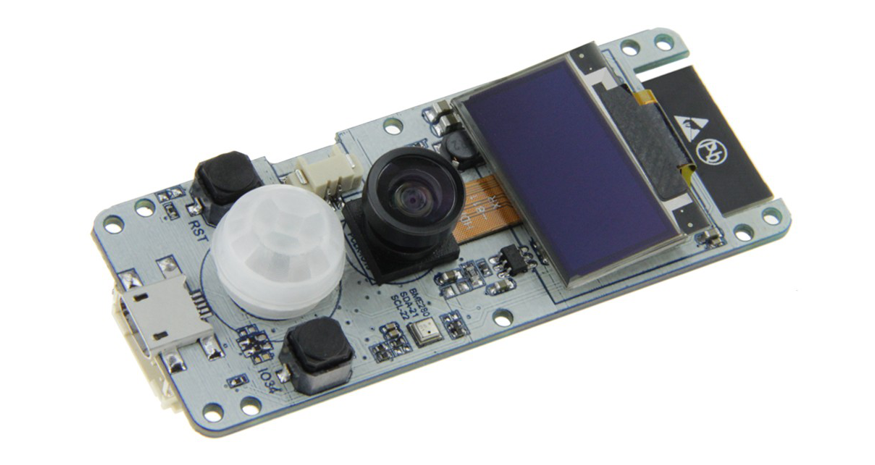 TTGO T-Camera is an ESP32 CAM Board With OLED and AI Capabilities.
Just like Arduino, ESP32 has been one of the boards that have found love among hackers and makers around the world. Unlike general Arduino boards, ESP32 offers much more at a fraction of the cost and most importantly are usually compatible with Arduino based code.
Recently we have seen the rising of ESP32 in the areas of Artificial Intelligence especially those focused on Computer Vision (Mostly around Face Detection and Recognition) such as the camera boards ESP32-CAM and the upcoming ESP-EYE board from Espressif Systems. The ESP EYE as mentioned before is an AI development board based on the ESP32 and capable of some vision and voice capabilities.
One significant note about the ESP CAM and the ESP EYE is the lack of any display medium aside from the use of LEDs or using an external interface like the computer or mobile phone, in this regard is where the TTGO T-Camera board comes in. The TTGO T-Camera hopes to solve the supposed visualization problem, by integrating a 128 x 64 OLED display which can be used to display your detection, sensor, recognition, and other kinds of data. Of course, don't expect to be able to view face image on the OLED display!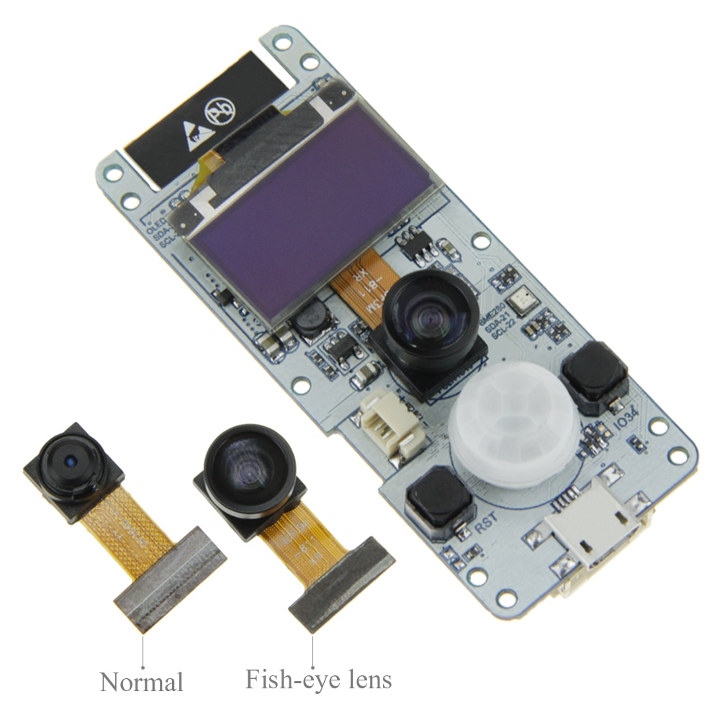 The TTGO T-Camera is basically a combination of the ESP CAM, the ESP EYE, and an OLED display. It doesn't end there, and it also includes a BME280 environmental sensor for sensing temperature, humidity, and pressure. Also, you got a PIR sensor for motion sensing and an optional fisheye lens for the camera.
Application of the TTGO T-Camera is limited by the user, and some potential application will be using the inbuilt PIR sensor of the device to detect motion in a doorway, room or somewhere and only capture the image when someone is present. Face detection and recognition can be done for possible access control or in case of security, hook the device to the internet and upload the image of the potential intruder to an online server. Basically, think about all the features of the ESP32 CAM and some features of the ESP EYE boards.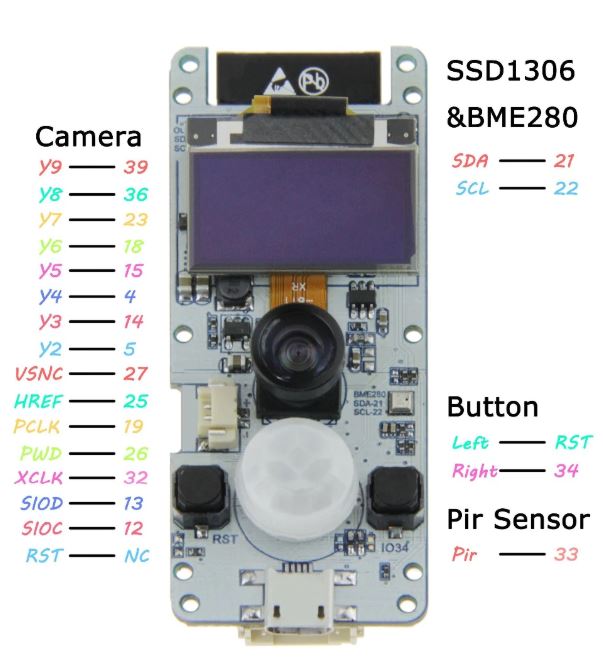 TTGO T-Camera board specifications:
ESP32-WROVER-B Wireless Module

SoC –  ESP32 dual core Tensilica LX6 processor
Memory – 8MB PSRAM
Storage – 4MB SPI flash
Connectivity – 2.4 GHz 802.11n WiFI 5, Bluetooth 4.2 LE

Camera – 2MP OV2640 camera with a normal or fisheye lens
Display – 0.96″ 128×64 OLED display connected via SSD1306 I2C display controller
Audio – Microphone
USB – 1x micro USB port for power and programming (CP2104)
Sensors – AS312 PIR, BME280 pressure, humidity, and temperature I2C sensor
Expansion – 5-pin I2C header with 5V,3.3V, and GND
Misc – Reset and user (IO34) buttons, LED
Power Supply – 5V via micro USB port, support for LiPo battery via 2-pin header and IP5306 charging chip
Dimensions – 68 x 28 mm
The board is made by LilyGO and sample code of using with Arduino is available here. The board is readily available for purchase can be seen on several Chinese stores. It is available on Aliexpress for $15.58 for the normal lens and $17.22 for the fisheye lens.
Join 97,426 other subscribers

Archives