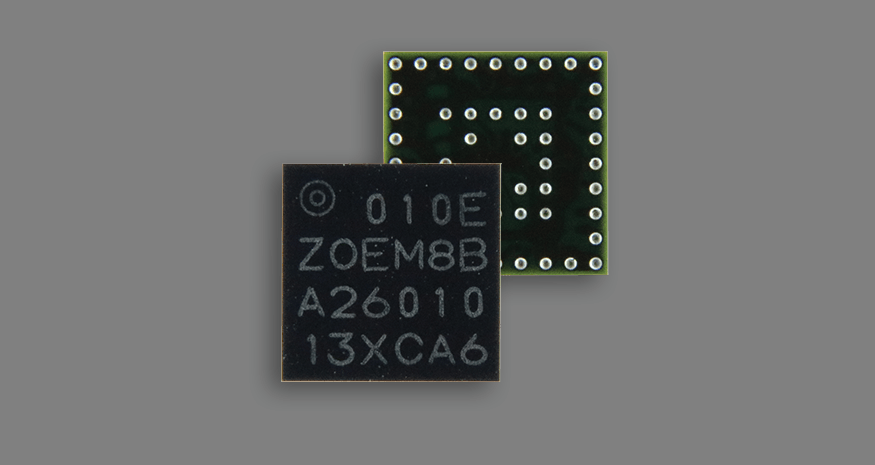 u-blox ZOE-M8B tiny GNSS SiP module
Ultra small, super low power u-blox M8 GNSS SiP module.
ZOE-M8B is u-blox's ultra small, highly integrated GNSS SiP (System in Package), measuring just 4.5 x 4.5 x 1.0 mm. Making use of the Super-Efficient (Super-E) mode, ZOE-M8B offers an ideal balance between miniature size, low power consumption and good GNSS performance. ZOE-M8B uses up to 2.5 times less power than its pin-to-pin compatible counterpart, ZOE-M8G (running in 1 Hz full power mode), while still maintaining good positioning and speed accuracy.
An average power consumption over a typical 30-minute track will be as low as 25 mW. This is true even when using an industrial antenna design with moderate-to-low signal levels. Super-E has a default performance setting for the best balance between power vs. performance.
It also has a power save setting for additional power savings with potential compromise on performance. The TCXO-based ZOE-M8B integrates a front-end SAW filter and an additional front-end LNA for increased jamming immunity and easier antenna integration. A passive antenna can be used to provide a highly integrated system solution with minimal eBOM.
Ultra small, ultra low power GNSS SiP with Super-E mode
Ultra small size SiP (System‑in‑Package) 4.5 x 4.5 x 1.0 mm
Fully integrated and complete solution, reducing total design efforts
As low as 12 mW power consumption thanks to Super‑E mode
Ideal for passive antenna, due to built‑in SAW and LNA
High accuracy thanks to concurrent reception of up to 3 GNSS
Pin‑to‑pin compatible with ZOE‑M8G
Twitter reference
Price Starting from 12.99 EUR (100 – 480 pcs) and is available from www.u-blox.com