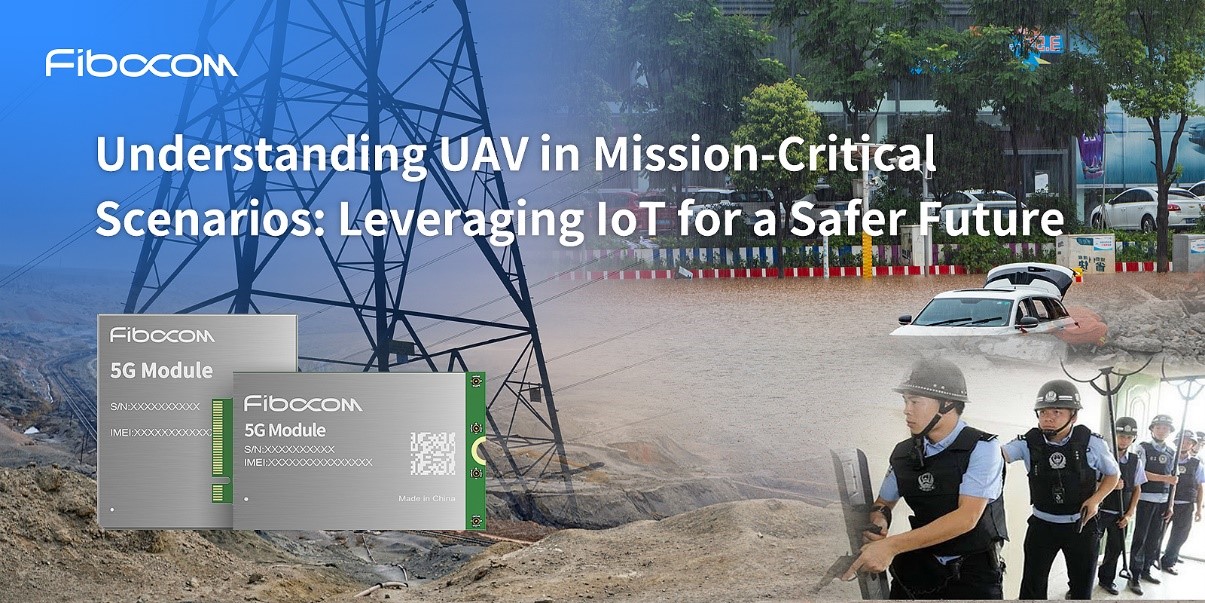 Understanding UAV in Mission-Critical Scenarios: Leveraging IoT for a Safer Future
We have witnessed an increase in natural disasters worldwide in recent months. Wildfires, earthquakes, storms, floods and droughts have left many people's homes in ruins. These extreme natural events often have serious consequences in terms of economic losses, social chaos as well as environmental damage.
Nowadays, enhanced technologies offer innovative ways to address various problems around the world, especially in mission-critical situations. For example, unmanned aerial vehicles (UAVs), also known as drones, can effectively act as mobile sensors in the IoT environment, collecting data and relaying it back to the cloud app or other analytics services. As the drone industry has expanded over the last several years, many sectors has been adopting drones for work for security and emergency response.
UAV Applications in Critical Situation
Natural Disasters
Drones are able to explore and report on locations that may be inaccessible via other means, which has become the key during and after the disasters. To begin with, ordinary modes of transport are often not viable in such cases, and drones will come in handy to help prevent a worst-case scenario. They are able to easily fly over disaster sites and deliver medical supplies such as small aid packages. In addition, drones can also be used to help first responder teams to evaluate the situation of the incidents, such as wildfires and floods, locate injured people and therefore mitigate damage from these natural disasters.
Public Safety
Deploying UAVs in emergency situations enhances the work efficiency for law enforcement teams, helps to improve public safety, increase reliability and decrease response times. Currently drones are used by police forces in a number of applications, including but not limited to surveillance in large open areas, negotiating hostage situations and investigating bomb threats. Compared with helicopters, UAVs are innovative, cost-effective and readily available. More importantly, they enable police officers to handle potentially dangerous situations while protecting their own safety.
Remote Workplaces
The inspection and maintenance of industrial facilities often brings many challenges and health risks to the workers. When in-person inspection is needed, using drones instead of people to collect data can have a huge impact on personal safety. It eliminates the need for employees to be exposed to distanced or potentially dangerous situations, such as inspecting construction sites, boilers, mines, power grids, tunnels and so on. By using sensors and cameras, the drones collect data and transmit it to the inspector in real time. As a fast, safe and economical way, drone helps with the maintenance on infrastructure or device repairs instead of using human resources or heavy machinery.
Fibocom Wireless Solutions Empower Drones Industry
Drone technology, combined with robust connectivity solutions, is helping to building a safer future, the realization of which requires high-speed and stable wireless connectivity. Embedded in drones, Fibocom is able to offer wireless communication modules to accelerate the use of drone in mission-critical situations and to establish a smarter, safer society.
Take UAV inspection as an example. UAV inspections are mainly used for grid maintenance through drone cameras to access remote areas easily. With 5G's high speed and network capacity, Fibocom's 5G wireless modules enable the data transmission of high-definition (4K/8K) videos which require high bandwidth of over 100Mbps. These devices transmit a crystal-clear view of the maintenance area, making it easier to identify problems in emergency repair scenarios, reducing labor costs and grid downtime.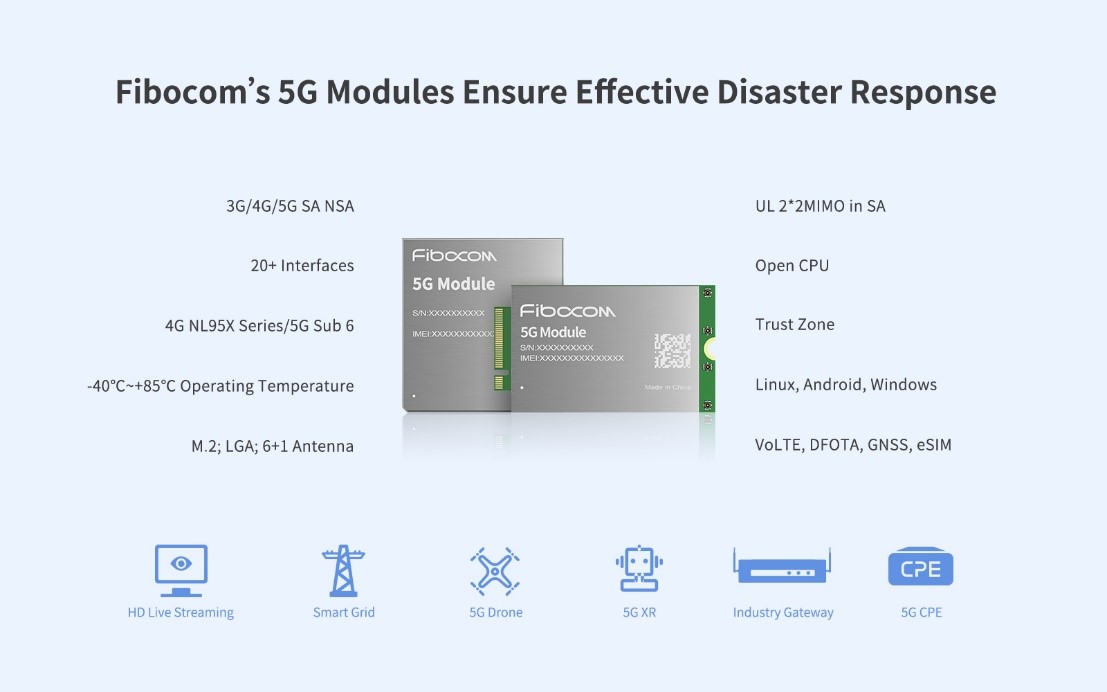 Fibocom's 5G wireless communication modules are designed to offer eMBB (enhanced Mobile Broadband), URLLC (Ultra Reliable and Low Latency Communications), as well as mMTC (massive Machine Type Communications). Supporting 5G standalone network (SA) and non-standalone (NSA) network architectures, Fibocom 5G wireless module series supports the Sub-6GHz and mmwave bands, and is compatible with 5G NR, LTE and WCDMA standards. It eliminates customers' investment concerns at the initial stage of 5G construction, responding to the commercial demand for rapid landing. Meanwhile, Fibocom 5G modules come with a rich set of interfaces including USB3.1 (3.0), USB2.0, PCIe3.0 (2.0), SPI, SDIO, GPIO, UART, etc. It has been certified by various regional operators, industry associations and local regulation, satisfying different deployment requirements for customers worldwide.
Although IoT solutions may not stop disasters, the flexibility and coverage of wireless networks, together with the reliability and resilience of IoT, can create new ways to build a safer community.
Watch how Fibocom is bringing connectivity to more industries, more devices, and more applications:
For more information, please visit:
Resources
To cοntact, the Fibocom Sales Desk, visit Contact Sales
Join 97,426 other subscribers

Archives