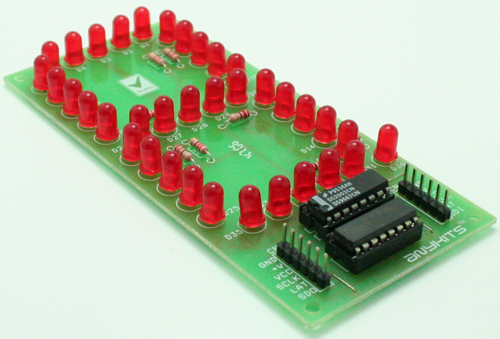 7 Segment LED Based SPI Display using 74HC595
Single Digit Big Display module using 74HC595 IC project will display large size 7 segment single digit number. 3.5inch height, which can be visible over large distance.  More digit can be connected serially to each other easily connector.
This circuit is a single digit seven segment big display using a set of 5 LEDs per segment and a shift register for easy control by micro-controller input. Each of the LEDs used in this project are 5mm high glow type.
Specifications
A ULN2003 IC helps sink higher current flowing through the LEDs to ground.
Resistor R1 to R8 are current limiting Resistors for the LEDs connected in series.
CN1 Connector is Data In connector
CN2 Connector is optional Data Out Connector if you need to stack more than 1 single display board in series
+V CN1 & CN2 should be connected to higher voltage to drive the LEDs
VCC Should be connected to 5V DC. This supply can be source from host controller
Each Segment made up of 5LEDs
7 Segment LED Based SPI Display using 74HC595 – [Link]