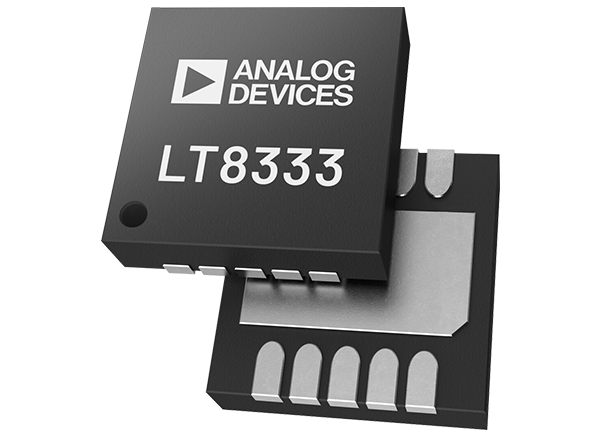 Analog Devices LT8333 Current-Mode DC-DC Converter
Analog Devices Inc. LT8333 Current-Mode DC-DC Converter integrates a 40V, 3A power switch and operates from a 2.8V to 40V input. With a unique single feedback pin architecture, this device is capable of Boost, SEPIC, or inverting configurations. Burst Mode® operation consumes as low as 9μA quiescent current to maintain high efficiency at very low output currents while keeping typical output ripple below 15mV.
The LT8333 operates over an input range of 2.8V to 40V, suitable for automotive, telecom, and industrial applications. The converter provides adjustable and synchronizable operation from 300kHz to 2MHz with the SSFM option. The LT8333 integrates other features such as programmable soft-start, bias pin, and input undervoltage lockout. The device can exhibit a low quiescent current down to 9μA in Burst Mode and 1μA in shutdown, making it ideal for battery-operated systems.
The Analog Devices Inc. LT8333 Current-Mode DC-DC Converter is available in a thermally enhanced 3mm x 3mm Dual Flat No-Leads (DFN) package with a -40°C to +150°C operating junction temperature range.
Features
Wide 2.8V to 40V input voltage range
Ultralow quiescent current and low ripple
Burst Mode operation: IQ = 9μA
3A, 40V power switch
Positive or negative output voltage programming with a single feedback pin
Programmable 300kHz to 2MHz frequency range
Synchronizable to an external clock
Spread spectrum frequency modulation for low EMI
Bias pin for higher efficiency
Programmable undervoltage lockout (UVLO)
Overcurrent and overtemperature protection
Thermally enhanced 3mm x 3mm DFN-10 Package
Application Circuit

more information: https://www.analog.com/en/products/lt8333.html
Subscribe to Blog via Email
Join 97,587 other subscribers
Archives