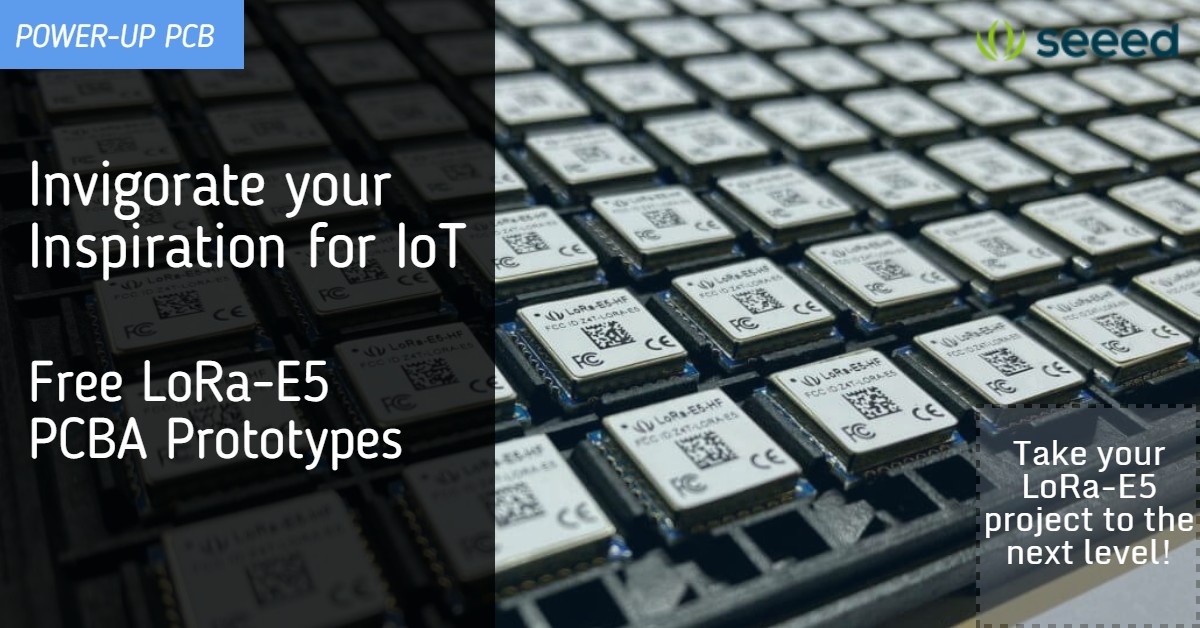 Invigorate your Inspiration for IoT with LoRa-E5 and FREE Seeed Fusion PCBA Prototypes
BIG NEWS!! To accelerate the development of IoT, Seeed is sponsoring Lora-E5 projects with the Seeed Fusion PCB Assembly Service for all hardware enthusiasts, designers, makers, and engineers around the world!
Explore LoRa-E5 & the Seeed Fusion PCBA Service
STM32WL module LoRa-E5 is the first SoC to combine a LoRa RFIC (SX126X) with an MCU (STM32WLE5JC) embedded on a single module. Designed with low energy but high performance, low cost, and compact applications in mind, the FCC and CE certified LoRa-E5 LoRaWAN® module is ideal for long-distance, ultra-low-power applications such as airport tracking, smart agriculture, smart city, wireless meter reading, sensor networks, wireless communication, and other low-power wide-area IoT scenarios.
Orkhan AmirAslan, a hardware engineer from The Things Network (TTN) recently developed a feather-style breakout board for the LoRa-E5 module, which was manufactured with the Seeed Fusion PCB assembly service, a one-stop-shop for electronics manufacture.
Good ideas need to be discovered, and good projects deserve to be recognized, realized and widely disseminated.
If you have an interesting concept for Lora-E5 and are willing to share it with the community, share it with us and we can help you make it a reality with Seeed Fusion's one-stop-shop capabilities. Get 2 boards fabricated and assembled completely free with Seeed Fusion's turnkey PCB Assembly service.
Furthermore, choose all your parts from the PCBA Open Parts Libraries (OPL) and reduce the lead time to as little as 7 working days.
Meanwhile, if you have mass production requirements, we highly recommend taking advantage of the Seeed Fusion PCB Assembly service and get the LoRa-E5 modules for only US$5.90 (40% discount, original price US$9.90).

Take your LoRa-E5 project to the next level!
How to apply:
Each person is limited to two PCBA boards 100% completely FREE for one design, including PCB fabrication, the cost of parts, assembly and shipping. The design must include LoRa-E5.
When preparing the BOM file, just add the Seeed SKU 317990687 or the part number LoRa-E5 to your BOM file. Add the order to the cart then contact our customer support (fusion@seeed.cc) to obtain the corresponding cash coupon for settlement.
By participating in this event, you agree to review your experience with us and allow us to share it and the design with the community on our social media platforms (Facebook, Twitter, blog, etc.). The design does not need to be open-sourced and production files will not be shared with the public (unless you want to). We hope your experience will go onto inspire more users to embrace IoT, LoRaWAN® and its capabilities.
Further Cooperation With Seeed
Seeed can assist designers with an established project plan with product development and mass production. Furthermore, we can assist with sales and distribution using our global sales network, and designers can obtain the licensing fees through sales by becoming a senior partner.
We hope to see more Lora-E5 application cases involving smart agriculture, smart logistics management, smart water meter, smart home and smart parking system, etc. If you have any questions, please feel free to contact our customer support at fusion@seeed.cc for further consultation. We look forward to hearing from you!
Join 97,426 other subscribers

Archives