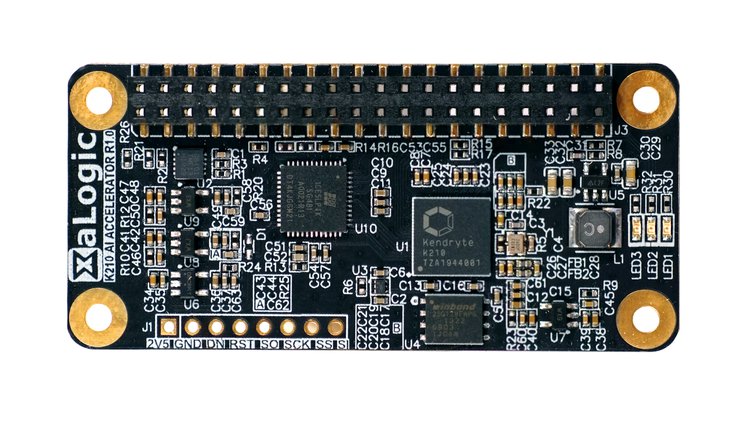 XaLogic's K210 AI Accelerator is a Raspberry Pi HAT that lets you develop edge AI applications in no time
Shortly after XaLogic unveiled the XAPIZ3500 HAT intended to bring deep learning to the Raspberry Pi Zero, the Asian – based company who is consistently committed to enabling machine learning capabilities at the edge, has again unveiled a new K210 AI Accelerator that looks to bring Kendryte K210-powered AI Acceleration to the Raspberry Pi. The Kendryte K210 system-on-chip so far has proven popular for edge AI tasks and XaLogic is looking to bring the technology to the Raspberry Pi family of single-board computers using a simple add-on HAT.
The redesigned HAT allows fast development of real-time machine learning applications at the edge.
"K210 AI Accelerator is a Raspberry PI HAT powered by the Kendryte K210 AI Processor,"
says XaLogic, concerning their design.
"It fits into any [Raspberry Pi] with a standard 40 pins connector and gives it a Neural Engine Accelerator (Kendryte K210) with 0.5 TOPs (Tera Operations) processing power. Using one of our many free pre-trained models, you can add machine vision features using deep learning in a matter of minutes. So you can add AI features to your [Raspberry Pi] based camera even if you don't know how to train your model."
Features of the K210 AI Accelerator:
It adheres to the Hardware Attached on Top (HAT) standard
It has a very compact solution as it has the same footprint as the compact Raspberry Pi Zero family of single-board computers
Comes with lots of pre-trained models for developing smart AI applications without having to go through the tedious flow of training your neural networks, and,
Few APIs in Python give cool features such as real-time face detection, object detection etc.
The K210 AI Accelerator is also expected to come with open source software, sample Caffe and TensorFlow projects to help users create their own custom neural network, as well as a secured communication for fast IoT deployment.
"Once you are ready to deploy your edge devices, secure it easily when connecting to Amazon Web Services by leveraging on the Infineon Trust-M security chipset on the K210 AI Accelerator."
More details on the K210 AI Accelerator including schematics, source codes and get started demo can also be found on the company's website or their Crowd Supply page.
The crowdfunding campaign for the board is yet to be launched, but you can sign up and get the chance to receive updates and be notified when it finally does.
Join 97,426 other subscribers

Archives