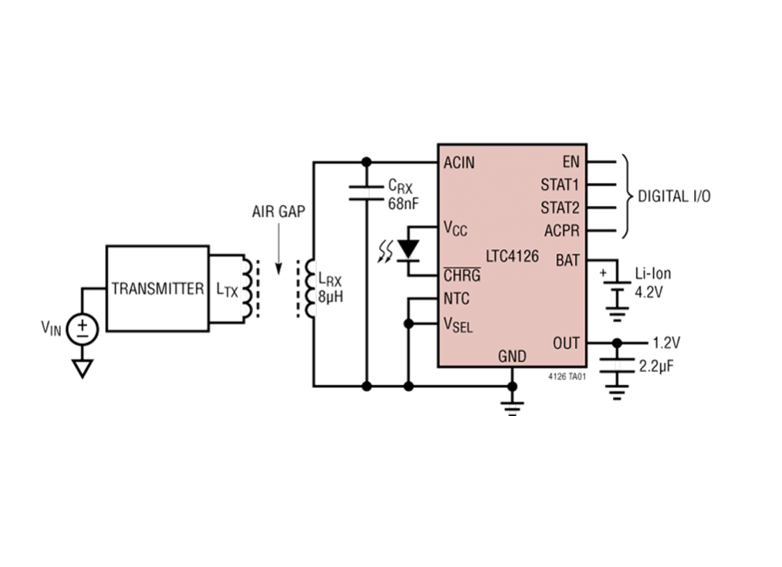 Εfficient Wireless Li-Ion Charger with Regulator Optimized for Low Power Wearables
Analog Devices announces the Power by Linear™ LTC4126, which expands its offerings in wireless battery charging. The LTC4126 combines a wireless powered battery charger for Li-Ion cells with a high efficiency multi-mode charge pump DC/DC converter, providing a regulated 1.2V output at up to 60mA. Charging with the LTC4126 allows for a completely sealed end product without wires or connectors and eliminates the need to constantly replace non-rechargeable (primary) batteries. The efficient 1.2V charge pump output features pushbutton on/off control and can directly power the end product's ASIC. This greatly simplifies the system solution and reduces the number of necessary external components. The device is ideal for space-constrained low power Li-Ion cell powered wearables such as hearing aids, medical smart patches, wireless headsets, and Internet of Things (IoT) devices.
The LTC4126, with its input power management circuitry, rectifies AC power from a wireless power receiver coil and generates a 2.7V to 5.5V input rail to power a full-featured constant-current/constant-voltage battery charger. Features of the battery charger include a pin selectable charge voltage of 4.2V or 4.35V, 7.5mA charge current, automatic recharge, battery temperature monitoring via an NTC pin, and an onboard 6-hour safety charge termination timer. Low battery protection disconnects the battery from all loads when the battery voltage is below 3.0V. The LTC4126's charge pump switching frequency is set to 50kHz/75kHz to keep switching noise out of the audible range, ideal for audio related applications such as hearing aids and wireless headsets.
Features

Wireless Li-Ion Battery Charger with High Efficiency Multi-Mode Charge Pump DC/DC
Wideband Wireless Receive Power Frequency: DC to >10MHz
Integrated Rectifier with Overvoltage Limit
Pin Selectable Charge Voltage: 4.2V or 4.35V
Fixed 7.5mA Charge Current
Low Battery Disconnect (3.0V)
NTC Pin for Temperature Qualified Charging
1.2V DC/DC Regulated Output at Up to 60mA
50kHz/75kHz Switching, No Audible Noise
Pushbutton and/or Digital on/off Control for DC/DC
The LTC4126 is housed in a highly compact, low profile (0.74mm) 12-lead 2mm × 2mm LQFN package. The device is guaranteed for operation from –20°C to 85°C in E-grade. For more information, visit www.analog.com/LTC4126