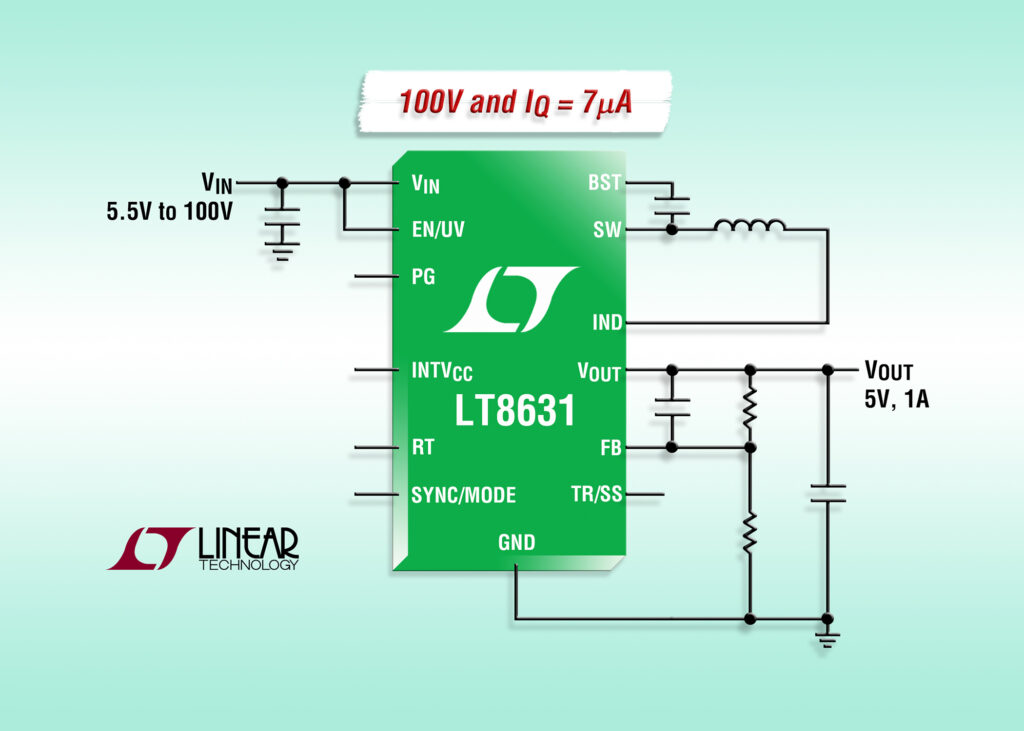 100V, 1A, synchronous step-down regulator: Iq of 7µA
by Graham Prophet @ edn-europe.com:
LT8631 is a 1A, 100V-input-capable synchronous step-down switching regulator. Synchronous rectification delivers efficiency as high as 90% while Burst Mode operation keeps quiescent current under 7µA in no-load standby conditions.

Its 3V to 100V input voltage range suits it for 48V automotive systems, dual battery transportation, industrial and 36V to 72V telecom applications. Its internal high efficiency switches deliver up to 1A of continuous output current to voltages as low as 0.8V. The LT8631's Burst Mode operation offers ultralow quiescent current, suiting it for applications such as automotive "always-on" systems. The LT8631's unique design maintains a minimum dropout voltage, enabling it to operate with duty cycles up to 99%. Its resistor-programmable 100 kHz to 1 MHz frequency range and synchronisation capability enable optimisation between efficiency and external component size. The LT8631's 20-lead TSSOP package with high voltage lead spacing ensures a compact, thermally efficient footprint for high voltage applications.
100V, 1A, synchronous step-down regulator: Iq of 7µA – [Link]
Join 97,426 other subscribers

Archives