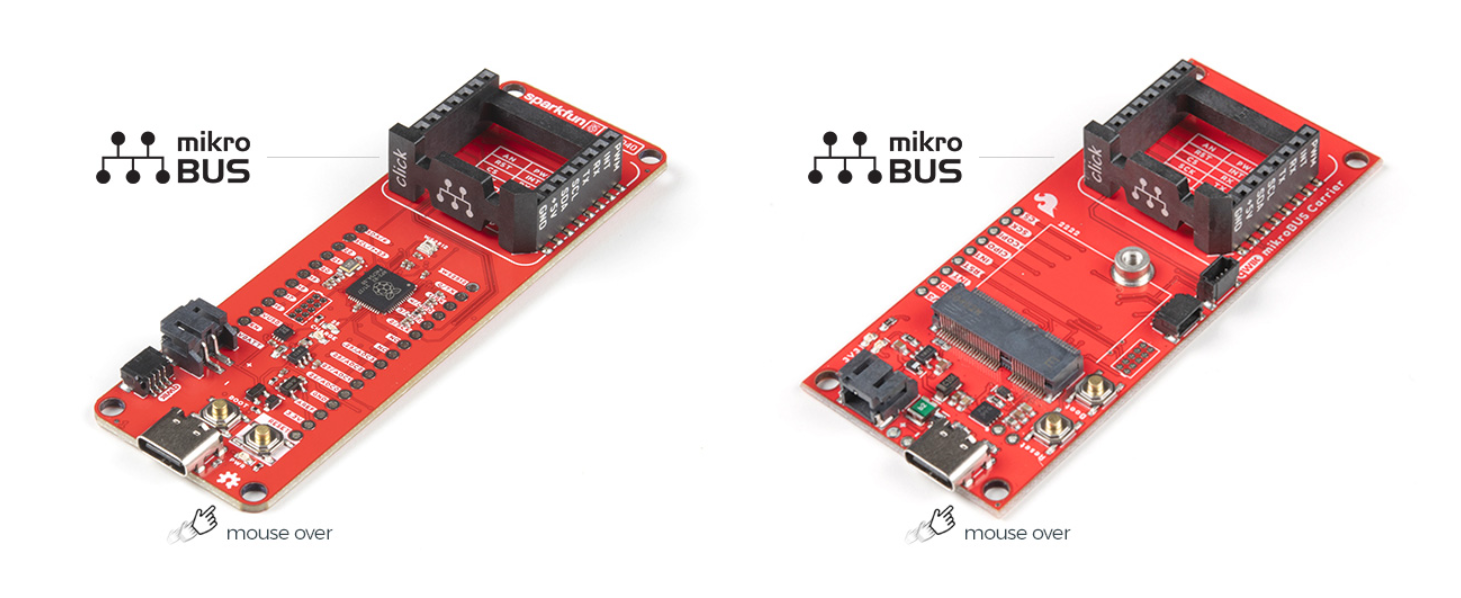 SparkFun Join Hands With MikroElektronika to design new electronic embedded products
Serbian electronics embedded manufacturer MikroElektronika is known for releasing one product every day, has now been selected by SparkFun under a new partnership agreement to add new products from the MIKRO ecosystem to the SparkFun e-store. The collaboration will also see fresh products being developed, starting with two new SparkFun Originals with mikroBUS sockets that can interact with Qwiic connect system and MicroMod. SparkFun MicroMod mikroBUS carrier board leverages the onboard Raspberry Pi's in-house silicon tapeout RP2040 microcontroller and is designed for the Feather board form factor, including a microSD card slot and a JST single-cell battery connector. The other product is a SparkFun MicroMod mikroBUS carrier board with a MicroMod M.2 socket and microBUS 8-pin header that provides a greater degree of freedom to interface with any processor board in the MicroMod ecosystem as well as any Click board in the microBUS ecosystem.
Coming back to the key highlight of SparkFun RP2040 mikroBUS development board priced at $14.95 is integrated with 16MB of flash memory and a programmable WS2812 RGB LED. The onboard RP2040 microcontroller features two Arm Cortex-M0+ processors clocked up to a frequency of 133MHz and incorporates 264kB of embedded SRAM in six banks, 6x dedicated IOs for SPI flash memory, 30x multifunctional GPIOs for dedicated hardware, programmable IOs, and 4x 12-bit ADC channels. However, the Feather form factor board only gets 18x multifunctional GPIO pins divided as up to 2x UART, I2C and SPI buses, up to 8x 2-channel PWM and 4x 12-bit ADC channels with an internal temperature sensor (500kSa/s). On the software side, the RP2040 microcontroller supports both C/C++ and MicroPython cross-platform development environments including easy access to runtime debugging.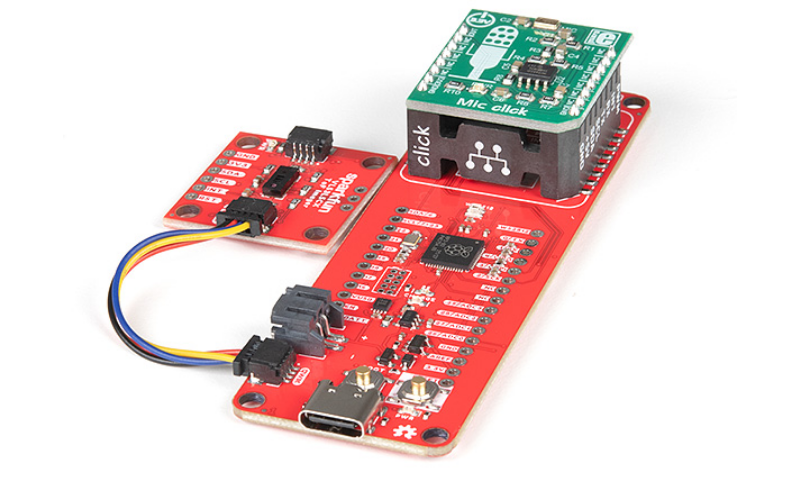 To power the SparkFun RP2040 mikroBUS development board, the board is designed with a USB Type-C connector and supports a 2-pin JST connector for a LiPo battery of 500mA charging circuit. For the enhanced user interface, the hardware gets 4x LEDs, like red for the 3V3 power indicator, yellow for battery charging indicator, blue for status/test (GPIO 25), and an addressable RGB LED on GPIO 8. Interfacing external modules and sensors can be done through Qwiic connector and mikroBUS socket, which are some of the universal connectors combining hundreds of external sensors. As an open-source project, the manufacturer has provided Schematic and Eagle PCB design files along with board dimensions and hookup guides.
Another important launch is the SparkFun MicroMod mikroBUS carrier board that takes advantage of three connectors, MicroMod, Qwiic, and mikroBUS for faster prototype reducing time to market. The mikroBUS 8-pin female header with standard pin configuration consists of 3x groups of serial communication pins, SPI, UART, and I2C, while 6x additional pins such as PWM, interrupt, analog input, reset, and chip select, along with 2x power groups of 3V3 and 5V. To charge the single-cell LiPo battery, the carrier board is equipped with MCP73831 single-cell Lithium-Ion/Lithium-Polymer charger IC, while still supporting onboard USB Type-C connector.
Analysis
In the pool of several RP2040 powered development boards, the $14.95 SparkFun RP2040 mikroBUS development board comes with good documentation for newbies. If you are new to RP2040 microcontroller development, the hardware can be a good starting point for the listed price point. The carrier board is no special other than the support for all three MicroMod, Qwiic, and mikroBUS ecosystems while shipping at $19.95. Let us know in the comments if you would buy one, and if so why.
Join 97,426 other subscribers

Archives