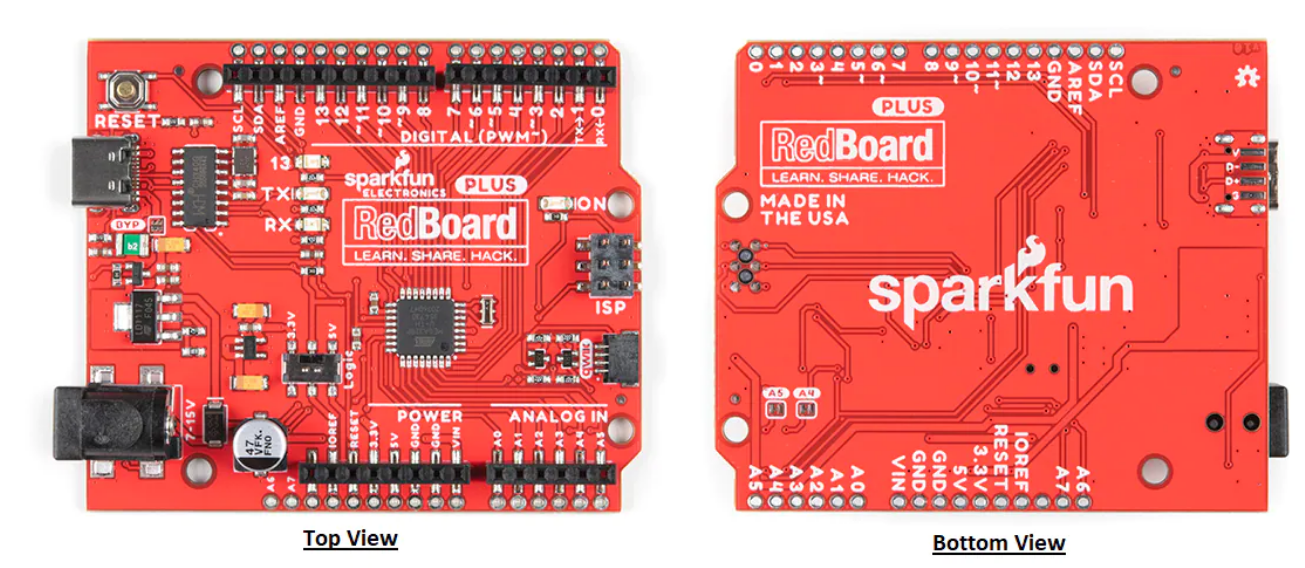 SparkFun RedBoard Plus Development Board
SparkFun RedBoard Plus Development Board is an Arduino-compatible board that is similar to an Arduino Uno with many extra perks. This DEV-1858 development board utilizes a handy Qwiic Connect System that means no soldering or shields are required to connect it to the rest of the system. The RedBoard Plus board includes the hardware peripherals like 22x digital I/O pins with 6x PWM pins, 8x analog pins, UART, I2C, SPI, and external interrupts. This board uses the LM1117 5V voltage regulator and AP2112 3.3V voltage regulator that provides up to 600mA to daisy chain multiple Qwiic boards and sensors. The RedBoard Plus board comes with an I/O voltage switch also known as the "Red Squirrel" switch. This Red Squirrel switch can easily select the GPIO voltage between 3.3V to 5V.
The RedBoard Plus can be programmed over a USB-C cable with 5V input voltage or through the barrel jack from 7V to 15V input voltage. This development board features 32kB flash memory, 16MHz clock speed, all SMD construction, R3 shield compatibility, and an improved reset button.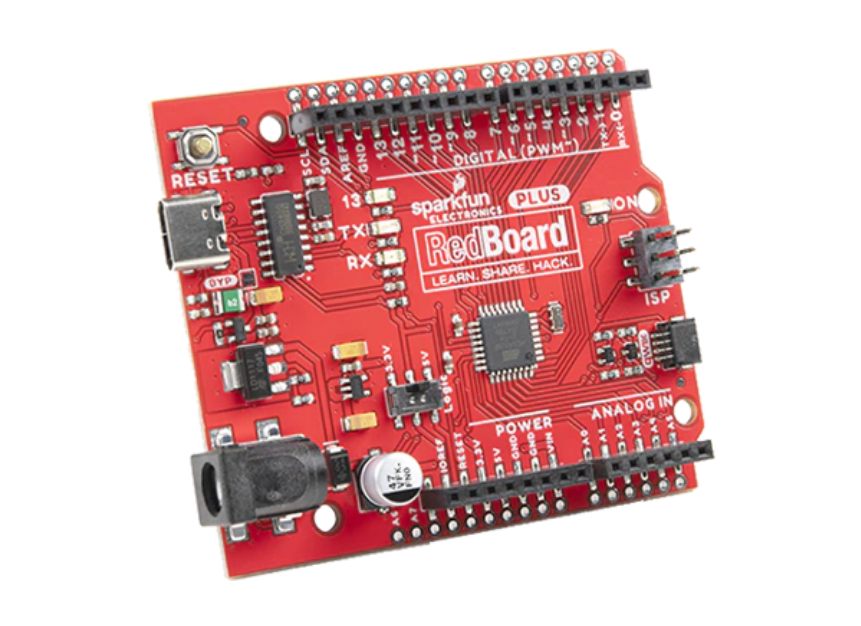 Features
ATmega328P MCU with Optiboot (UNO) bootloader
Input voltage:

7V to 15V via barrel jack
5V via USB-C

Voltage regulators:

LM1117 adjusted to 5V
AP2112 for 3.3V

Built-in resettable PTC fuse 5V/2A
CH340G Serial-to-USB converter
3.3V to 5V logic level switch
22x digital I/O pins:

6x PWM outputs, 8x analog inputs, UART, I2C, and SPI
1x Qwiic connector
A4/A5 jumpers

2 x 3 ISP header
32kB flash memory
16MHz clock speed
All SMD construction
R3 shield compatible
Improved reset button
more information: https://www.sparkfun.com/products/18158
Join 97,426 other subscribers

Archives