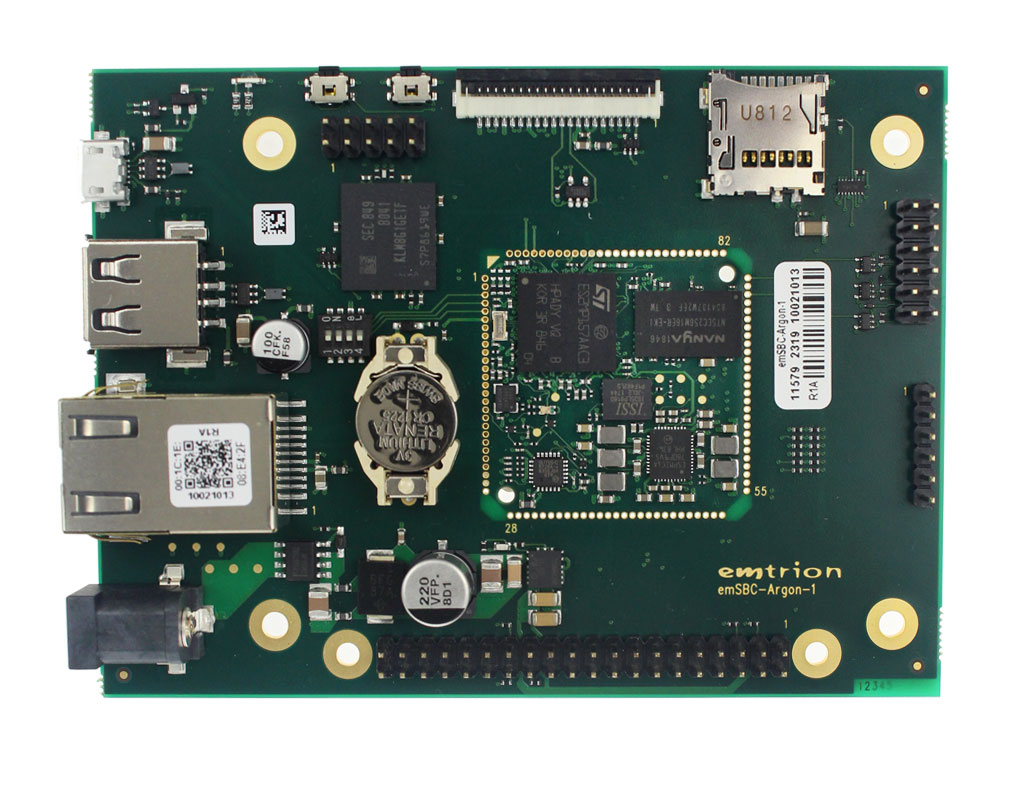 Emtrion launches a SBC based on the ST STM32MP1
STMicroelectronics, one of the leading semiconductor manufacturers, launched the STM32MP1 microprocessors series back in February 2019 which are based on an HSA (heterogeneous system architecture). The microprocessors are based on an Arm® Cortex®-A7 core running at 650 MHz and Cortex®-M4 at 209 MHz combined with a dedicated 3D graphics processing unit (GPU) and MIPI-DSI display interface and a CAN FD interface.
The STM32MP1 microprocessors series is expected to follow new applications in the computing world targeting use in Industrial control, HMI (Human Machine Interface), Gaming console, Industrial IoT, and many more. Emtrion, the Germany based company is banking on the STM32MP1 microprocessors and they announced an upcoming computer-on-module based on the STM32MP1 back in March this year. The module was called the emSTAMP Argon Module and is tailored for graphics, communications, and industrial IoT applications.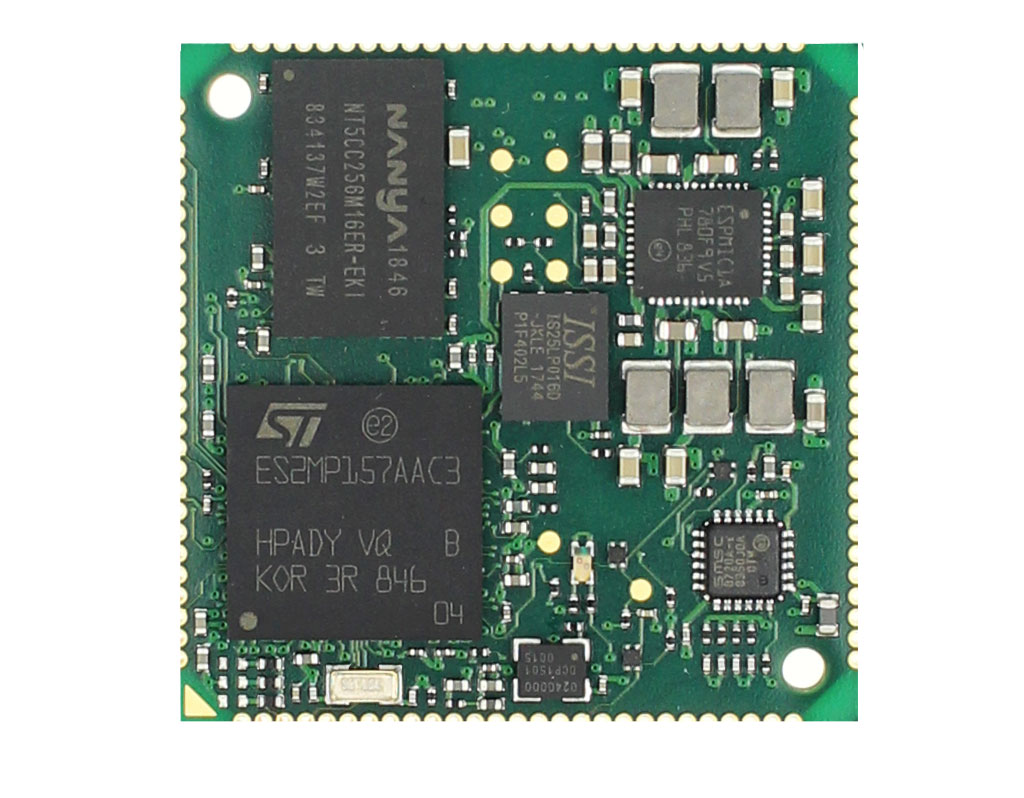 Fast-forward to today, Emtrion has recently launched the Emtrion emSBC-Argon, a single board computer that is based on the STM32MP1 microprocessor that is packed in the Emtrion's emSTAMP-Argon module. The emSTAMP-Argon module combines a pair of 650MHz Cortex-A7 cores with a 209MHz Cortex-M4 measuring only 35 x 35 x 4mm. The Emtrion emSBC-Argon SBC integrates the emSTAMP-Argon module using an edge-castellated "stamp hole" interface.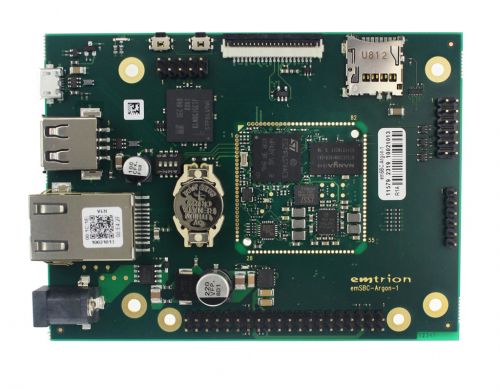 The emSTAMP-Argon module is available in two variant; STM32MP157A and STM32MP157C models. Both models include a Vivante 3D GPU that supports OpenGL ES 2.0, adds dual FD-CAN support, a WXGA resolution (1280 x 800) at 60fps video. The STM32MP157C goes a step ahead by adding a hardware crypto chip with TRNG, tamper, secure boot, and TrustZone support.
Key features
STM32MP157AAC processor from STMicroelectronics
ARM Dual Cortex-A7 @ 650MHz – 2470 DMIPS
ARM Cortex-M4 @ 200MHz – 250 DMIPS
Co-processor: ARM Neon ™, FPU, and 3D GPU
Operating system: Linux or Android
Virtualization capable (Jailhouse)
up to 512 MB DDR3L SDRAM
8GByte (up to 64 GB) eMMC Flash
Up to 8 MB of QSPI-NOR-Flash
2 x FD-CAN 2.0
Size: 104.5 x 77.5 mm
The emSBC-Argon is capable of virtualization through the open-source Jailhouse Linux-based partitioning hypervisor. Protocols such as PROFINET, EtherCAT, EtherNet/IP are all available and ready to run real-time processes and communication applications. Also, since the Cortex-M4 core is based on the ecosystem of the STM32 MCU, codes for STM32 Cortex-M4 systems are easily reusable on the SBC.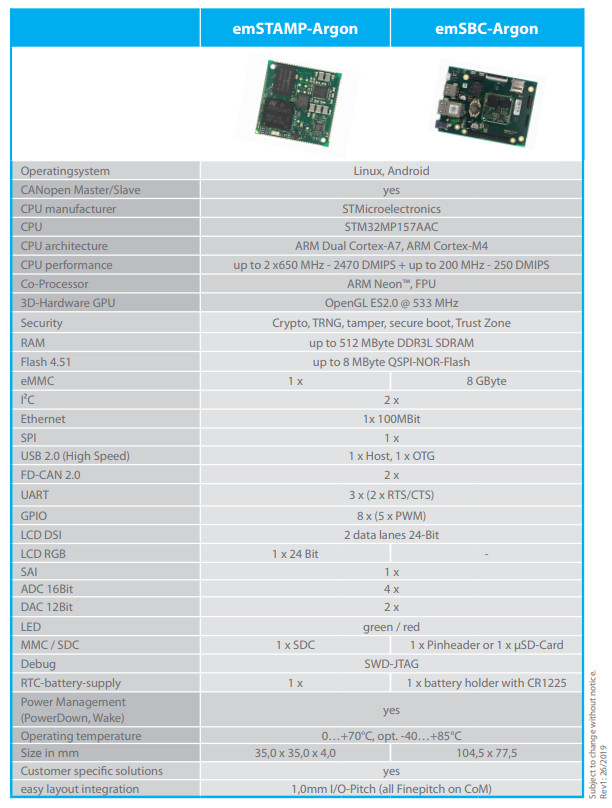 The 104.5 x 77.5mm emSBC argon supports both Android and Linux operating systems. As seen on similar SBCs, the emSBC argon includes a microSD slot, 10/100 Ethernet, USB 2.0 host, SPI, ADC 16bit, PWM, DAC 12bit, I2C, SAI, I/O headers, MIPI-DSI interface, and micro-USB OTG ports. The power supply is provided through the DC barrel jack, and it also includes an RTC-battery-supply holder. Power management features like PowerDown and wake is supported.
No information is available about the board pricing, and you will have to contact customer care about it. More details on the emSBC-Argon are available on the product page and the emSTAMP-Argon module also on the product page.