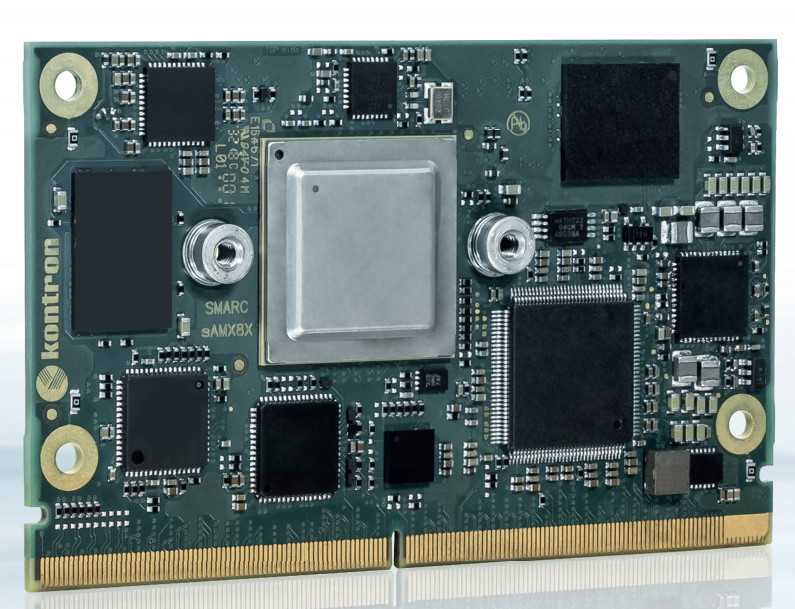 Kontron's SMARC-sAMX8X Features NXP i.MX8X Low Power SoC
Kontron has launched the "SMARC-sAMX8X" module with low power I.MX8X series processor. The SMARC module runs Linux on a dual- or quad Cortex-A35 i.MX8X SoC with up to 3GB LP-DDR4, up to 64GB eMMC, dual GbE controllers, and PCIe. Kontron's SMARC-sAMX8X delivers NXP's mid-range i.MX8X SoC package in an 82 x 50mm SMARC 2.0 form factor, just like Congatec's Conga-SMX8X module. Other i.MX8X modules include a Qseven-based Conga-QMX8X COM announced at the same time as the Conga-SMX8X, plus Phytec's phyCORE-i.MX 8X, Variscite's VAR-SOM-MX8X, and the Toradex Colibri iMX8X and Digi ConnectCore 8X.
The I.MX8X SoC by NXP is clocked at 1.2GHz and it's very power efficient. This SoC also includes a Cortex-M4 core for real-time duties. You have the following options to choose from: the quad-core i.MX8X QuadXPlus, the dual-core i.MX8 DualXPlus, and the dual-core i.MX8 DualX. All of the variants are available on the SMARC-sAMX8X module. The QuadXPlus and the DualX Plus model have 4-shader Vivante GT7000Lite GPU while the DualX has a 2-shader GT7000UltraLite GPU which is a low-performance and low-cost version.
The SMARC-sAMX8X module runs a Yocto project-based custom Linux flavor as many other I.MX8M do. It supports up to 64GB eMMC and sports with 3GB LP-DDR4 RAM while most of its competitors offer 2GB or 4GB. Though the downside is the lack of wireless option. Its -40 to 85°C operating temperature range is perfect for a lot of industrial applications, especially, when it's designed for "networked terminal devices in industrial environments".
The SMARC-sAMX8X features 2x GbE controllers and offers dual-channel LVDS, HDMI, DisplayPort, and MIPI-CSI interfaces. Other I/O includes up to 4x serial (2x with RX/TX only), up to 6x USB 2.0, and single USB 3.0, SDIO, and I2S connections. The SMARC-sAMX8X also features 4x I2C, 2x SPI, 2x CAN, and 12x GPIO interfaces. The module is equipped with a standard PCIe interface though it's available only on the dual-core options, any of the configurations can be fit with 3x PCIe lanes on request. The 3-5.25V power supply can run on Lithium Ion or Lithium Polymer batteries. Kontron's Approtect security solution is optional.
Specifications
 Up to 4x Cortex®-A35 + Cortex®-M4 processor
 Up to 3 GByte RAM
 Dual channel LVDS interface, HDMI, DP
 Up to 2x GByte Ethernet, 3x PCIe, 6x USB 2.0, 1x USB 3.0
 Support of Kontron's Embedded Security Solution (Approtect)
The module is available with Kontron's SMARC Evaluation carrier 2.0 board, which is also available with its i.MX7 based SMARC-sAMX7 module. The carrier board runs on a 12V power supply and has the following features:  dual GbE ports, an SD slot, and two USB 2.0 and USB 3.0 ports apiece. Other features include mSATA, 2x mini-PCIe slots, and 2x PCIe slots. HDMI and DP++ ports are available along with LVDS, audio, MIPI-CSI, CAN, and other I/O.
The SMARC-sAMX8X module is releasing soon but the price is yet undisclosed. More information and its price may be found at Kontron's SMARC-sAMX8X product page in the near future.