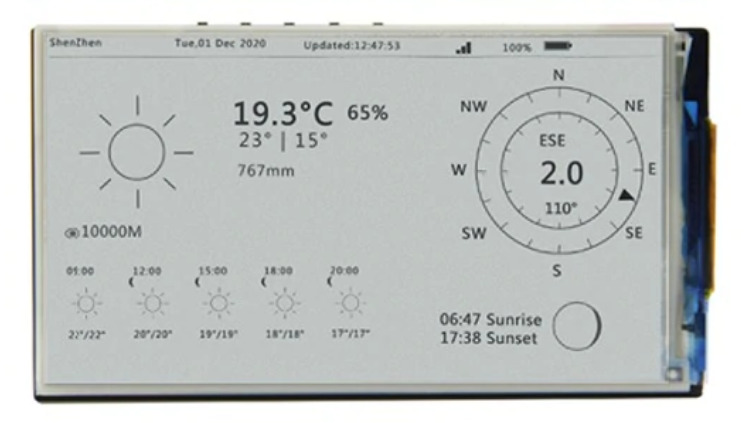 TTGO T5: ESP32-Based Development Kit with 4.7-inch e-Paper Display
We have been seeing some interesting packages when it comes to e-ink displays. As they establish themselves further on the market, by claiming some space that was once material for the LCD displays, the industry keeps on delivering more and more options for us, makers, to tinker with. An example of this was the M5Paper from MStack. Now, we will take a look at a cheaper option, the TTGO T5, and check how it keeps up with the former.
So, what is it about the TTGO T5? It is a development kit based on the ESP32 platform, with a 4.7" e-ink display (are you having a déjà vu feeling about the M5Paper?). Talking about the display, there are multiple options, ranging from 1.02" to 4.7", with 16 gray levels and no support for the touch screen, although there is a 6-pin FPC connector for it. Just a reminder, the M5Paper takes the lead slightly here, with multi-touch support and extra robustness due to the enclosure. The M5Paper also comes with an enclosure, which you will not find here.
Regarding specifications, here is what you will find on the TTGO T5:
ESP32 WROVER-E dual-core MCU, with Bluetooth, BLE and Wi-Fi support
Memories: 16 MB Flash and 8 MB PSRAM
4.7" e-ink display with a resolution of 540 x 960, 16 gray levels and partial refresh support (and a 6-pin FPC touch screen connector, but no current touch screen support)
3x 4-pin molex connectors for GPIOs and 5 buttons (4x for custom function and 1x for reset)
Sleep mode current of 170 uA
Power supply options: 

USB Type-C (5 V / 1 A)
Metal connector for 18650 mAh battery (optional) and 2-pin connector for LiPo battery, with battery charge and discharge protection circuitry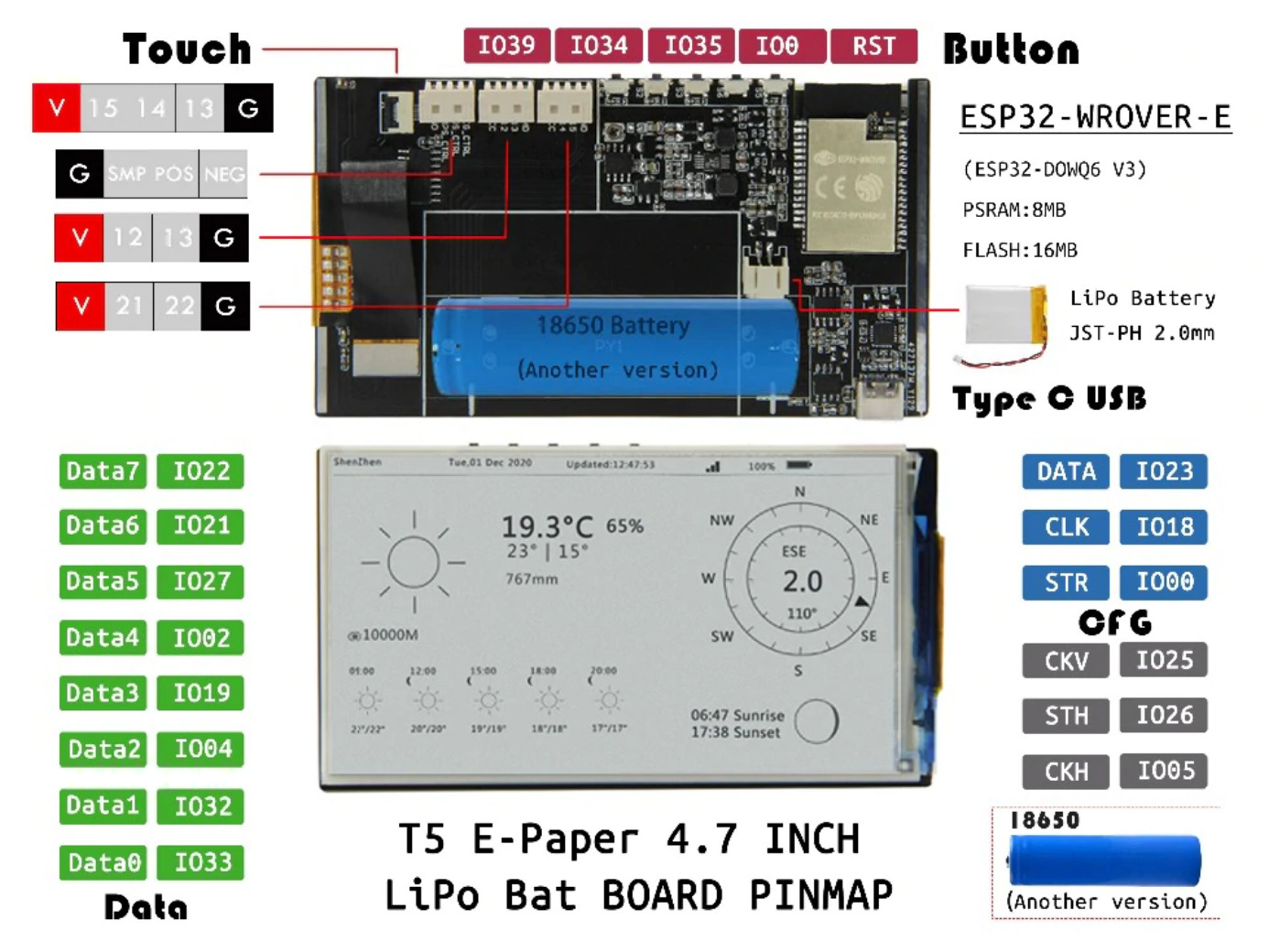 When it comes to programming, you have the expected options for programming it, such as Arduino, MicroPython and the IDF from Espressif, if you can handle it well. There are also some examples on Github to give you some guidance, if needed.
Now that we have that out of the way, we can compare it with the M5Paper from M5Stack a little bit: firstly, there is more room for memory in the M5Paper, with the Micro SD card slot, and also an EEPROM. The second part would the the downgrade on the screen, where the M5Paper provides touch support and its tampered glass enclosure puts it one step closer to deployment. Speaking of enclosures, the TTGO T5 does not have one. Battery-wise, you have slightly more options on the TTGO T5. Aside from those differences, there is one obvious, the price, where the TTGO T5 comes at around $25 (or less, if you opt for a smaller screen), even though it is not available right now. So, which one takes the upper hand, or is it not a battle?
TTGO T5 Aliexpress link: https://www.aliexpress.com/item/1005001835564831.html
M5Paper article link: https://www.electronics-lab.com/?p=102310&preview=true
Join 97,426 other subscribers

Archives