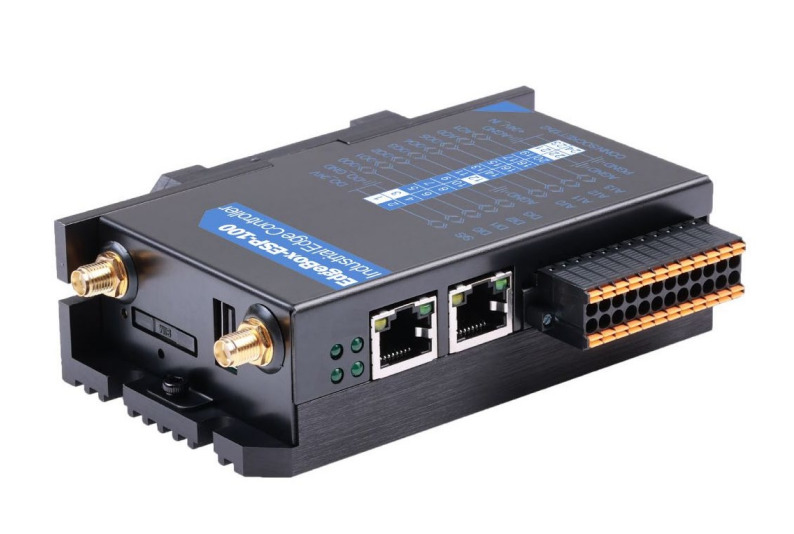 EdgeBox-ESP-100 is an industrial-grade controller with a rugged architecture. It features an ESP32-S3 SoC. SeeedStudio's latest release includes features for communicating with Fieldbus solutions, including CAN Bus, RS485, Ethernet LAN port, and other isolated peripherals. The EdgeBox-ESP-100 differs from previous SeeedStudio Edge Series products (such as the EdgeBox-RPi-200/1000) in that it incorporates the ESP32 SoC described below.
It has an Xtensa 32-bit LX7 dual-core (up to 240MHz), along with 512KB + 8MB RAM, 16 MB Flash storage, and 2.4GHz Wi-Fi/BLE 5.0.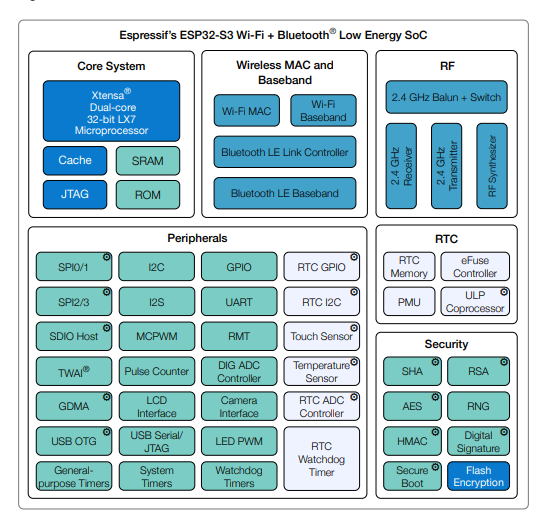 ESP32-S3 SoC block diagram
The datasheet says that this device already has a 4G LTE cellular module installed (A7670G SIMCom). The EdgeBox-ESP-100 can be changed to support LoRaWAN, but this will mean that the 4G LTE module will have to be removed.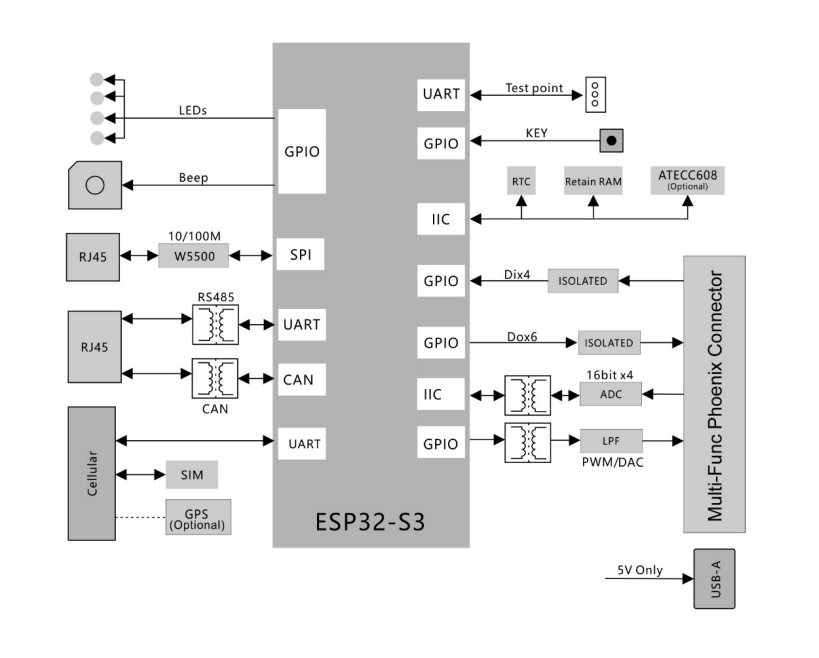 EdgeBox-ESP-100 block diagram
As you can see in the picture below, the EdgeBox-ESP-100 has a phoenix connector that gives you access to isolated I/Os like 4x digital inputs, 4x analog inputs, 6x digital outputs, and 2x analog outputs.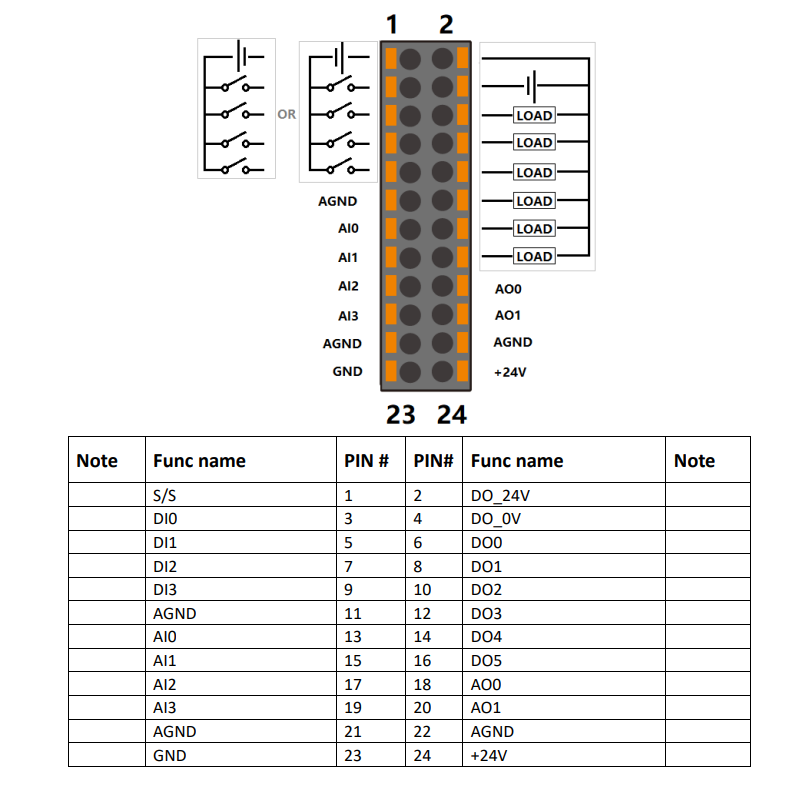 Phoenix connector pinout
The EdgeBox-ESP-100 can take power from 10.8V to 36V. Also, the EdgeBox-ESP-100 can work at temperatures between -20°C and 60°C. Since it is based on an ESP32 module, this industrial-embedded device can also be programmed with ESP-IDF. The STM32H747XI Dual ARM Cortex processor runs the  Arduino Opta Wi-Fi, which came out a few months ago and has similar features.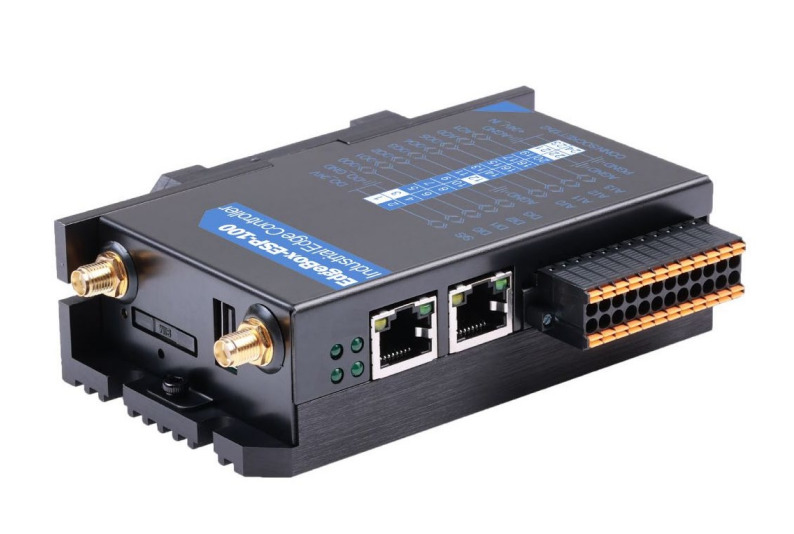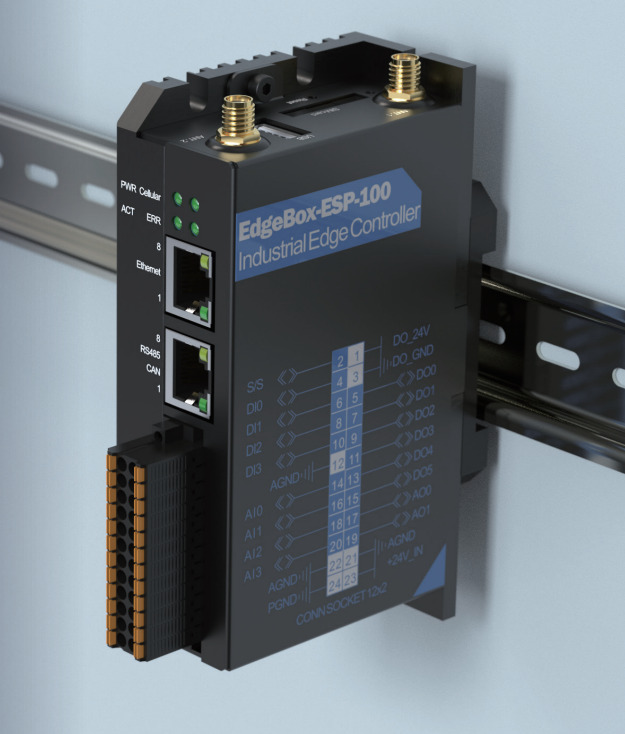 EdgeBox-ESP-100 DIN rail mounting
SeeedStudio seems to offer a 2-year warranty, and they said this product is compliant with RoHS, CE, FCC, UKCA, and TELEC. The product is not yet compliant with IEC 61131-3; for now, its status is "under development."
The EdgeBox-ESP-100 can be bought on SeeedStudio.com for $179.00. Read the SeeedStudio blog post to find out more about the EdgeBox-ESP-100 and other Edge Series products.
Subscribe to Blog via Email
Join 97,500 other subscribers
Archives