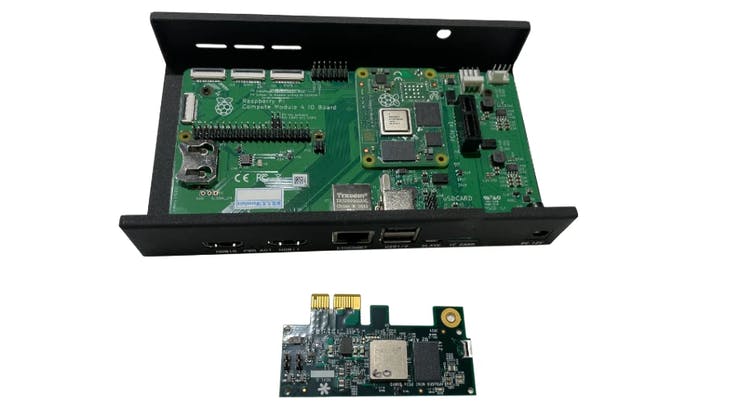 Akida Development Kits For Raspberry Pi And Shuttle PC
Brainchip has announced the release of two development kits for its Akida AKD1000 neuromorphic processor to further help hobbyists, tinkerers and developers create ultra-low-power applications. This new launch intends to meet the need of developers who wish to run its AKD1000 silicon chip with configurable IP format with a Raspberry Pi or a Shuttle PC.
The AKD1000 silicon is designed to offer high performance for high-end (spiking) neural networks, and edge AI solutions while consuming power only when the spikes are actively processed and decoded. The AKD1000 also provides high security and low power consumption with the ability to undergo onboard AI training and learning without the need for retraining in the cloud.
According to a released statement by Anil Mankar, Brainchip Co-founder and Chief Development Officer of the launch, the new development kits are major steps by Brainchip towards full commercialization of its device. They are equally avenues to see how its present customers and future customers will utilize Akida in applications like industrial applications, consumer electronics, aerospace and defence systems, automotive technology, and healthcare and medical devices. The two development kits are Raspberry Pi-based and Shuttle PC-based. The first is built based on Raspberry's Pi compute Module 4 open-hardware I/O carrier board while the latter is designed for compatibility with shuttle PC with 10th – gen Intel Core i9/i7/i5/I3, Pentium, Gold and Celeron processors.
Key Specifications of the two Dev Kits Include:
Akida Development Kit – Raspberry Pi:
SoC: Broadcom BCM2711C0 quad-core ARM Cortex-A72 (ARMv8-A) 64-bit @ 1.5GHz
GPU: Broadcom VideoCore VI
1GB, 2GB, 4GB, or 8GB LPDDR4 SDRAM
Optional 2.4 GHz and 5 GHz 802.11b/g/n/ac Wi-Fi, Gigabit Ethernet PHY
GPIO: Carrier board dependent
PCI Express, 2× DSI, 2× CSI, 2× HDMI
External (CM4 Lite), on-board 8GB/16GB/32GB eMMC (CM4)
Hirose U.FL antenna connector, 2× 100-pin high-density connectors
20.06cm x 10.5cm x 3.7cm (exc. carrier board)
Optional Bluetooth 5.0 and BLE
Additional: Includes Akida on Mini PCIe Board installed in the development kit, Meta TF Software Development Environment, Includes User Guide and examples of Akida Models
Akida Development Kit – Shuttle Pc:
Power Supply: External 180 W / 19.5 V power adapter
OS: Supports Windows 10 and Linux (64-bit)
Processor Support: Socket LGA1200 supports 10th-gen Intel Core i9/i7/i5/i3, Pentium Gold, and Celeron processors, codenamed "Comet Lake-S", max. 65W TDP
Heatpipe cooling system with two fans
1x 2.5″ bay for SATA hard disk or SSD, max. 9.5 mm
1x M.2-2280M slot (supports PCIe x4 NVMe or SATA)
1x M.2-2230AE for an optional WLAN card
1x PCI Express X16 v3.0 slot
Supports single-slot expansion cards with max. 208 x 120 x 30 mm in size and max. 75 W TDP
Onboard 5V auxiliary voltage (max. 2 A) with 4-pin Molex adapter cable
HDMI 2.0a, D-Sub VGA, 4x USB 3.2 Gen1, 4x USB 2.0, 1x USB 2.0 internal USB stick, 2x audio (line out, mic), Intel Gigabit LAN (RJ45), Connector for the external power button, "Always-On" jumper, DC input
Optional Accessories: WLAN Module (WLN-M), Vertical Stand (PS01), RS232 COM port (H-RS232), Cable for external power button (CXP01)
 Chipset:

Intel H410 Chipset
Includes Akida on Mini PCIe Board installed in the development kit
Includes Meta TF Software Development Environment
Includes User Guide and examples of Akida Models
You'll get the Raspberry Pi-based kit at $4,995 but the Shuttle PC-based kit sells for $9,995 on the company's products page. They however have not given any date for shipping yet.
Join 97,426 other subscribers

Archives