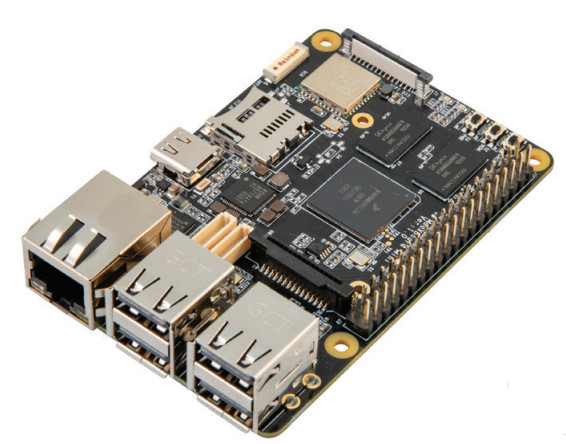 Avnet showcases Raspberry Pi lookalike "MaaXBoard Mini"
Avnet's NXP i.MX 8M Mini SBC seems very familiar if you ever seen a Raspberry Pi, as their I/O looks rather similar at first glance, but is it more than that? Actually, yes.
MaaXBoard Mini is a single board computer based on the NXP IMX8M Mini SOC series, designed by Avnet Manufacturing services. From the outside, it comes at a compact size with some interesting peripheral interface options, such as Gigabit Ethernet, USB 2.0 host, MiPi-DSI, MIPI-CSI, Micro SD card, Wi-Fi, Bluteooth and GPIO. Regarding the hardware, it's based on the NXP's first embedded multicore applications processor, which is built using the advanced 14LPC FinFET process technology, a 14 nanometer fabrication process, providing more speed and improved power efficiency over its predecessor, the i.MX 8M. However, it comes with a more limited feature set than the earlier-released MaaXBoard, where the MIPI-DSI is preffered over HDMI, leaving you with a smaller resolution of 1080p at 60fps instead of the 4K 60fps, paired with a different GPU, the 4GB DDR4 is downgraded for a mere 2GB, are some of the most noticeable changes.
The full list of specs are:
CPU Multicore Processing:

4x Cortex-A53 core up to 1.8GHz per core (32KB L1-I Cache / 32 kB L1-D Cache / 512 kB L2 Cache)
1x Cortex-M4 core up to 400MHz (16 kB L1-I Cache / 16 kB L2-D Cache)

3D GPU (1x shader, OpenGL® ES 2.0) / 2D GPU
40 Pin IO Interface (Expands I2C, SPI, UART, I2S Interfaces)
MIPI-CSI Camera Interface
MIPI-DSI Display Interface
Gigabit Ethernet interface (RJ45)
4 USB2.0 Host ports
Micro SD Card (TF Card) Interface
1 × 8bits and 1x 7bits GPIO Interface (Support Audio peripheral expand)
USB Type C power connector (5V / 3A)
1 × Power Button, 2 × User Button, 2 × User LED
Wi-Fi + Bluetooth 4.2

As interfaces are concerned, the name Mini is surely not applied
As software is concerned, you can be assured of Android 9.0 and Linux (Yocto and Debian) support, containing an interesting amount of documentation to work with each of them.
Regarding the accessories, you are not limited, as you can get components such as a compatible 7" display for $51.02, a MIPI-DSI camera module for an extra $12.24, a FT232 USB to UART module for $5.92 and a USB to CAN module for $28.57.
Some of the possible applications for this SBC are family entertainment systems, HMI interfaces, computer vision, and other AI and imaging projects. It comes at a cost of $72.50.
What do you think of this board? Is it just a lookalike of the Raspberry Pi for you? My opinion is that it's quite a bit more than that, justifying the higher price tag with faster hardware and more interface options.
MaaXBoard Mini – NXP i.MX 8M Mini SBC buying website: http://www.embest-tech.com/prod_view.aspx?TypeId=117&Id=395
Join 97,426 other subscribers

Archives