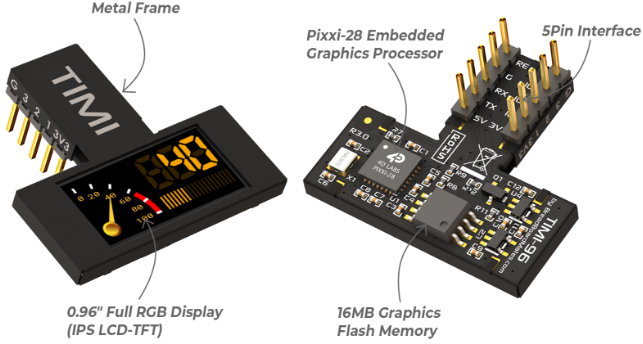 Breadboard-compatible TIMI-96 Development Module Features 4D Lab's Pixxi-28 GPU and 0.96″ Full-color RGB Display
Timi-96 from Australian start-up company, Breadboard Mates, is a new breadboard-friendly display development module that makes project development easier for electronics engineers, students and hobbyists at all levels, guaranteeing more speed for projects done in either stand-alone, host interfaced, PC tethered or even in learning environments
"TIMI-96 is a 0.96″ full colour IPS smart display instrument that replaces and simulates many electronics parts," says the company. "With hundreds of built-in widgets, TIMI-96 empowers you to build projects you never thought possible."
The compact and feature-packed TIMI-96 module wrapped in a sleek metal frame, is powered by 4D Lab's Pixxi-28 GPU capable of viewing high-quality widgets, images, icons, and videos, an onboard 16MB flash memory, a full RGB (65K vivid colors) display with 160 x 180 px resolution and a MatesBus interface with 2 x 5 pin configuration and a 3.3V level Asynchronous Serial UART interface with 3 x GPIOs.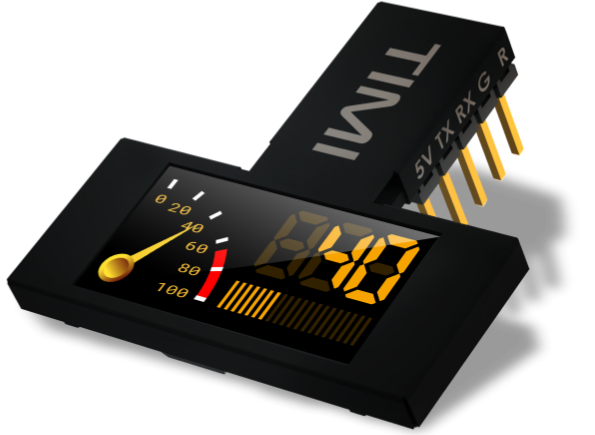 Specifications:
Graphics Processor: 4D Labs Pixxi-28 GPU
160 x 80 pixel resolution TFT LCD (non-touch)
0.96 inch full-color RGB display
Flash memory: 16MB
Processor Flash memory: 32KB
Processor SRAM for User Variables: 14KB
Breadboard compatible pin headers
GPIO: 2 analog or I2C and 1x PWM Audio
Serial UART Interface: 3.3V (5V tolerant); 300 to 2187500 Baud
Master I2C (3.3V) interface bus
5Vdc supply input (3.3V possible)
Power Output for User: Dedicated 3.3V 500mA
Weight: Approximately 5 grams
RoHS and REACH compliant
UL 94 V-0 Flammability-Rated PCB
The module can also be a stand-alone controller, a host driven slave, or a tethered test instrument while still interfacing and powering external devices itself. It naturally forms an up-side down "T" shape, interfacing with the bottom of a breadboard and leaving the top of the breadboard free for components and wiring.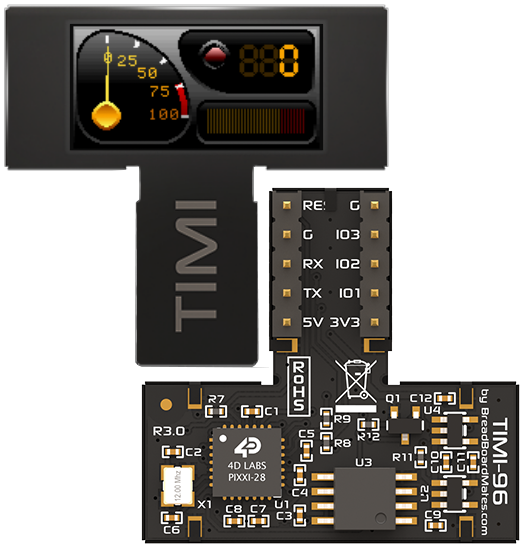 Here are some of the Key Benefits that come with using a Timi-96 display module:
The display module helps to save some valuable time and money — It comes straight out with many of the common components used in most breadboard based projects, replacing messy wires and expensive components.
Has compatibility with Arduino, Raspberry Pi, PICO, STM, ARM, Beaglebone, ESP32/8266, etc.
It is quick and easy to use for debugging of host software application
It adds an extra dimension to your project with vivid graphics, making your projects more interesting.
It helps to save valuable I/O pins on your host controller
You don't need to waste time designing realistic GUIs as the module also comes with lots and lots of ready-to-use pre-designed pages.
More Information
Other useful details on the TIMI-96, including links to its datasheet as well as several project examples with the module, can be found on the company's product page where it sells for $29. The company however recommends the Timi-96 Starter Kit to those who would be using the module for the first time as the Programmer included in it will be useful for all development work. The starter kit goes for an extra $10, making a total of $39.
The TIMI-96 with other hookup accessories are also available for sale on Sparkfun's online store. More details can also be found there.
Join 97,426 other subscribers

Archives