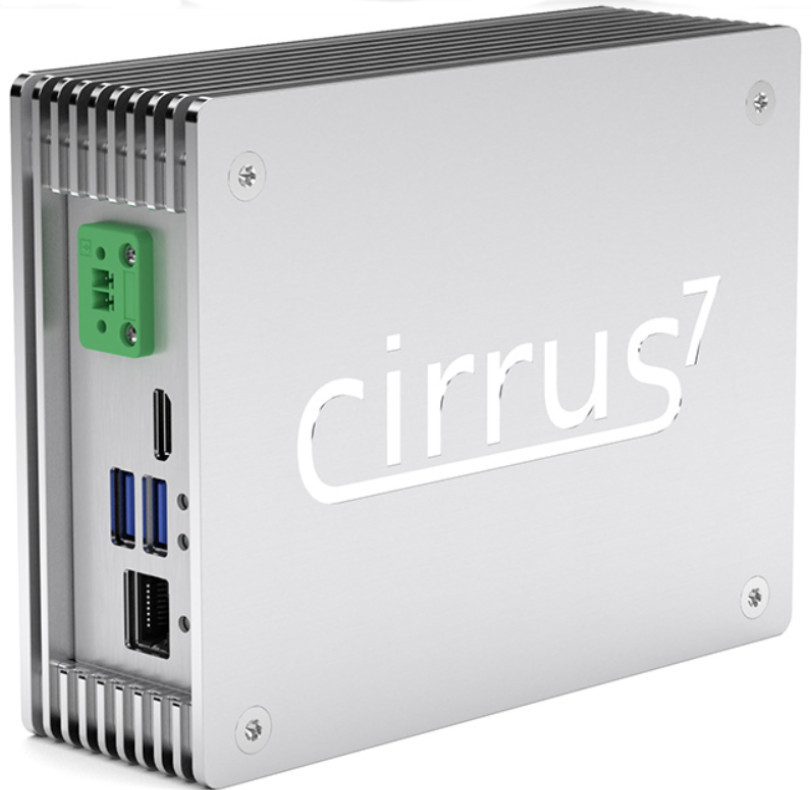 Cirrus7 Launches AI-Box TX2 and four Kaby Lake-based mini-PCs
Cirrus7 has launched an "AI-Box TX2" mini-PC with a Jetson TX2 module with -20 to 70°C extended temperature support. Cirrus7 also offers four Kaby Lake-based mini-PCs and a new Gemini Lake model.
The AI-Box TX2 has a similar build like its earlier 7th Gen Kaby Lake-based mini-PCs, but it is the smallest of all with 155 x 120 x 49mm dimensions. The AI-Box TX2 is designed based on the Jetson TX2 module, which is fitted with dual high-end "Denver 2" Arm cores and 4x Cortex-A57 cores. The AI-Box TX2 offers 8GB 128-bit LPDDR4 and 32GB eMMC. The AI-Box TX2 also has an optional microSD slot and a standard M.2 M-key 2280 slot with SATA and PCIe 2.0 x4. It also supports an optional NVMe SSD. An optional 802.11ac (WiFi 5) with Bluetooth module is available, as well as dual SMA connectors for antennas. The AI-Box TX2 offers GbE, USB 2.0, and 2x USB 3.0 ports. A mini-HDMI 2.0 port supports 4K displays, as well as optional CAN, UART, and I2C interfaces. The system is protected by an optional power input for a second supply or UPS, and also an optional DIN-rail power supply.
The system offers various mounting options, such as DIN-rail, VESA arm, and wall mounting. The system operates at 8-10W, with a less than 4W in idle. Option to customize the system by special order is available. The 256-core Pascal GPU and its CUDA libraries enable AI and machine learning algorithms useful in applications for drones, robotics, and a host of technology.
Other Cirrus7 mini-PCs include:
Cirrus7 Nimbini v2 Gemini Edition: The 157 x 157 x 81mm Nimbini v2 models are built on Intel NUC baseboards, and support dual 4K displays. The Gemini Edition offers a choice of Intel Gemini Lake SoCs instead of Kaby Lake. The Nimbini v2 Gemini Edition offers a GbE port, 4x USB 3.0 ports, a mini-Toslink digital audio jack, and 2x HDMI 2.0a ports for up to 4K@60 video. The price starts at 299 Euros ($344) with a dual-core, 2GHz Celeron J4005 with Linux, but without RAM, storage, WiFi/BT module, or mounting options. For a configured model with 4GB DDR4 and 120GB SSD, it is priced at 357 Euros, or $410. For a quad-core, 1.5GHz Pentium Silver J5005, an additional 69 Euros is charged, and it goes for a total of $426. It offers up to 16GB RAM and storage to 2TB. A SATA drive can be included in addition to the standard M.2 slot, or swap out the M.2 for one or two SATA drives.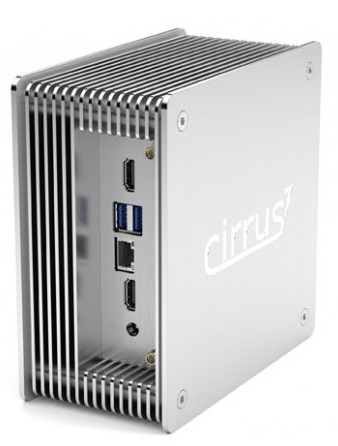 Cirrus7 Nimbini v2 Business Edition and Media Edition: The Media and Business Edition models have GbE port, 4x USB 3.0 ports, and M2 storage slots of the Gemini Edition. The Business Edition is equipped with 2x HDMI 2.0a ports while the Media Edition has a single HDMI 2.0a and a USB 3.1 Gen2 port with support for DisplayPort (with i3 models) or Thunderbolt 3 (i5). The Media Edition has standard WiFi-ac with Bluetooth 4.2, and an option of Intel Iris Plus Graphics 640 in addition to its Intel Ultra HD 620 GPU. Other features include optional USB 2.0 ports, for the Media Edition, and optional serial ports or a serial/USB combo for the Business edition. You can add a SATA drive or swap out the M.2 to enable one or two SATA drives for the Business edition, while you can add a single SATA drive to the standard M.2 for the Media edition. The Business edition offers Intel vPro for remote access and security tasks. It Starts at 499 Euros ($573)
Cirrus7 Nimbus v2: The 220 x 220 x 65mm Nimbus V2 offers an option of Kaby Lake chips which starts at 499 Euros ($573) with a 2.7GHz dual-core Celeron G3930T and 4GB DDR4. The system offers a 2x GbE, 4x USB 3.0, 4x USB 2.0, and single 4K ready DisplayPort 1.2 and HDMI with audio ports. It has similar M.2/SATA storage options like the Nimbini Gemini and includes RAID 0/1 support. Extended and extreme cooling systems are available, as well as WiFi/BT, a serial port, and VESA.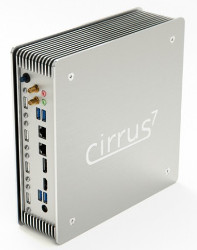 Cirrus7 One: At 218 x 218 x 108mm, the One system is the largest and most expensive of the Cirrus7 family. The system prices at 689 Euros ($792) starting with a 7th Gen, dual-core 2.9GHz Celeron G3930, which has 51W TDP rather than 35W on the Nimbus' base level Celeron G3930T. It also includes 8GB DDR4, expandable up to 32GB. HDMI 1.4a and DisplayPort with audio and 4K support plus a dual-link DVI port are listed. Other features include a GbE port, 6x USB ports, a PS/2 port, eSATA, and audio jacks. Two antenna connectors are available for the standard WiFi/BT 4.0 module. It offers a standard DVD/DC burner tray, which can load up to three 2.5-inch SSD or HDDs with RAID 0/1/1+/5.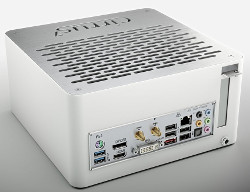 More information can be found on Cirrus7 product page
Join 97,426 other subscribers

Archives