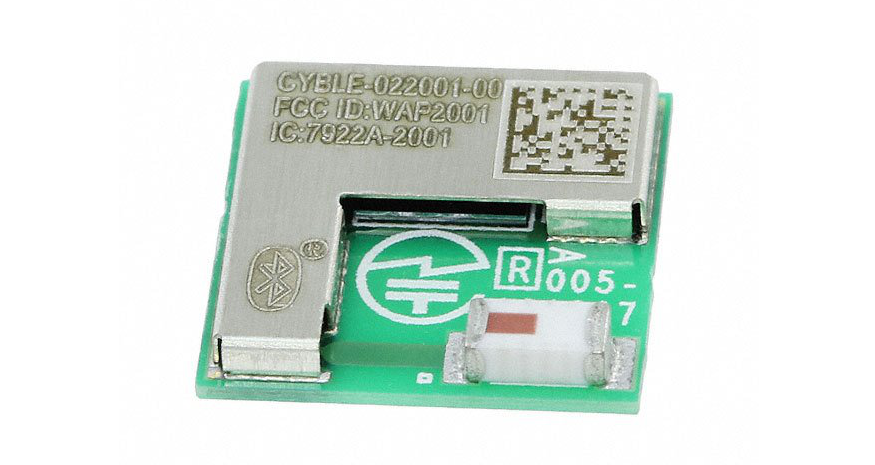 Cypress Semiconductor CYBLE-022001-00 EZ-BLE PRoC Module
Cypress CYBLE-022001-00 EZ-BLE PRoC Module is a programmable, SMT ready, full certified small form factor BLE Module with integrated crystals and an on board chip antenna. The CYBLE-022001-00 is a turnkey solution that eliminates RF hardware design and reduces investment by eliminating the certification process. Its programmable architecture supports a number of peripheral functions (ADC, timers, counters, PWM) and serial communication protocols (I2C, UART, SPI).
The CYBLE-022001-00 is a complete solution and an ideal fit for applications requiring BLE wireless connectivity.
Specifications
Module size: 10.0 mm ×10.0 mm × 1.80 mm (with shield)
Bluetooth 4.1 single-mode module
Industrial temperature range: –40 °C to +85 °C
32-bit processor (0.9 DMIPS/MHz) with single-cycle 32-bit multiply, operating at up to 48 MHz
128-KB flash memory
16-KB SRAM memory
Watchdog timer with dedicated internal low-speed oscillator (ILO)
Two-pin SWD for programming
Up to 16 GPIOs configurable as open drain high/low, pull-up/pull-down, HI-Z analog, HI-Z digital, or strong output
Certified to FCC, CE, MIC, KC, and ISED regulations. Refer to KBA97094 for RF certification test reports.
Bluetooth SIG 4.1 qualified
Source Tweet
This tiny BLE module is going to be the brain of my four-legged #PCBRobot! It has a 32-bit processor integrated with a Bluetooth transiver/receiver – all packaged in 10x10mm module pic.twitter.com/kE5Y7elYJN

— Carl Bugeja (@BugejaCarl) January 7, 2019
Features
The CYBLE-022001-00 module is provided as a turnkey solution, including all necessary hardware required to use BLE communication standards
Proven, qualified, and certified hardware design ready to use
Small footprint (10×10×1.80mm), perfect for space constrained applications
Reprogrammable architecture
Fully certified module eliminates the time needed for design, development and certification processes
Bluetooth SIG qualified with QDID and Declaration ID
Flexible communication protocol support
PSoC Creator provides an easy-to-use integrated design environment (IDE) to configure, develop, program, and test a BLE application
Price of the module is ~$13 for single unit and for more information, visit: www.cypress.com
CYBLE-022001-EVAL EZ-BLE™ Creator Evaluation Board is available to evaluate and develop applications on the EZ-BLE Creator Module.
Join 97,426 other subscribers

Archives