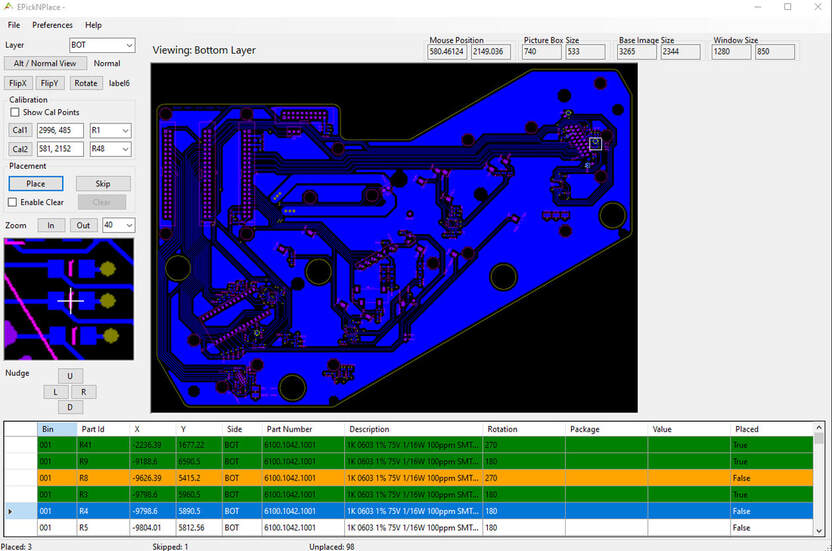 Eiger Design Releases EPickNPlace, a Free Software for PCB Assembly
Eiger Design has recently introduced EPickNPlace, an open-source software designed to improve manual pick and place operations in PCB assembly. Compatible with Windows 10 and 11, it's freely available under the GNU General Public License.
This open-source software tool was originally designed for internal use to enhance manual pick and place operations. But Eiger Design open-sourced it, and now it is freely available in the general marketplace. Based on SMTAssistant by ALCIOM, EPickNPlace assists in locating parts on a printed circuit board using a bitmap image of the PCB and a Pick&Place file.
The company said this software is an advanced version of the original SmtAssistant, and it has been designed to ease the prototypes and customized cards for Eiger's J-Testr NextGen systems. However, you can also do PCB inspection and board repair work.
This newly designed software can comfortably run on Windows 10 and 11 and is developed using Visual Studio 2022 C#; EPickNPlace is licensed under the GNU General Public License, ensuring free use for both commercial and non-commercial purposes. Though Eiger Design offers no official support for this free software, they welcome user feedback and improvement suggestions.

Key improvements include a new project mode for saving configurations and images. It also features an advanced menu system with multiple preferences that help to improve the calibration process. The software also features graphical markers and various new improved viewing options for tracking placed, skipped, and calibration points.
Despite these advancements, EPickNPlace currently lacks some features available in SMTAssistant, such as Board Qty and Pick List Generator, which Eiger plans to implement in the future.
Key Features and Improvements:
Project Mode: Allows users to save their configurations and images, enhancing workflow efficiency.
Enhanced User Interface: A menu with multiple preferences, including added fields for part number and description.
Simplified File Format: A simpler CSV file format is used for easier data management.
Improved Calibration Process: Includes features like dropdown component IDs, markers, and micro nudging for precision.
Graphical Markers: Visual indicators for placed, skipped, and calibration points.
Alternative ImageView: Offers different views for pictures or instructions to aid operators.
Component Counters: Tracks components that are placed, skipped, or unplaced.
Layer Flexibility: Supports separate calibration for the bottom and top layers, maintaining calibration when switching between them.
The software, available for download as 'epicknplace_v1_6_2.zip', can be installed from the Eiger Design website. Eiger also plans to release training videos to guide new users.
Join 97,426 other subscribers

Archives