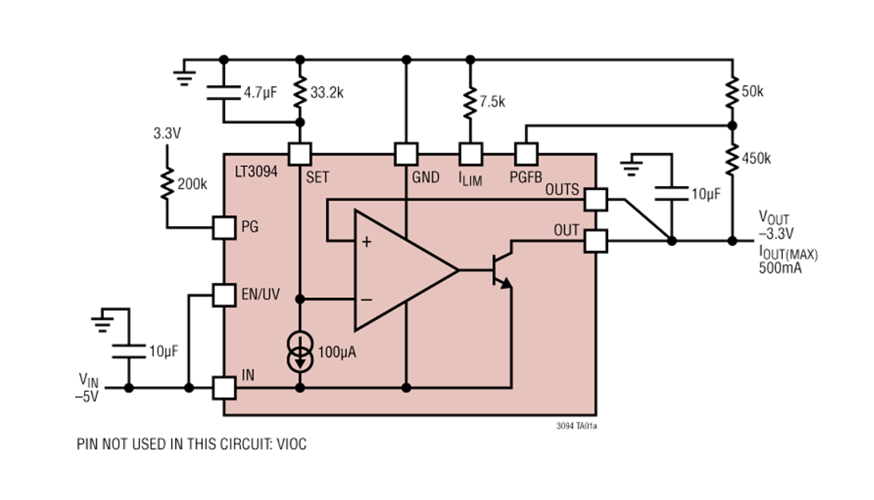 LT3094, −20V, 500mA, Ultralow Noise, Ultrahigh PSRR Negative Linear Regulator
Analog Devices announces the Power by Linear LT3094, an ultralow noise, ultrahigh power supply ripple rejection (PSRR), low dropout voltage, 500mA negative linear regulator that targets applications requiring the lowest noise performance. It features industry-leading 0.8µVRMS integrated output noise (10Hz to 100kHz), providing the quietest environment for precision measurements of low level signals. The LT3094 features very low 2nV/√Hz spot noise (at 10kHz), minimizing phase noise when powering sensitive communications circuitry. PSRR performance is exceptional over a wide frequency range: low frequency PSRR exceeds 100dB out to nearly 4kHz and high frequency PSRR exceeds 70dB at 2MHz. The LT3094's high PSRR greatly reduces ripple and noise when used as a post regulator for switching power supplies.
The LT3094 utilizes a proprietary LDO architecture – its precision current source reference followed by a high-performance unity gain buffer results in virtually constant noise, PSRR and load regulation performance, independent of output voltage. This architecture permits easy paralleling of multiple LT3094s to further increase output current, spread heat on a printed circuit board and decrease output noise. In addition, it allows the output voltage to be programmed down to 0V.
Delivering up to 500mA output current, the LT3094 has a low 235mV typical dropout voltage at full load. It features a –2V to –20V input voltage range and a 0V to –19.5V output voltage range with ±2% tolerance over line, load and temperature. The device's wide input and output voltage ranges, high PSRR and ultralow noise performance are ideal for powering noise-sensitive applications such as LNA power, very low noise instrumentation, high speed/high precision data converters, power medical applications such as imaging and diagnostics, RF switch negative supplies, PA biasing, precision power supplies and as a post regulator for switching power supplies.
Summary of Features: LT3094
Output Current: 500mA
Ultralow RMS Noise: 0.8µVRMS (10Hz to 100kHz)
Ultralow Spot Noise: 2nV/√

Hz

at 10kHz
Ultrahigh PSRR: 74dB at 1MHz
Wide Input Voltage Range: –2V to –20V
Output Voltage Range: 0V to –19.5V
Programmable Current Limit
Low Dropout Voltage: Typically, 235mV at Full Load
Programmable Power Good & Fast Start-Up
Bipolar Precision Enable/UVLO Pin
VIOC Pin Controls Upstream Regulator to Minimize
Power Dissipation & Optimize PSRR
Minimum Output Capacitor: 10µF Ceramic
Thermally Enhanced 12-Lead MSOP & 3mm × 3mm DFN Packages
The LT3094 is a complementary negative version of the 20V, 500mA, 0.8µVRMS LT3045 ultralow noise LDO and the two devices when used together combine for an ultralow noise bipolar power supply solution.
The LT3094 is available in thermally enhanced 12-lead 3mm × 3mm DFN and MSOP packages, both with a compact footprint. The E- and I-grade versions are available from stock with an operating junction temperature of –40°C to 125°C. A future high temperature H-grade version will be rated from –40°C to 150°C. For more information, visit www.analog.com/LT3094