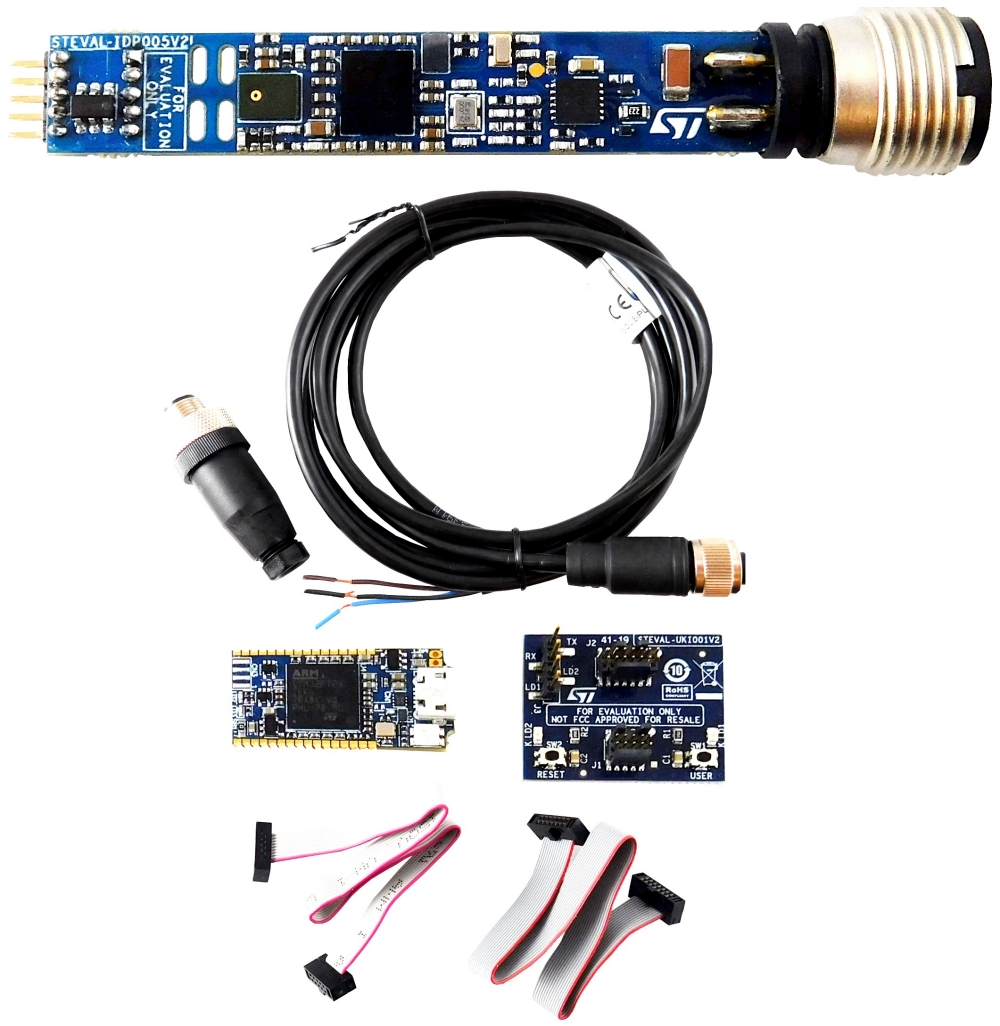 Multi-sensor predictive maintenance kit with IO-Link stack v.1.1
Are you on the market for a kit ready to kickstart your predictive maintenance projects? Probably you may want to hear about the IO-Link stack v.1.1 from ST microelectronics, as they just released this very complete and interesting kit, in a very compact form factor. There is just about everything you need, including sensors, processing capabilities, and communication. Overall, we are looking at a very solid package.
The STEVAL-BFA001V2B is an industrial reference kit for condition monitoring predictive maintenance, ready to be deployed in industrial environments, by obeying the IEC61000-4-2/4 and EN60947 requirements for these environments. This board was specifically designed for industrial applications, housing industrial sensors, along with the necessary debugging tools, cables, adapters, and plugs for applications that need industrial communication. This module connects through a standard multipolar cable, where one wire is being used for IO-Link data.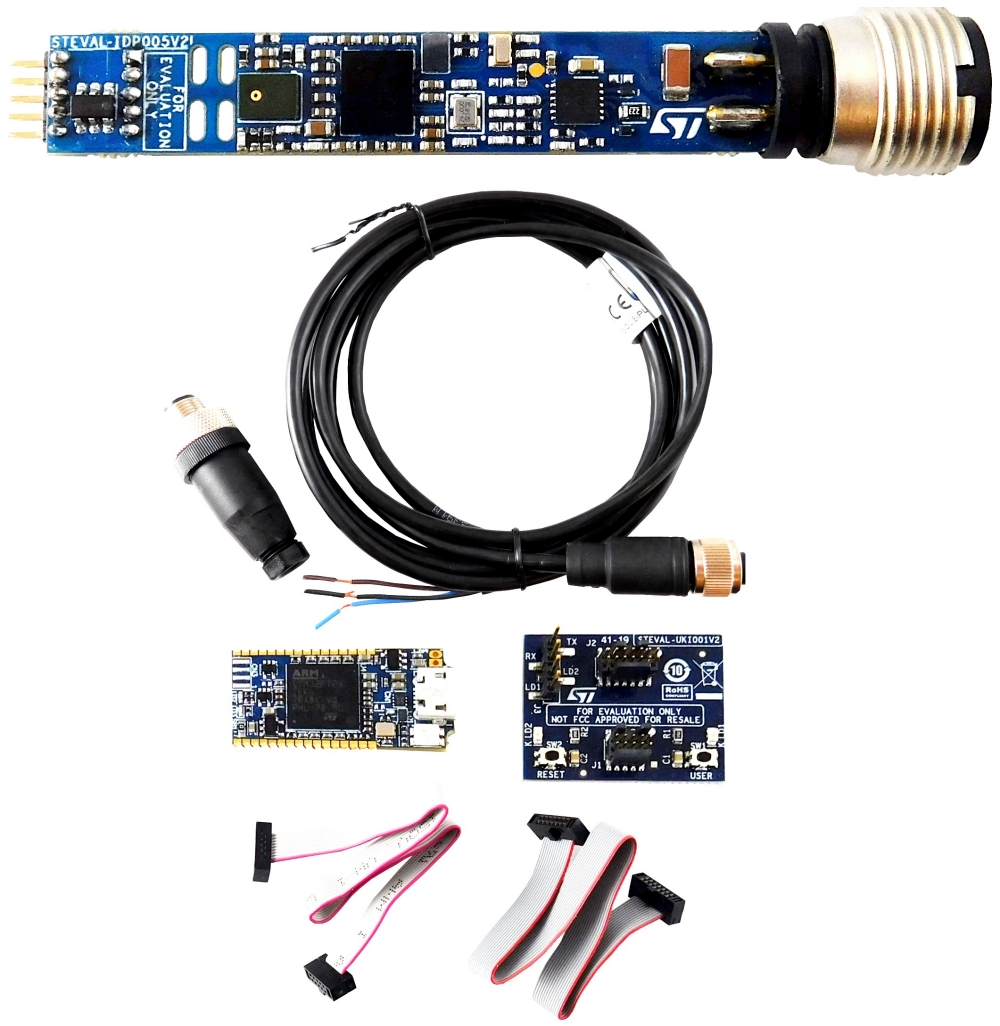 But regarding the specifications, what are we looking at? Let us see:
Kit: sensor node (STEVAL-IDP005V2, not available separately), communication board (STEVAL-UKI001V2, not available separately) and STLINK-V3MINI programming and debugging interface
Supply voltage range from 18 to 32 V
Sensor node:

ARM Cortex-M4 microcontroller for signal processing and analysis (STM32F469AI)
IIS3DWB: ultra-wide bandwidth (up to 6 kHz), low-noise 3-axis digital vibration sensor
LPS22HB: absolute digital pressure sensor
HTS221: relative humidity and temperature sensors
IMP34DT05: digital microphone sensors
L6362A: IO-Link PHY device
EEPROM for data storage
Step-down switching (L6984) and LDO (LDK220) regulators
ESD protection

M12 standard industrial connector
SWD connector for programming and debugging purposes
Reset button and expansion connector with GPIO, ADC, I2C bus and timers
Designed to comply with the IEC industrial standard requirements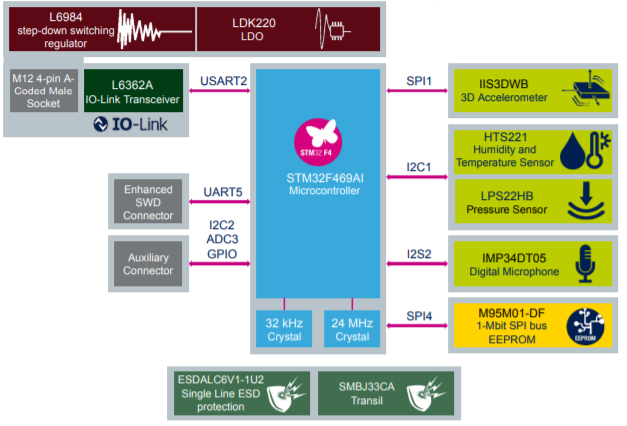 Besides the robust set of hardware, there is also great firmware support. The STSW-BFA001V2 firmware package (available for free on the ST website) includes algorithms for advanced signal processing and analysis in the time and frequency domains (FFT with programmable size, programmable windowing, speed RMS moving average, and thresholds for warning and alarm), for the high bandwidth 3D digital accelerometer in vibration monitoring applications. But it does not stop there, you get also some microphone algorithms, including PDM to PCM, SPL (sound pressure level), and audio FFT.
Overall, this is a solid packaging, made up not only by hardware but also the firmware provided by ST, which comes with very complete examples that can provide you with a nice jump when starting the development. Regarding applications, the supply voltage can be a bit dissuasive, but that may not be a problem in an industrial environment, which is its purpose. Although, it would be nice to have some smaller voltage options. Lastly, the pricing is acceptable, considering the number of components condensed in a considerably small size ($145).
STEVAL-BFA001V2B link: https://www.st.com/content/st_com/en/products/evaluation-tools/product-evaluation-tools/mems-motion-sensor-eval-boards/steval-bfa001v2b.html?icmp=tt15190_gl_bn_apr2020#overview
Join 97,426 other subscribers

Archives