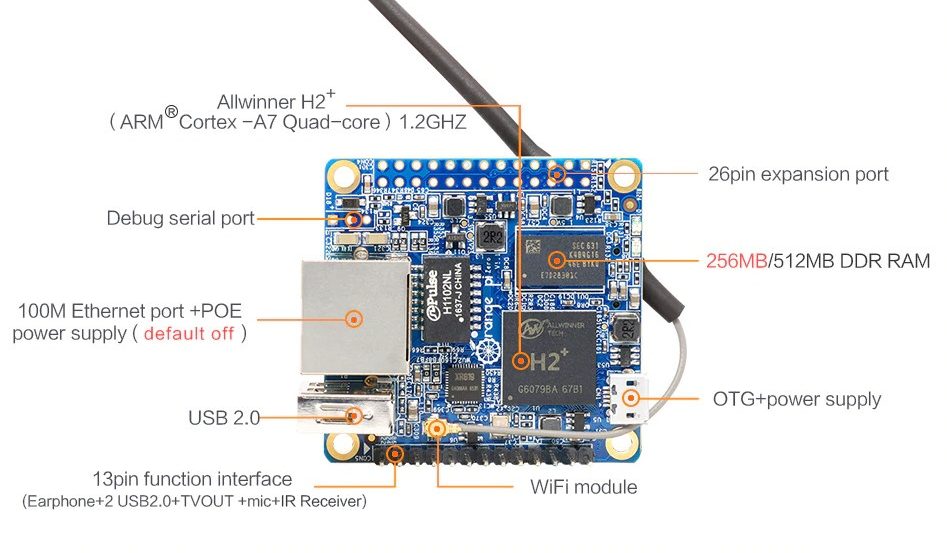 New Orange Pi Zero LTS Development Board Launches For $8.49
Orange Pi has launched their new Pi Zero LTS development board equipped with an Allwinner H2+ SoC. The Orange Pi Zero LTS, it is an update to Orange Pi Zero Allwinner H2+ board, and has the same specifications, but with changes to the hardware that Shenzhen Xunlong Software claims lower power consumption and reduced heat. Zero LTS features the same SoC and hardware as the Orange Pi Zero. The Orange Pi Zero's less energy and less heat production features are good marketing strategies, especially for those who do not own the original Zero or have knowledge of it.
The SBC enables Armbian's Debian and Ubuntu images and is most suitable for headless applications that require network connectivity via Ethernet and/or WiFi such as smart speakers. On the hardware features, the Orange Pi Zero LTS is based on an Allwinner H2+ SoC with quad-core Cortex-A7 processor with 256Mb or 512Mb of DDR3–1866 SDRAM, SPI Flash, and Mali-400MP2 GPU. It includes a micro SD card slot, 10/100 Ethernet port with PoE (default off), Allwinner XR819 module with 802.11b/g/n Wi-Fi with u.FL antenna connector and external antenna, USB 2.0 port, and micro USB port. For expansion features, there is an unpopulated 26-pin GPIO header compatible with the Raspberry Pi and a 13-pin header with headphone, two USB 2.0, microphone and IR receiver. There is no video output, except for the TV out on the header for composite video.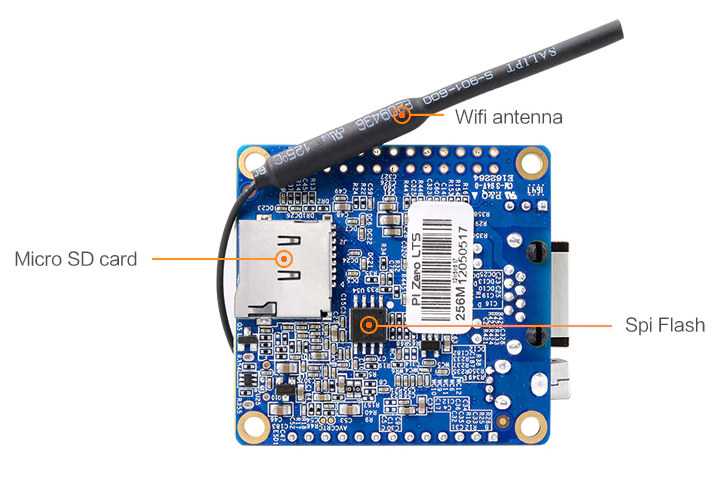 The SPI flash can be used to store U-boot, so network boot is possible without the need for a microSD card. Available also are a three-pin header for console/debugging applications, a pair of LEDs, and power supplied via micro USB port or PoE. As for software, Orange Pi offers Debian, Ubuntu, Raspbian, Android 4.2/7.0, and OpenWRT images, although they are under the Orange Pi Zero category on the company's download page, but if you want to avoid the stress of searching for images, go for one of the Linux images on Armbian website instead.
It worthy to note that at this point Orange Pi does not provide any official explanation on exactly how they improved the power consumption and heat reduction of the Pi Zero, it is most likely they lowered the SoCs voltage, which would also reduce its performance.
Specifications for the Orange Pi Zero LTS includes :
SoC – Allwinner H2+ quad-core Cortex A7 processor @ 1.2 GHz with Mali-400MP2 GPU @ 600 MHz
System Memory – 256 to 512 MB DDR3-1866 SDRAM
Storage – MicroSD card slot, SPI flash (likely 2MB)
Connectivity – 10/100M Ethernet, 802.11 b/g/n WiFi via Allwinner XR819 module with u.FL antenna connector and external antenna, USB – 1x USB 2.0 host port, 1x micro USB OTG port, Expansion headers, Unpopulated 26-pin GPIO header mostly compatible with Raspberry Pi (1) header, 13-pin header with headphone, 2x USB 2.0, TV-out, microphone and IR receiver signals
Debugging – 3-pin header for serial console
Misc – 2x LEDs
Power Supply – 5V via micro USB port or optional PoE
Dimensions – 48 x 46 mm
Weight – 26 grams
You can buy the Orange Pi Zero LTS on AliExpress for the same price as the original model, which goes for $8.49 for the 256MB RAM version, and $10.49 for the 512MB model, excluding shipping costs.