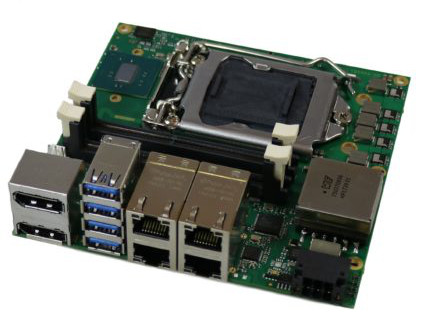 New Powerful Nano-ITX Form Factor ADL120S Single Board Computer For IoT
USA based ADL Embedded Solutions has introduced a new rugged, Nano-ITX form factor ADL120S single board computer (SBC). It is mainly produced for IoT, networking, and cyber-security applications. The highlighted feature of this SBC is its wide variety of PCIe expansion slots. The SBC includes 8x stackable PCIe interfaces, as well as optional custom expansion board services. Also, you get dual M/2 Key-B 2280 interfaces that support PCIe/SATA with USB 3.0. Networking is taken care with 4x Gigabit Ethernet ports (1x with PXE boot and WoL).
The ADL120S runs Linux or Windows OS on dual- or quad-core Intel 6th Gen ("Skylake") processor and Celeron CPUs that support an LGA1151 socket. There's an Intel Q170 chipset on ADL120S instead of a Q170HDS. The supported SKUs include the quad-core 2.4GHz Core i7-6700TE, the dual-core 2.7GHz i3-6100TE, and 2.3GHz Celeron G3900TE.
The board has a compact dimension of 120 x 120mm in a Nano-ITX form factor but has a high vertical profile with 4x USB 3.0 ports piled on a single column. This high-rise board also includes 4x GbE ports, one of which has WoL and PXE Boot, and a pair of DisplayPort 1.2 ports with 4096 x 2304 resolution at 60Hz refresh rate.
The ADL120S comes with up to 32GB DDR4 RAM and offers a wide-range 20-30VDC (optional 12-24V or 20-36V) input and RTC (Real time clock) with battery. The boards with -20 to 70°C or -40 to 85°C temperature range of usability are available.
The SBC is also praised for its high MTBF, long-life availability, hardware and firmware revision control, obsolescence management, and technical, engineering and design support, on their website's product page.
No pricing or availability information was provided for the ADL120S.
Join 97,426 other subscribers

Archives