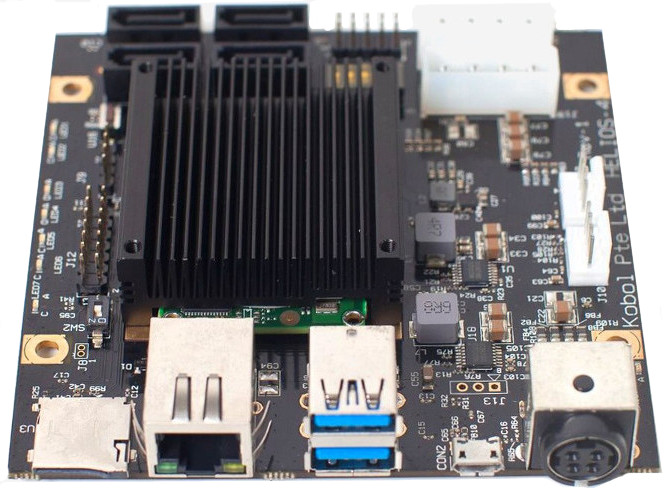 Kobol's Open-Spec Helios4 NAS SBC Features 4x SATA 3.0 Ports
Singapore-based startup Kobol has successfully launched its open-spec "Helios4" NAS (network-attached storage) SBC and fanned system. In May 2017, Kobol tried to launch the open-spec Helios4 SBC and fan-equipped system for NAS on Kickstarter. Though a total of 337 backers helped to raise $74K for the Helios4, Kobol fell short of its $110K funding goal.
The Helios4 NAS SBC runs Debian on a Marvell Armada 388, a dual Cortex-A9, 1.6GHz SoC with cryptographic and XOR DMA engines with 2GB ECC RAM and offers 1x GbE, 2x USB 3.0, and 4x SATA 3.0 ports for up to 48TB. Kobol no longer offers the low "early bird prices" of the Kickstarter campaign, but pricing is otherwise the same as the standard 2GB RAM packages. The 1GB packages are discontinued. The Helios4 Basic Kit (SBC only) is available at $176.12 and a Full Kit with SBC, fans, and 4x SATA is available at $194.46. Both of the kits ship with 2GB of DDR3L ECC RAM.
The Armada 388 SoC and 2GB of error-correcting DDR3L are made available via a SolidRun MicroSoM A388. This Linux-ready module was first announced as the 38x-MicroSoM and is also referred to by Kobol as the A38x MicroSoM. Kobol's new SBC sports with 4x SATA 3.0 ports, 4x SATA cables and 2x Molex interfaces "to dual SATA power cable". The clever design lets the user connect up to 48TB storage. Also, Helios4 features 2x USB3.0 port and a full duplex GbE port. A microSD slot and a mini-USB-to-serial port for the console are too present. Other features incorporate I2C, GPIO, control panel, and PWM fan headers. A DC jack connects to 12V/8A adapter, and there are HDD power connectors and a reset button.
The company is now running its own funding campaign to manufacture a second 500-unit batch. So far, the Full Kit is half funded while the Basic Kit has drawn little interest. Kobol says that it will refund the money if the campaign doesn't reach its 500-unit goal by Aug. 5. Shipments are due in October. The Helios4 SBC Basic Kit and Full Kit system are available for crowdfunding on Kobol's website for $176.12 and $194.46, respectively.  More information may be found on Kobol's relaunch announcement, as well as the Basic Kit and Full Kit crowdfunding/shopping pages. There's also a Helios4 wiki.
Join 97,426 other subscribers

Archives