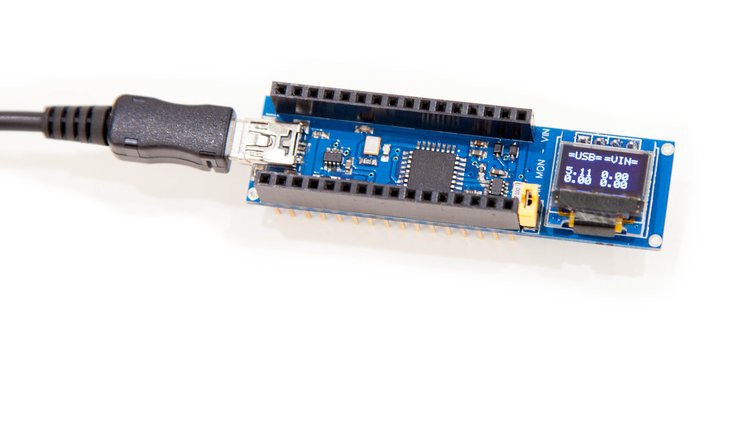 PowMeter Shield Nano – Tiny power monitor shield for Arduino
The powerful, tiny power monitor shield for your Arduino Nano.
Constantly and completely monitor your Arduino project's power consumption with the PowMeter shield. This versatile solution replaces up to four multimeters with a ten gram device.

Advantages of PowMeter Nano:
A very small footprint. The shield attaches directly to your Nano, adding only 23 millimetres in length
Allows you to monitor USB voltage and current when powered through the USB port
Also allows you to monitor power consumption separately on a VIN MON pin
Peripheral power can be metered via the VAUX pin
It does not consume any of your project software resources, thanks to the onshield MCU
The shield draws less then 10 mA
All components communicate through I2C. This means you can take actions inside your own program depending on current or voltage values retrieved from the components
Good measurement precision
You can also use the onshield OLED for your own project
The OLED screen can be installed on either side of the board
Reasonable cost
Specifications
Current measurement error: less than 1% + 1 mA
Current band: 1 mA – 4000 mA
Current resolution: 0.2 mA
Voltage measurement error: less than 1% + 0.01 V
Voltage band: 0 – 24 V
Voltage resolution: 10 mV
Display resolution: 3 to 4 digits
Shield current draw: ~10 mA
High side or low side measurement: when used as a Nano Shield, measurement is on the high side
Dimensions: 66 mm * 18.2 mm * 18.5 mm
Weight: 10 grams
The project will launch soon on www.crowdsupply.com. Stay tunned!
Update 19/09/2019: The project is already funded on Crowdsupply.
Join 97,426 other subscribers

Archives