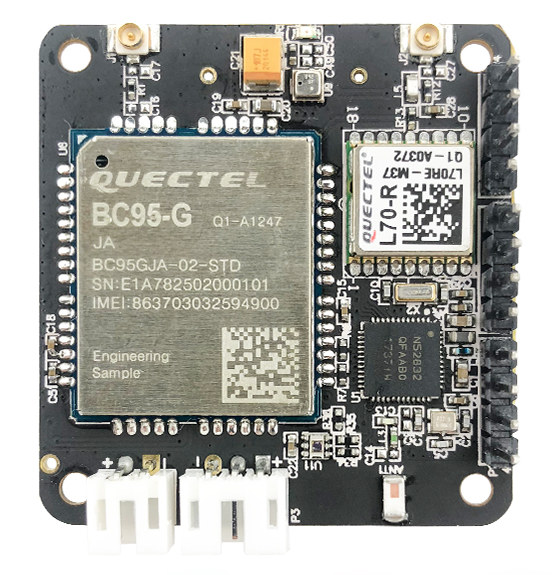 RAK8211-NB iTracker – An All Weather IoT Board designed for Asset Tracking with Bluetooth 5.0
In the last few years, we have seen a lot of love poured towards the hardware ecosystem especially hardware related to the Internet of Things applications (hardly would you find any board that doesn't have one or two IoT offerings). Some boards give basic IoT functionality like providing you with a basic IoT connectivity interface with no extra add-ons while some boards goes the extra mile by providing more, RAK8211-NB iTracker is one of those boards.
Rak Wireless, the Chinese based hardware company has recently launched a new IoT focused board called the RAK8211-NB iTracker based on the Quectel BC95-G NB-IoT Module, Nordic Semi nRF52832 Bluetooth 5 chip, and Quectel L70-R GNSS module. The Quectel BC95-G is a high-performance NB-IoT module which supports multiple frequency bands of B1/B3/B8/B5/B20/B28* with extremely low power consumption. The ultra-compact 23.6mm × 19.9mm × 2.2mm profile makes it a perfect choice for size-sensitive applications like the RAK8211-NB iTracker. The Quectel provides a flexible and scalable platform for migrating from GSM/GPRS to NB-IoT networks.
The RAK8211-NB is a module geared towards asset tracking and management due to its arrays of features, and it's one of those board that supports the new Bluetooth 5.0. The board includes a vast array of connectivity options (NB-IoT, BLE 5.0 and GPS). The asset tracker module comes with five different sensors to monitor motion and environmental data, and can optionally be powered directly by a solar panel. It comes with accompanying sensors like an accelerometer, a light sensor and a barometric sensor. At the heart of the RAK8211-NB is the Nordic NRF52832 SoC. The nRF52832 SoC is built around a 32-bit ARM® Cortex™-M4F CPU with 512kB + 64kB RAM. The embedded 2.4GHz transceiver supports Bluetooth Low Energy, ANT, and proprietary 2.4 GHz protocol stack.
The RAK8211-NB module is Arduino friendly and can be programmed using the IDE. The board also provides SWD interface for programming the NRF52832 core. The combination of BLE and NB-IoT offers flexible low power consumption development along with a myriad of application option ranging from telemetry to live tracking and environment sensing. The RAK8211-NB iTracker provides applications in the following areas:
Vehicle location/fleet transportation management.
Safety monitoring of old/young children.
Animal protection and animal husbandry management.
Asset tracking and management.
Prototyping for NB-IoT Applications.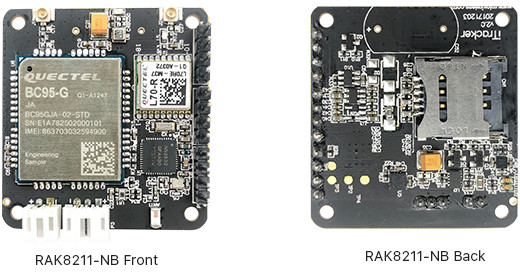 The below are some of the specifications of the module:
Connectivity

NB-IoT via Quectel BC95-G (Global) wireless communication module + SIM card socket
Bluetooth 5 via Nordic Semi nRF52832 Arm Cortex-M4F micro-controller (Arduino compatible)
GPS/GLONASS via Quectel L70 GNSS module

Sensors

LIS3DH ultra-low-power, high-performance 3-axes "nano" accelerometer
LIS2MDL ultra-low-power, high-performance 3-axis digital magnetic sensor.
Tilt sensor
BME280 pressure, humidity and temperature sensor
The OPT3001 intensity of light sensor

Expansion – 3x headers with SWD, 2x sensor out + tilt out (also usable as GPIO and analog inputs), 3.3V, GND, and reset
Power Supply – 3.5V to 18V via solar panel (P2) or battery (P3)
Dimensions – 43mm x 38mm x 18mm
Temperature Range – 40°C to +85°CBLE Features
The company provides instructions to use the module with the Arduino IDE, Espruino (JavaScript) and Arm Keil tools. The RAK8211-NB iTracker kit is available and sells for $98.40 + shipping on Aliexpress. Rak Wireless also offers another variant of RAK8211 with RAK8211-G based on the most of the same features, except GPRS is used instead of NB-IoT. It is sold for $87.40 + shipping.
Join 97,426 other subscribers

Archives